What Justin Timberlake Music Video Was Scarlett Johansson In?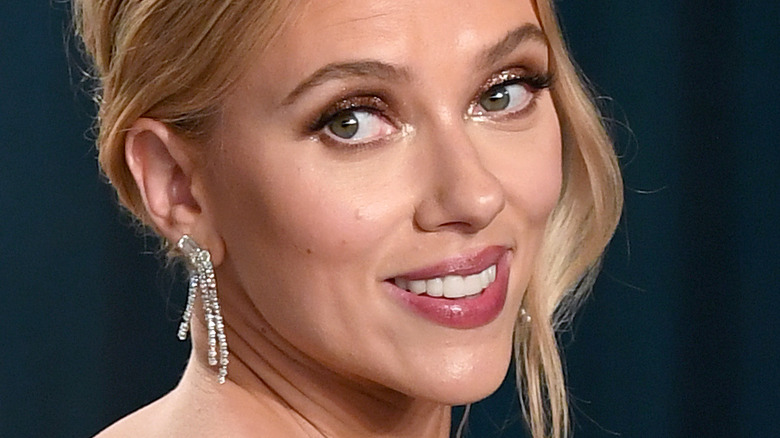 Karwai Tang/Getty Images
The year was 2013 when much to fans' delight, Justin Timberlake took the stage at the MTV Video Music Awards to celebrate his more than 15 years (at the time) in music with an almost 15-minute performance of his greatest hits.
The celebratory performance included songs from his first four studio solo albums ("Justified," "Future Sex/Love Sounds," "20/20 Experience," and "The 20/20 Experience Part 2") like "Cry Me A River," "Sexy Back" and "Suit and Tie," according to Rolling Stone. Perhaps the most memorable moment of the night was the highly anticipated reunion of Timberlake's boy band *NSYNC for a nostalgic rendition of "Bye, Bye, Bye" and "Girlfriend." For Timberlake, on the other hand, the memorable moment may have come when collaborator and friend, comedian Jimmy Fallon, took the stage to present the singer with the Michael Jackson Video Vanguard Award for his contributions to music over the years. "I don't deserve this award but I'm not gonna give it back," Timberlake joked. He then made a point to dedicate the award to his fellow *NSYNC bandmates, adding, "We can keep it at my house."
One video that helped shaped Timberlake's career featured actor Scarlett Johansson and sparked rumors of a deeper romance between the Hollywood stars. Keep scrolling to learn more about the steamy video. 
Scarlett Johansson and Justin Timberlake sparked dating rumors on set
In 2006, on the heels of his second studio album "Future Sex/Love Sounds," which was his first album to go No.1 on the Billboard 200, Justin Timberlake released the music video for his No.1 hit, "What Goes Around Comes Around." MCU star Scarlett Johansson played Timberlake's love interest in the video, which ended with the on-screen couple in a fight over Johansson's character cheating on Timberlake with his friend. The love affair resulted in the actor crashing her car into flames.
The dramatics didn't stop at the music video. PopSugar reports that at the time, rumors swirled that Timberlake and Johansson hooked up on set, as both stars were between major Hollywood relationships. Then in 2011, paparazzi caught Timberlake and Johansson "hardcore flirting" at an NYC nightclub, according to Us Weekly. The Grammy-winning artist was then seen arriving at the actor's apartment that evening, with a source telling the outlet that "other guys were trying to talk with Scarlett, but she was only focused on Justin." The source added, "They've hooked up several times over the years."
The supposed fling never lasted for Timberlake and Johansson, and they are both in committed relationships as of this writing. Timberlake is married to and shares two kids with actor Jessica Biel, and Johansson married to comedian Colin Jost.