Simone Biles Breaks Silence On Olympics Withdrawal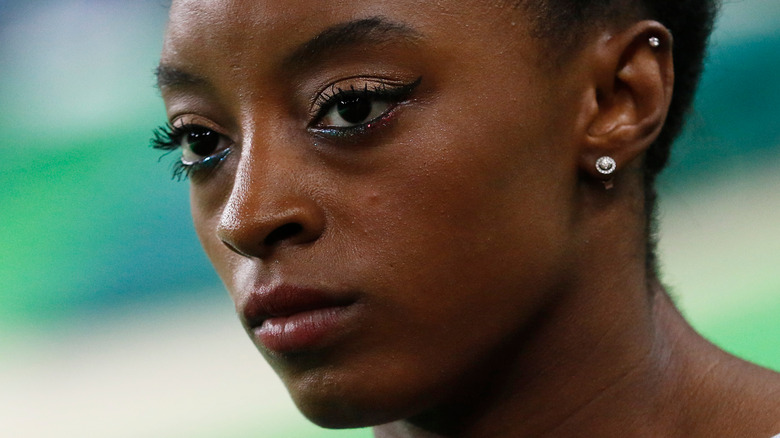 Shutterstock
Few athletes at the Olympics have drawn the public's attention like Michael Phelps, Usain Bolt, Serena Williams, Jesse Owens, and Simone Biles. But there's a lot of pressure that goes hand in hand with being the G.O.A.T. On July 26, Biles alluded to this with an Instagram post that showed her competing in the Olympics' gymnastics qualifying round in Tokyo. "It wasn't an easy day or my best but I got through it. I truly do feel like I have the weight of the world on my shoulders," the world's most-accomplished gymnast wrote. "I know I brush it off and make it seem like the pressure doesn't affect me but d**n sometimes it's hard hahaha! The Olympics is no joke!"
Biles' post hinted that she was feeling a bit nervous, or maybe just not feeling her best mentally. This proved true just a day later when she turned in an uncharacteristically low score on the vault and later pulled out of the team finals. Though USA Gymnastics spokesperson Carol Fabrizio told People that, "Simone has withdrawn from the team final competition due to a medical issue," the star gymnast later clarified that she was grappling with mental issues. After telling reporters that "you have to be there 100%" and admitting that she simply wasn't, Biles is breaking her silence on the reasoning behind her surprising withdrawal.
Simone Biles is prioritizing her mental health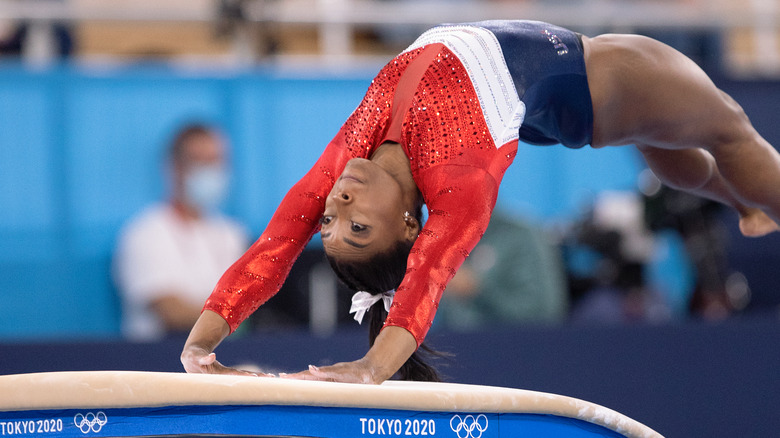 Bsr Agency/Getty Images
Simone Biles' decision to step away from the competition and prioritize her mental health follows Japanese tennis champion Naomi Osaka's withdrawal from the French Open in May. Not only did Osaka shine a light on the pressures of mental health in sports, but she inspired Biles to "focus on" her "well-being," according to ESPN. "I say put mental health first before your sport," Biles told reporters at the Olympics, per the outlet. "I had to do what's right for me and not jeopardize my health and well-being. That's why I decided to take a step back and let [my teammates] do their work."
That said, it wasn't easy to stick to the sidelines. In addition to sharing that she's "super frustrated," Biles added that "physically, I feel good, I'm in shape, [but] emotionally, that kind of varies on the time and the moment. Coming here to the Olympics and being the head star of the Olympics is not an easy feat, so we're just trying to take it one day at a time and we'll see," she continued. 
At least for now, Biles' future at the Games remains uncertain. According to ESPN, the star gymnast is taking July 28 as "a mental rest day" before making a final call about the remainder of the Olympics. With 19 gold medals to her name already, fans are lauding Biles as another kind of G.O.A.T in the mental health space.