What Does Simone Biles' Boyfriend Really Think About Her Olympics Decision?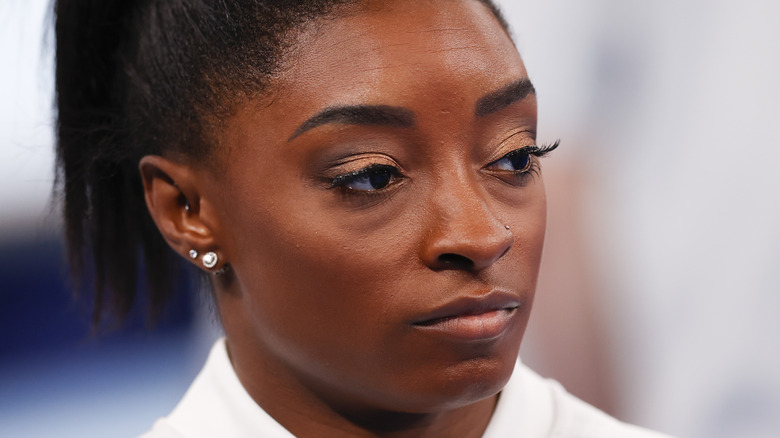 Fred Lee/Getty Images
Ahead of the 2020 Tokyo Olympics, U.S. gymnast Simone Biles was predicted by pretty much everyone to lead her team to victory. Widely considered to be the best gymnast in the world, Biles has 19 gold medals to her name (four of which she won at the 2016 Olympics) and can perform some technical routines that no other females have accomplished, per Newsweek. Her skill is such that Twitter even unveiled a G.O.A.T (or Greatest Of All Time) emoji in her honor, featuring a goat in a sparkly red leotard wearing a gold medal.
But on July 27, Biles' performance at the Games sent shockwaves across the world — and not in a good way. Per USA Today, she turned in an unusually low score on the vault, prompting USA Gymnastics spokesperson Carol Fabrizio to confirm that the team's superstar would not compete in further events at the Olympics. Although fans fretted about a possible injury, Biles confirmed she was struggling with "mental issues" just one day after she'd posted on Instagram about feeling like the weight of the world was on her shoulders. "You have to be there 100%," she told reporters in an interview. "Today has been really stressful ... I was like, 'No. My mental is not there,'" according to ESPN. 
Biles' decision to scratch was met with an outpouring of support from fans — but what do those close to her, including her boyfriend, think? We reveal the answer below.
Jonathan Owens is 'so proud' of Simone Biles
Simone Biles might be Team USA's biggest cheerleader, but her boyfriend of one year — NFL player Jonathan Owens — is hers. On July 25, Life & Style reported that he'd stayed up all night to cheer her on, posting an Instagram Story of his girlfriend competing at the Olympics qualifying round. 
As it turns out, Owens was also among the first to support Biles in the wake of her atypical showing at the Olympics, making his feelings known by commenting on an Instagram picture that the gymnast posted with her teammates, Sunisa Lee, Jordan Chiles and Grace MacCallum. "So proud of y'all," the NFL star commented on the pic, adding a heart and fingers crossed emoji for good measure, per Page Six. It's clear Owens supports Biles no matter what.
His sweet show of support comes after Biles gushed about their relationship to the TODAY Show earlier in 2021. "He's a real man. I love him. We have a great time together," she shared. "He's an athlete, too, so we really understand each other, and I think that's why our relationship has been seamless." It's obvious Biles will have his shoulder to lean on as she continues to prioritize her mental health.