Robin Thicke And Paula Patton Reach A Truce In Custody War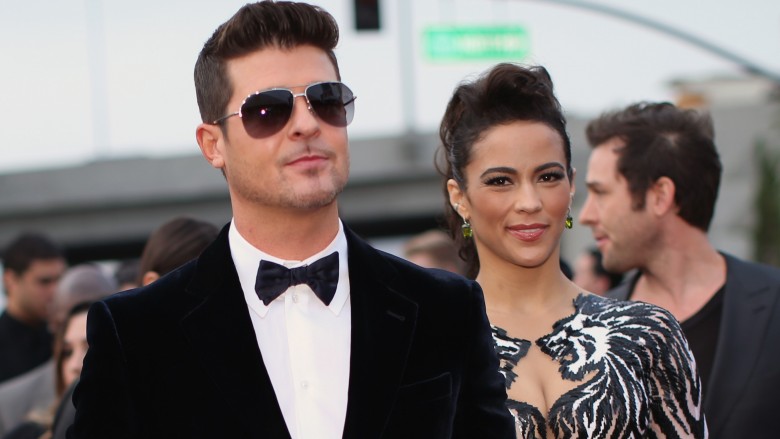 Getty Images
Robin Thicke and Paula Patton are finally edging closer to an amicable agreement over custody of their 6-year-old son, Julian. TMZ reported that Thicke, 39, and Patton, 41, who split in 2014, are finalizing the finer details of their custody arrangement and are "very close to resolving custody."
The truce comes after a whirlwind few months of accusations on both sides. On Feb. 23, 2017, Patton claimed in court documents obtained by People that Thicke "willfully, intentionally, and wrongfully changed/fabricated a Court Order specifying custodial timeshare of the couple's minor child" and "threatened to have [Patton] arrested for kidnapping premised upon the false and fraudulent court order."
A source close to Thicke slammed the allegations, telling the magazine, "The documents in his hand were the documents Paula agreed to and signed. The document read exactly as it did on Feb. 4, 2015 when both parties agreed and signed, and there was nothing changed on that document."
In the same filing, Patton accused Thicke of trying to bribe a Department of Children's Services monitor by taking the worker "out for an expensive sushi dinner while DCFS was actively investigating allegations of abuse perpetrated by Mr. Thicke." A Thicke insider denied those claims as well, saying, "Robin took Julian to Nobu two weeks ago for one of their supervised visits, and by law a DCFS worker and a monitor had to be present. The DCFS worker and monitor would not and did not order food. They sat at a different table within eye and ear reach and only had water."
Previous reports pertaining to the former spouses' custody battle contained allegations of spousal and child abuse and false kidnappings, leading Thicke to reportedly be investigated by the DCFS. In January 2017, the exes agreed to go to therapy with their son, which hopefully will help them reach a healthy resolution for all parties involved.