The Truth About Simone Biles' Relationship With Her Biological Mother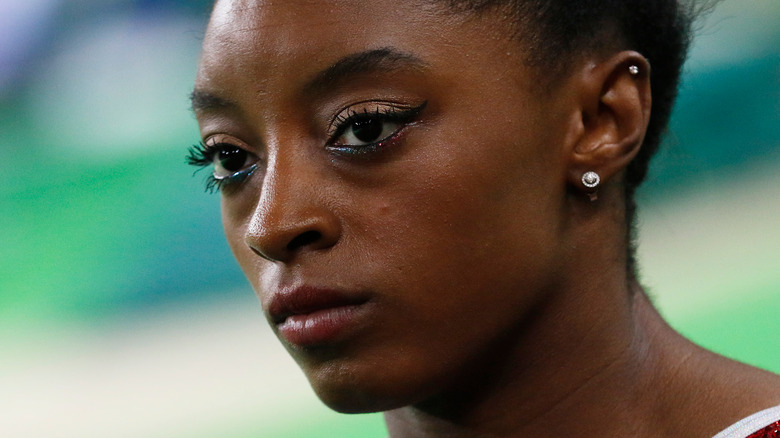 Shutterstock
Simone Biles is in the news due to her not competing in the women's gymnastics all-around competition on July 29 in Tokyo (via The New York Times), but her relationship with her biological mother is also raising eyebrows.
When she was six years old, Simone was formally adopted by her grandfather Ron Biles and his wife Nellie Cayetano, according to the Daily Mail. She believes her life changed for the better when she was in their care, as she told TODAY in April 2017. "My parents saved me," she said. "They've set huge examples of how to treat other people, and they've been there to support me since day one. There's nothing I could say to them to thank them enough."
Although Simone has come a long way, it's clear her time in foster care affected her. "I don't remember a lot about foster care, but I definitely knew that we had been taken from our biological mom and then you just think you're going to go back to her," she said in an episode of her Facebook Watch series, "Simone vs Herself." "We were very fortunate that we actually got to stay with our siblings because a lot of the time you either get regrouped from home to home to home or you and your siblings get split up," she added.
What does her biological mother have to say about their relationship? And what is the truth about her? Keep reading for more details.
Simone Biles' biological mother is proud of her daughter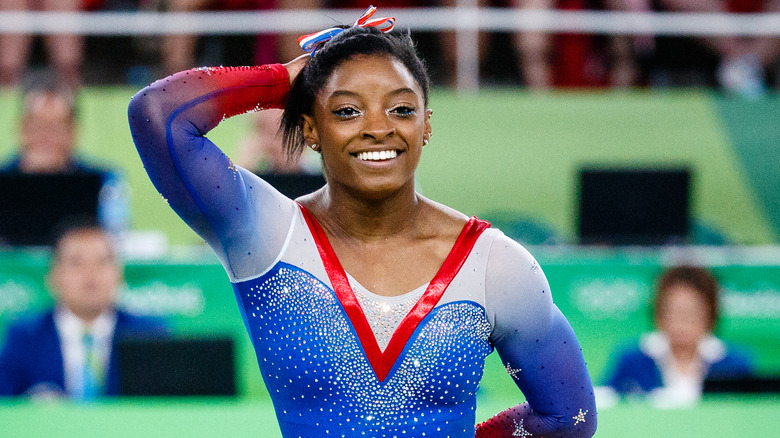 Shutterstock
Simone Biles' biological mother Shanon Biles might not be cheering her on in Tokyo, but she's beaming with pride all the way from Columbus, Ohio. "She's gonna be okay," she told the Daily Mail after Simone withdrew from the Olympics.
Shanon had to give Simone and her three siblings to foster care due to drug addiction. When Simone was three, grandfather Ron Biles and his wife Nellie Cayetano took her in, along with her sister Adria, formally adopting her at six. But Shanon appears remorseful about her past. "It was hard to give up my kids but I had to do what I had to, I wasn't able to care for them," she told the outlet in 2016. "It took me six years before I saw my children again. I was respecting my dad to let the kids' transition, he felt that was the best thing for them," she added.
Shanon continued, "I was still using, and he didn't want me coming in and out of their lives ... I was hard-headed, I didn't care, screaming, 'I want to see my kids, why you doing this to me?'" She said her conversations with Simone are "brief" and she's "waiting for the right time" to tell her about her past. As for Simone, she seems grateful, saying on Facebook, "I also believe everything happens for a reason and I'm forever grateful for that because I definitely got a second shot at life."
If you or anyone you know is struggling with addiction issues, help is available. Visit the Substance Abuse and Mental Health Services Administration website or contact SAMHSA's National Helpline at 1-800-662-HELP (4357).