Why Alex Rodriguez's Birthday Celebration Is Raising Eyebrows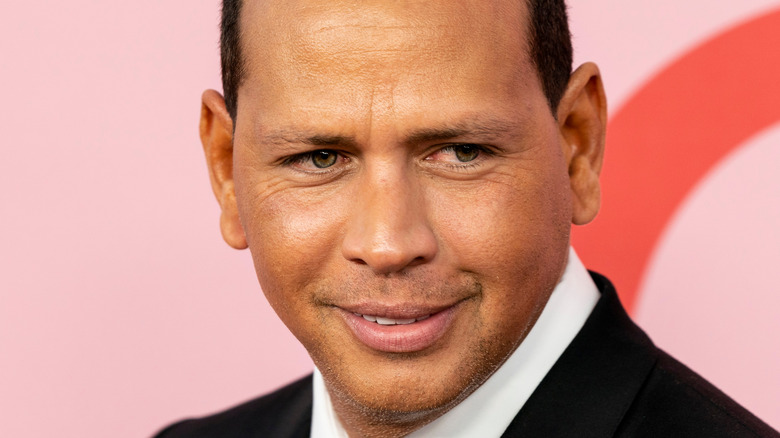 Shutterstock
Jenny was just around the block — or next boat if we're being specific — when Alex Rodriguez celebrated his 46th birthday. The former MLB player has spent the past week partying in St. Tropez, per Vulture — the very vacation hotspot his ex Jennifer Lopez has also been seen sunning in. Not only did Lopez celebrate her own birthday there, but she also publicly toasted to a new relationship. The internet certainly got loud when Lopez uploaded a slew of Instagram shots on July 24, not only showing off her impressive bikini bod — but also sharing a steamy kiss with her officially confirmed beau Ben Affleck. While it's likely Rodriguez has seen Lopez's latest posts (the pair still follow each other on Instagram), he doesn't seem to be overly phased they're in the same town.
A few days later, Rodriguez shared his own Instagram birthday post, writing how "grateful" he was to celebrate with family and friends. Accompanied by a number of pictures, including one with a private jet, Rodriguez wrote, "I couldn't ask for anything more. #ThankYouAll. Here's to a healthy, happy and meaningful 365 days for us all!"
While it seems like a mere coincidence that Rodriguez and Lopez are both celebrating in the South of France, or that Rodrigeuz perhaps can get a second look at his competition, think again. A source is saying their both being in France was actually ... on purpose. What?
They planned their birthdays in St. Tropez together and both still went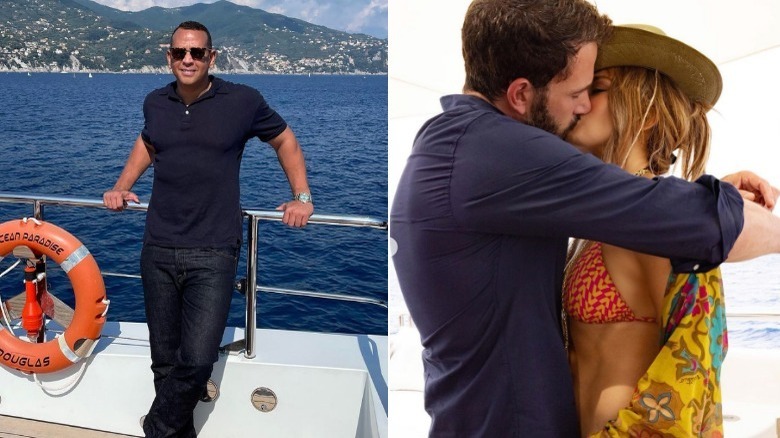 Instagram/Instagram
Why should a little break-up ruin a good vacation right? Alex Rodriguez and Jennifer Lopez reportedly had their sights set on St. Tropez for some time ... as they originally planned on going together. "Before they broke up, J.Lo and A-Rod had planned a trip together to the French Rivera for her birthday," a source told E!. "Ultimately, he decided not to change his plans and still go — and she also decided to keep her trip but go with Ben, which is why they're all there right now."
The New York native (who J-Lo split from in April) has since shared a $32 million yacht with not only his loved ones, but various bikini-clad women, per Us Weekly. The vessel reportedly has a pool, waterslide, and two gyms. Meanwhile, the "Hustlers" star has also been sailing in style aboard a yacht reported to be worth a whopping $140 million, per Page Six. 
Lapping up love, sun, and a 279-foot mega yacht, another source said Lopez "could care less" about Rodriguez being nearby. "She's totally in love with Ben and only has eyes for him. She has moved on and is not looking back. She's very relieved that she is out of that relationship and done with him for good." While Rodriguez continues holidaying in France, TMZ reported that Affleck and Lopez are now enjoying another glamorous European location, Capri in Italy. Don't coincidentally sail there, A-Rod!