The True Meaning Behind Candiace Dillard's New Song, 'Drive Back'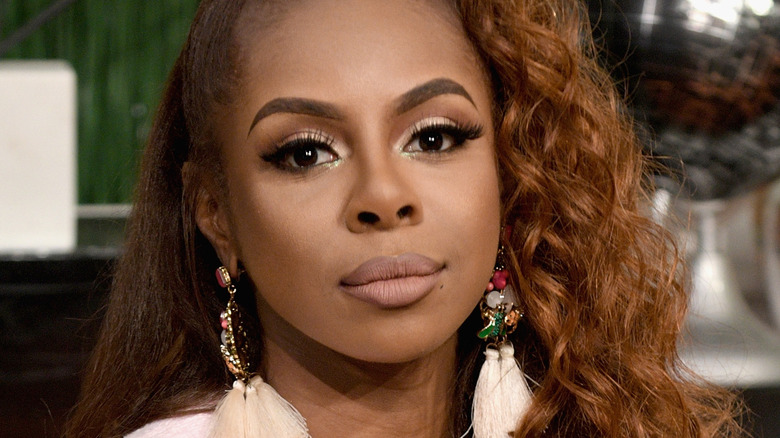 Gary Gershoff/Getty Images
The ladies of "The Real Housewives of Potomac" may not always get along, but there is one thing that most of the cast have in common: music. Before she appeared on "RHOP," alum Monique Samuels pursued a rap career; additionally, both Ashley Darby and Candiace Dillard have released their own music. Of course, not even aspiring music careers are safe from shade when it comes to these Maryland residents.
At the season five reunion of the show (via Entertainment Tonight), Candiace and Ashley got into a heated verbal argument after the former expressed her opinion on her voice in comparison to the latter. When Andy Cohen asked how Candiace's "I See You (Remix)" compares to Ashley's 2018 song, "Coffee and Love," Candiace suggested that her voice supersedes the latter's. "It does not compare," Candiace told Cohen. "This was an actual song, with no autotune. I did not need that help." She further says that Ashley's vocals are "trash." Yikes.
Fast forward to July 2021, Candiace released the song and visual for her second single, "Drive Back." The track has many people talking, especially because of her autotune use. Candiace has something to say about her new song — but first, let's take a look at the real meaning behind "Drive Back."
Candiace Dillard is all about forgiveness on 'Drive Back'
As viewers have witnessed on "Real Housewives of Potomac," Candiace Dillard's musical style has changed drastically. When she originally performed her song, "I See You," it was a slower tempo and assisted by a choir. The remixed version takes a different direction, drawing inspiration from Washington D.C.'s native GoGo genre. Candiace's new song "Drive Back" is another example of the reality star exhibiting a wide range of versatility in her music. The "RHOP" star also released an accompanying retro-inspired music video for the track, in which we see her showing off bold choreography and her acting skills. Additionally, we get a cameo from the ladies of "RHOP," including season six newbies Mia Thornton and Askale Davis.
"Drive Back" tells the story of Candiace having disagreements with her lover, but acknowledging that she'll 'drive back' home to him regardless of the situation. Aside from an emotional connection, Candiace also admits that their physical connection isn't worth losing. She sings in the chorus, "What you got, you make me drive back/Hit it when we come in contact/Bust a U, I'm coming right back/Pumping brakes is not complying."
In the second verse, Candiace further explains that she always finds her way back to her lover because he makes her feel a way that nobody else can. She continues, "Yeah, this s**t ain't tolerable/We're screaming out inaudibles/But I keep running back to you 'cause you make me feel comfortable." Based on the track, Candiace is head over heels over her lover. Love conquers all, right?
Candiace Dillard has something to say about her autotune comments toward Ashley Darby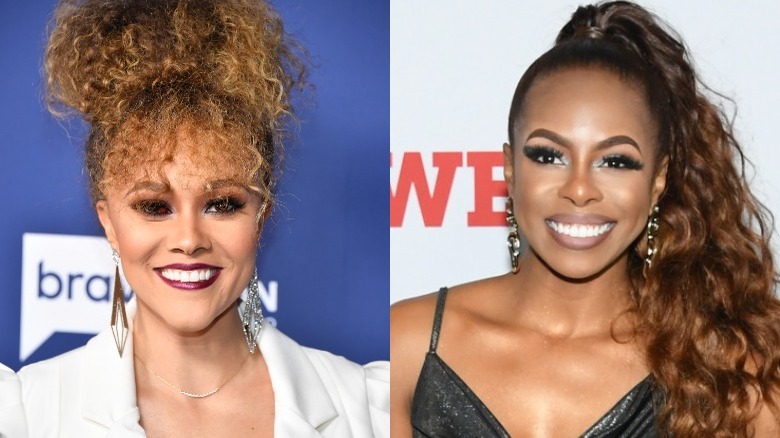 Dimitrios Kambouris & Mike Coppola/Getty
Although Candiace Dillard is receiving mostly positive feedback about her "Drive Back" track, some critics are questioning her previous comments about Ashley Darby using autotune. During a recent appearance on "Watch What Happens Live," a viewer referenced Candiace's shady statement about Ashley's song. "Were any apologies made to Ashley after the reunion about her using autotune, because at certain points in the song ['Drive Back'] autotune is very clearly used? It's still a bop, though," the fan wrote.
When Cohen asked if she would apologize for her comments, Candiace responded, "I don't. I'll tell you why. So autotune is, people don't know, it's an industry standard. Everybody uses it from, like, the best singers to the ones that need a little prayer. Some just need it more than others." Cohen doubled down on his question by noting that they both used autotune. Candiace, however, answered the question in a different way. "People use it in a creative way like T-Pain. Have you ever heard T-Pain sing?" she asked Cohen. "T-Pain is an amazing vocalist, but he used it in a creative way to get onto the stage. She [Darby] used it on the entire song." Yikes, clearly we may need a Verzuz battle between these feuding housewives.