This Is The Song In Adam Driver's Burberry Commercial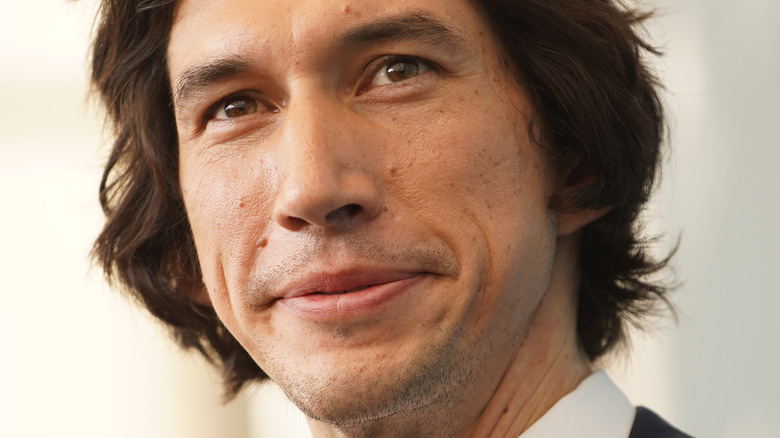 Shutterstock
Adam Driver became everyone's desired hot neigh-bor after he frolicked into the ocean with a horse for Burberry. Just casually. Looking like the absolute stallion that he is, the internet understandably went wild after the iconic British brand released their latest fragrance campaign, featuring none other than our "hero" Kylo Ren. Important note: The new perfume is actually called "Burberry Hero." The commercial sees the "Star Wars" actor sprinting along the beach shirtless, wearing only a pair of slim trousers — his signature look as of late (per GQ) — before diving headfirst into the ocean alongside a horse. But it's not until Driver seemingly transforms into the mare and then returns to the beach as a centaur, ready to sell some... erm, stock... that social media users truly started to scratch their heads. 
One person wrote the concept was "completely on brand" for Driver, while another referred to the world of "Narnia" when they said: "Mr. Tumnus walked so Adam Driver could run." Others quietly questioned their newfound sexual fantasies, even declaring the ad "Academy Award" worthy as one user wrote: "'sexy; + 'centaur' are words I never thought I'd use together." Despite the striking visuals being the talk of Twitter, others noted that the background song choice was a match made in commercial heaven. One user wrote: "i still can't believe they chose the horniest fka twigs song for that advertisement" — which is pretty much on the money. Set to the British singer FKA twigs sensual hit "Two Weeks," the song made sense in more ways than one.
FKA twigs ironically sings 'I quench that thirst' in the Burberry commercial
We're not horsing around when we say the track featured in the commercial adds to its thirst-factor. FKA twigs released "Two Weeks" back in 2014 for her debut studio album "LP1" and to this day, it's still her most successful song. But popularity perhaps isn't the reason why Burberry's new creative director Riccardo Tsci picked it. Earlier this month Driver was announced as the face of "Burberry Hero," a gig he was "very happy" to be part of, per GQ. Likewise, Tisci said he was "thrilled" to have the actor on board as someone who represents "modern masculinity." "He has this incredible depth in articulating what masculinity means today — how strength can be subtle, and emotions can empower." "Two Weeks" — and FKA twigs herself — also share this duality, as a "pop star who really nails sex," according to The Guardian
FKA twigs said "Two Weeks" was about wooing a man away from a sexless relationship — something both "dominant" and "submissive." "Vulnerability is the strongest state to be in. How boring would it be if we were constantly dominant or constantly submissive?" FKA twigs questioned. The video clip for "Two Weeks" was also far from "boring," as it shows FKA twigs naked and milking herself. "It's bizarre, but hot in a very weird way." Yep, that probably sums up the "Burberry Hero" commercial, too.
And if you are not yet convinced the song is right for the ad, think again. It highlights the lyrics "I quench that thirst," just as Driver flexes his muscles in an impassioned swim. 
FKA twigs is also a Burberry brand representative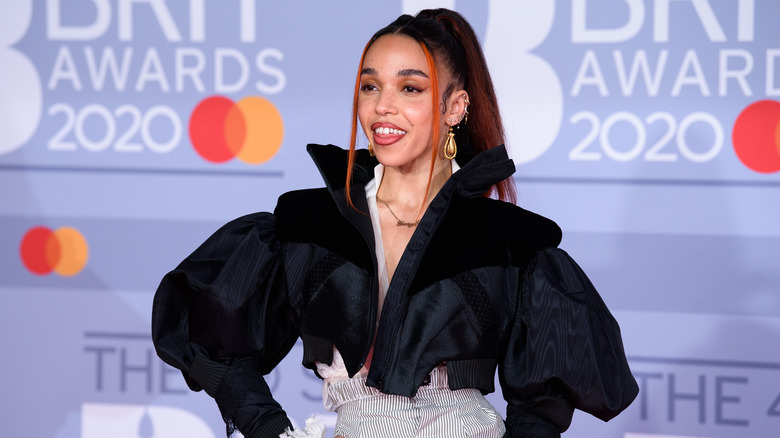 Joe Maher/Getty Images
Symbolic meaning aside, it's also a no-brainer that "Two Weeks" was chosen given FKA twigs is a Burberry ambassador. The singer, who's well-established in the electronic music scene, only recently entered mainstream public consciousness following a few high-profile relationships, including Robert Pattinson. But in December, she made headlines after she alleged ex Shia LeBeouf abused her, per The New York Times.
In May, however, the 33-year-old was named the new face of Burberry's Olympia campaign, alongside Kendall Jenner and Shygirl, per Vogue. In a press release, Ricardo Tisci said he wanted the new handbag to "capture the essence of femininity," which they embodied, per Russh. "These women are amazingly talented and confident, and have a natural fierceness and determination to carve their own paths, each freely expressing their originality through their creativity."
The Gloucester, England native FKA twigs, was honored by the offer, describing Tisci to Vogue as a "rule-breaker" who "pushes boundaries," in terms of diversity and inclusion. But she also said that working with the "extremely iconic" brand had some sentimental significance. FKA twigs explained that, when she was 18, an old boyfriend lived near a "lit up and shiny" Burberry store and declared that they'd one day be able to afford such luxury items. "In some parallel universe, my 18-year-old self might be looking at me in a crystal ball saying, 'G'wan girl'." Aside from teenage dreams, apparently all the "fittest boys" she knew wore Burberry — perhaps like Adam Driver now. Here's hoping they get paired up for a photoshoot soon.