Who Is Ty Pennington's Fiancee, Kellee Merrell?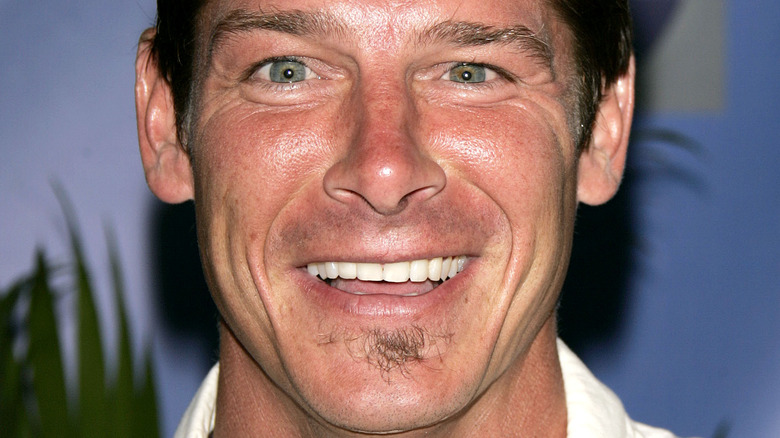 Shutterstock
Ty Pennington is engaged! The former "Extreme Makeover: Home Edition" host and "Trading Spaces" star has officially popped the question to Kellee Merrell. His rep confirmed the exciting news to People and revealed he asked her to marry him while they enjoyed morning coffee together at his Florida home.
The star has famously kept his love life pretty secret and has shied away from putting his romance with Merrell on show, even on his Instagram account, which is a bit of a theme for him. Prior to his engagement, Pennington quietly dated Andrea Bock for around two decades. The two worked together on "Extreme Makeover: Home Edition" and were even rumored to be engaged (per Reality Titbit), but they never married and don't appear to have publicly addressed their split.
Pennington has been just a little more public about his love for Merrell, though. He revealed their engagement on Instagram on July 28 when he shared a photo of his new fiancée's hand on top of his wearing an engagement ring featuring a stunning teardrop shaped stone surrounded by smaller jewels.
The star captioned the shot by writing, "It's the 'yes' for me..." but continued with his private ways by not tagging Merrell in the caption or on the photo.
So, who exactly is Kellee Merrell? Read on for everything we know about Pennington's new fiancée.
Ty Pennington and Kellee Merrell first met more than 10 years before getting engaged
Kellee Merrell is a 33-year-old social media manager who hails from Vancouver, Canada, according to People. Merrell and Ty Pennington first met back in 2010 while he was in Toronto for work, and the two stayed in touch via mutual friends. They then reconnected in early 2020 just before the coronavirus pandemic hit, so decided to quarantine together.
Speaking about how they came back together, Pennington told the outlet that he's "admired Kellee from afar for years," sweetly calling her, "a beautiful person inside and out." The 56-year-old added, "Luckily our paths finally crossed at the right time" as he shared he never thought he'd get married, but that all changed with Merrell. "Glad I waited for the one," he said.
Not too much more is known about Merrell and, despite being a social media manager, she doesn't appear to have public social media accounts. She has popped up before on Pennington's Instagram, though. Back in June, the HGTV star shared a selfie with Merrell in celebration of her birthday alongside a gushing caption.
"Thank you ...Universe ...for creating this amazing human... who somehow tolerates me ...even tho I'm beginning to look like papa smurf after a Willie Nelson concert," he joked, also captioning the photo with the hashtag "#canada," which appeared to be a nod to her home country.
Congrats to the happy couple!