For Every Time Johnny Depp Has Been Controversial, This Moment Stands Above The Rest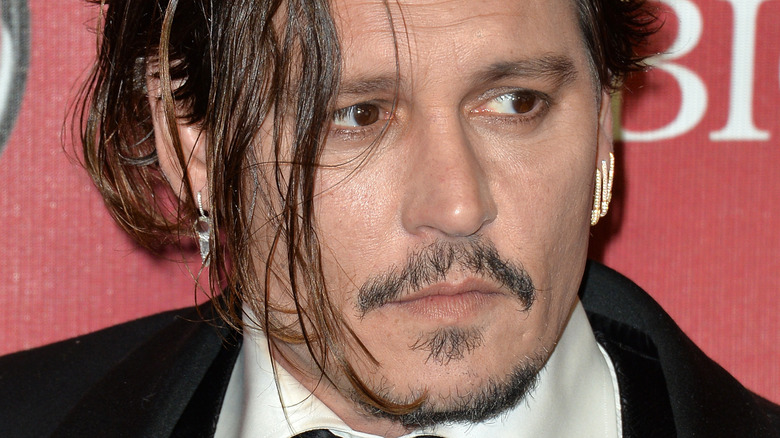 Shutterstock
Even while wearing a tuxedo and posing on the red carpet, Johnny Depp gives off that "Hollywood bad boy" vibe. He's not clean-shaven, his hair is unruly, he's sporting earrings, and he's often donning sunglasses that hide his eyes. Some might say it's more than just an image, however. From a young age, Depp has deviated from the cookie-cutter expectations of polite society. 
Hoping to become a rock star, he dropped out of high school when he was just 15, according to Business Insider. While his garage band only enjoyed local success, he made connections that allowed him to break into acting. He landed his first movie role in the early 1980s when he played Glen Lantz in the cult horror "Nightmare On Elm Street," despite having no experience or training as an actor. According to ABC News, Depp revealed that he deliberately sought scripts that would help him cultivate an image with a rougher edge. This drive led him to take on roles in movies such as "Edward Scissorhands," "Sweeney Todd: The Demon Barber of Fleet Street," and even "Pirates of the Caribbean."
In his personal life, Depp has been no stranger to controversy, with articles headlined "What's Eating Johnny Depp?" speculating about his relationship with drugs and alcohol. He's also had tumultuous relationships with Winona Ryder, Kate Moss, and Vanessa Paradis, and most recently, a highly publicized divorce with Amber Heard. However, despite Johnny Depp's complicated history, one controversy stands out among the rest.
Johnny Depp's legal battle with Amber Heard made headlines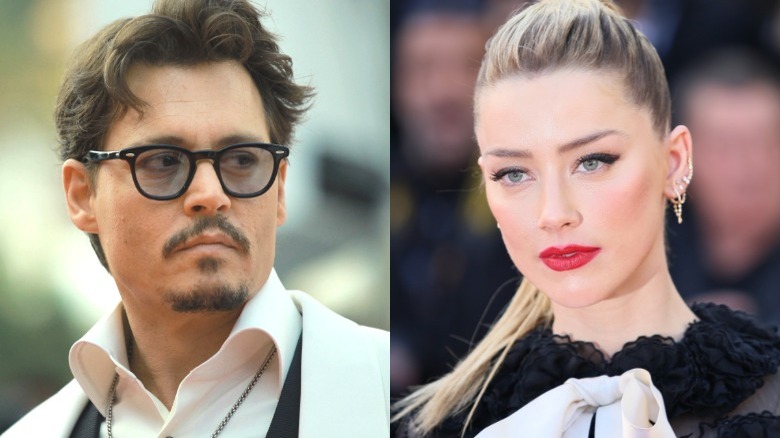 Shutterstock
In 2016, Amber Heard filed for divorce and applied for a restraining order against Johnny Depp, stating that he had physically and emotionally abused her. The Washington Post reported that Heard had "showed up at the courthouse with bruising on her face." Heard alleged Depp had been "verbally and physically abusive" throughout their relationship and that she lived in fear of his "excessive emotional, verbal, and physical abuse." She went on to describe how he had repeatedly hit her and violently grabbed her while he was "high and drunk."
The divorce was finalized in 2017, ending a marriage that had not seen its second wedding anniversary, according to the BBC. However, Depp's legal battle didn't end there. In an attempt to exonerate himself, he filed a libel case in London against The Sun and its executive editor Dan Wootton for referring to him as a "wife-beater," a claim that Depp strongly denied.
Not only did the judge dismiss the libel claim in November 2020 on the grounds that the reports by The Sun were "substantially true," but in March, his appeal got denied, according to the Daily Mail. In a statement on Instagram, Depp revealed that the court ruling has already cost him at least one movie role, and it remains to be seen how this will further affect his career.
If you or someone you know is dealing with domestic abuse, you can call the National Domestic Violence Hotline at 1−800−799−7233 or TTY 1−800−787−3224. You can also find more information, resources, and support at www.thehotline.org.