Why You Recognize The Athlete From The Tonal Commercial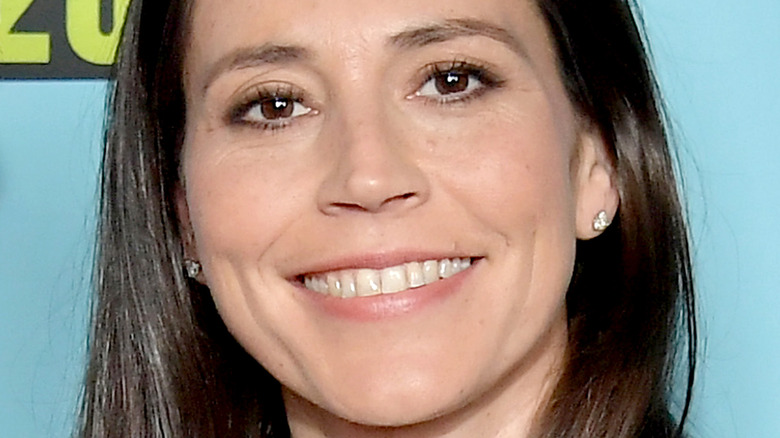 Neilson Barnard/kcasports2019/Getty Images
Have you seen the Tonal commercial that came out in July? If you have, then you'll know that it's filled with captivating lighting, motivating words, and a glimpse at a digital exercise system. If you haven't seen it, then you're missing out on what can apparently be your way to "get stronger faster" and "unlock your potential." In fact, the ad features a workout from an incredibly toned woman who might very well be your new fitness inspiration. And people have noticed.
"Those arms," one person wrote on YouTube while commenting on the figure in the commercial. Adding a red hot, sweaty face emoji, another viewer used heart face and bicep-boasting arm emojis to get their point across while responding by writing, "I know! She's got nicely toned arm muscles." Yeah, she does!
Someone else added, "Sue Bird is an example that women can be athletic, muscular, and beautiful at the same time!" But wait... Sue Bird? As another commenter wrote, "Who is Sue Bird?" Well, read on to find out the answer to that very question. She's not only a notable athlete, but she also happens to be half of one of the most famous couples in sports.
Sue Bird dominates the basketball court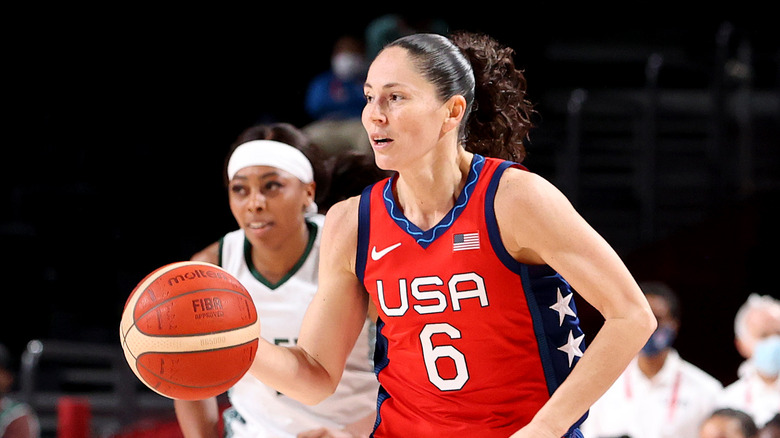 Gregory Shamus/Getty Images
Judging by Sue Bird's Tonal commercial, the athlete is super strong and super fit. The ad's description even notes that she "uses Tonal to get — and stay — mentally and physically prepared for her toughest competition." But what kind of competition is that? Well, Bird happens to be a top U.S. basketball player.
Sports Illustrated notes that the "WNBA star [known for playing for the Seattle Storm] boasts a U.S. national team résumé that very few athletes in Olympic history can match." That includes the fact that she acted as a flag-bearer for her home country and was set to make history thanks to the fact that "[s]he's 9–0 in Olympic and World Cup competitions, the nine in this case meaning nine gold medals, the most by any basketball player in the history of international competitions" and is "the only five-time FIBA World Cup gold medalist." Now, 40 years old while competing in Tokyo, she talked to SI about all that she's done, saying, "I can't even really wrap my head around it. Even though it has been 17 years, you blink," after a pause, she added, "and it's gone."
Granted, while that's undeniably impressive (to say the least), there's another reason why Bird has created a buzz. Only this time, it has to do with her personal life and the woman she loves, who is also a major star in the world of sports.
Megan Rapinoe and Sue Bird are a match made in sports heaven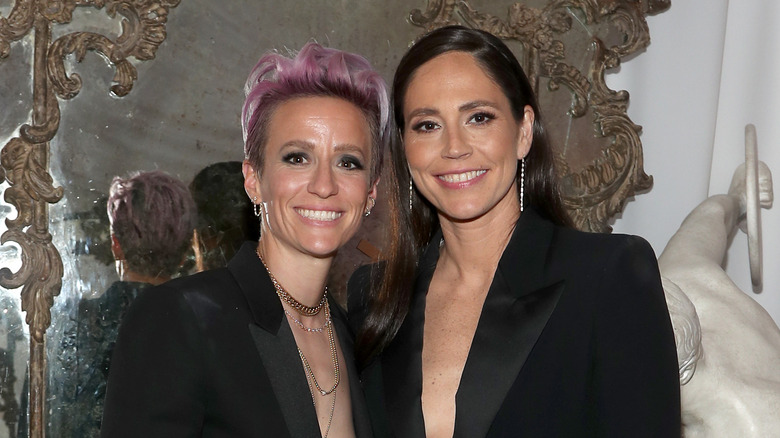 Jerritt Clark/Getty Images
Sue Bird may be a famous sports star, but so is her fiancee, Megan Rapinoe. In a 2017 interview with ESPN, Bird came out while at the same time revealing that she was in a relationship with the soccer player. The next year, the two made history together by becoming the first same-sex couple to pose for ESPN The Magazine's Body Issue cover. When asked about participating, Rapinoe explained, "I think neither of us really wants to just do things and be like, 'We're the gay couple.' But to have this really unique vehicle to actually do that, to celebrate who we are in our sport, but also the fact that we'll be the first gay couple, is pretty special."
What is perhaps even more special for the couple is the fact that in 2020, they revealed that they were engaged. On October 30, Bird shared an Instagram photo of herself in a pool. On the ledge, down on one knee, was Rapinoe, placing a ring on her love's finger.
Although there was no caption along with the engagement post, Bird made her feelings clear in another IG message. Sharing a photo of the two on a beach, she wrote, "Forever Valentine @mrapinoe. The only person I would sit in the sand for........In a g-string-ish bathing suit in the winter while she's dressed like Elizabeth Holmes (And anyone who knows me knows how much I must love this girl...)." Aaaaww!