The Real Meaning Behind 'Woman' By Doja Cat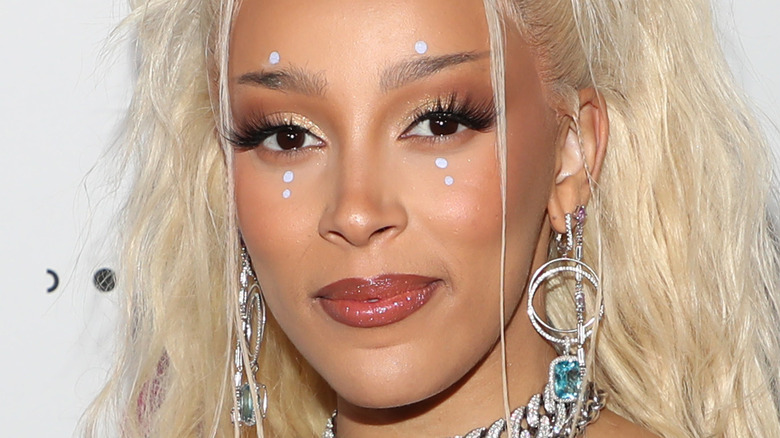 Jerritt Clark/Getty Images
With her latest project, "Planet Her," Doja Cat has established herself as a hitmaker. Not only has the album landed the No. 1 spot on the Top R&B Albums Billboard chart for three straight weeks, but it has also managed to rank at No. 2 on the all-genre Billboard chart since its June 25 release. And the album's singles, "Kiss Me More" with SZA and "You Right" featuring The Weeknd, have been a constant hit on the airwaves all summer long. 
Proving her versatility, the 14 song tracklist covers a variety of topics and moods from relationships and career success to womanhood. Speaking to MTV News in August 2020, Doja Cat said she wanted each song to have its own distinct style rather than focusing on one genre. "It's not gonna be perfectly consistent — I've never been, anyway. But we have some dancehall stuff on there, some Afrobeat stuff, some funk, house. I'm trying to cover all bases."
Whether Doja Cat's rapping through a verse or crooning softly, each and every track of "Planet Her," has its own unique flair to it. But "Woman," the first song off the album, stands out for its uptempo beat and deeper meaning. 
"Woman" has Doja Cat celebrating herself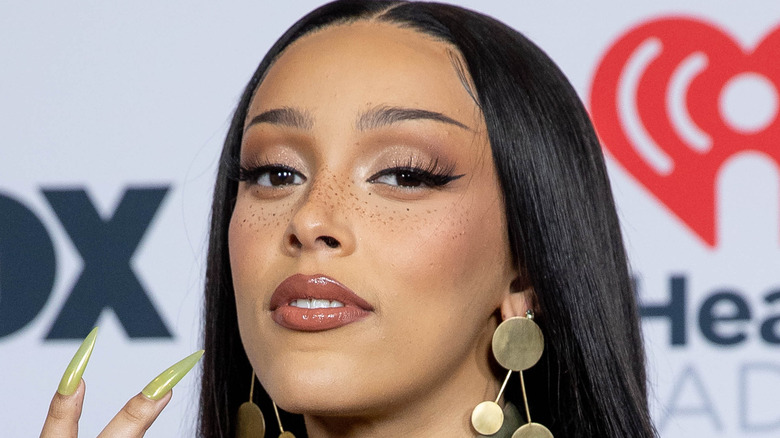 Emma Mcintyre/Getty Images
"Woman" has been dubbed by Billboard as "Planet Her's" national anthem, which is fitting as the song sees Doja Cat celebrating her femininity. Infused with Afrobeats, the song's uptempo nature makes it catchy and fun as Doja Cat repeats, "Let me be your woman/Woman, woman, woman/I can be your woman." And although the lyrics do imply Doja Cat would be down to be in a relationship, she also hypes herself up throughout the song, suggesting she could do whatever she puts her mind to. "I mean I could be the leader, head of all the states / I could smile and jiggle it 'til his pockets empty." The rapper and songwriter even gives a shoutout to Rihanna's successful beauty brand "Fenty," when she says, "I could be the CEO, just look at Robyn Fenty."
Taking it a step further, the song also points out the downsides of being a woman. Specifically, Doja Cat alludes to how the patriarchy benefits from creating issues between women. But the singer makes it clear she's not about that lifestyle. "And I'ma be there for you 'cause you on my team, girl/They wanna pit us against each other when we succeedin' for no reasons/They wanna see us end up like we Regina on Mean Girls."
"Woman," is the perfect opening song for "Planet Her," as it showcases Doja's Cat's ability to create an incredibly fun yet meaningful song.