The Ridiculous Amount Of Money Catherine Zeta-Jones Spent On Her Wedding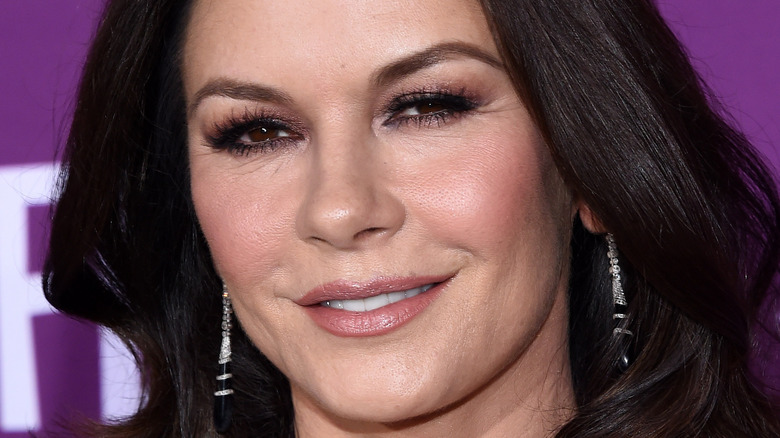 Shutterstock
Catherine Zeta-Jones and Michael Douglas have one of the greatest love stories in Hollywood. Despite their 25 year age difference, the pair are super adorable together, and Zeta-Jones shares photos of herself and Michael on her Instagram feed on the reg. The couple first met in 1996, but it wasn't exactly what you would call love at first sight. 
"We met in 1996 at the Deauville Film Festival. I think it was 1996. Anyway, we met. I had been told that Michael Douglas wanted to meet me," Zeta-Jones told CNN's Larry King in 2001. At first, Douglas walked right past her in the lobby of the hotel they were both at, and she told her brother that maybe he didn't want to meet her after all. However, the two later got introduced at dinner by two famous friends, Antonio Banderas and Melanie Griffith. "And he asked very gentlemanly if he could sit next to me at a very long table at the dinner for the 'Zorro' premiere," she shared. 
Douglas recalled meeting her in a bar during an interview with The Jonathan Ross Show in 2016. "I said to her after about half an hour, 'You know, I'm going to be the father of your children.' It sounded good, and she said, 'You know, I've heard a lot about you, and I've seen a lot about you, and I think it's time I say goodnight." Despite the rocky start, the pair ended up hitting it off and got married in 2000.
Catherine Zeta-Jones and Michael Douglas' wedding cost could buy a mansion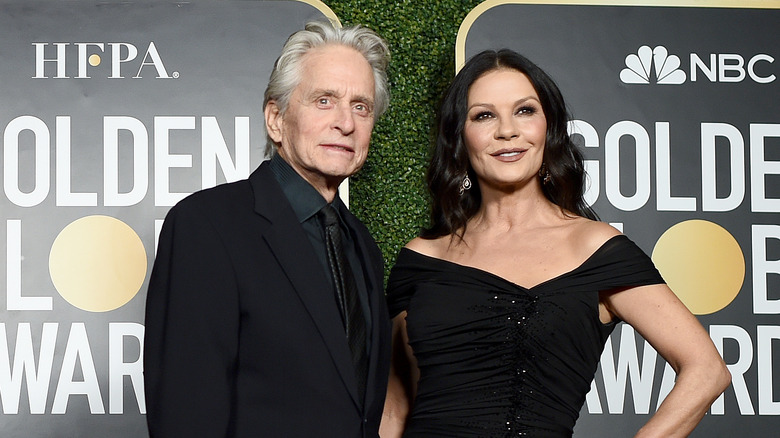 Dimitrios Kambouris/Getty Images
Catherine Zeta-Jones and Michael Douglas' wedding was one for the books. According to ABC News, the shindig was held at the Plaza Hotel in New York City. The wedding came with a hefty price tag, costing between $1.5 and $2 million, making it one of the most expensive weddings in Hollywood. Believe it or not, Zeta-Jones' wedding dress cost $250,000 alone!
Camilla Flowers shared that the affair had a lot of talented musical guests including Jimmy Buffett and Art Garfunkel. It's also worth mentioning that the duo had a 40-person Welsh choir sing during the ceremony, skimping on no details. Cheat Sheet reported that plenty of other A-listers were in attendance, including Jennifer Aniston, Brad Pitt, Tom Hanks, and Whoopie Goldberg. Perhaps our invite got lost in the mail? In lieu of gifts, the pair asked wedding guests to make a donation to their son, Dylan Douglas' trust fund.
According to ABC News, the couple made all of the money spent on their wedding back after selling photos to Ok! magazine for $1.4 million. Later, Ok!, Zeta-Jones, and Douglas got into a court battle with Hello! Magazine after they published photos from the wedding that a photog took with a hidden camera, per The Daily Mail. Zeta-Jones and Douglas later dropped out of the lawsuit — after they won nearly $3 million —  but the case got appealed, and years later, Ok! Came out on top.
Catherine Zeta-Jones and Michael Douglas are too cute for words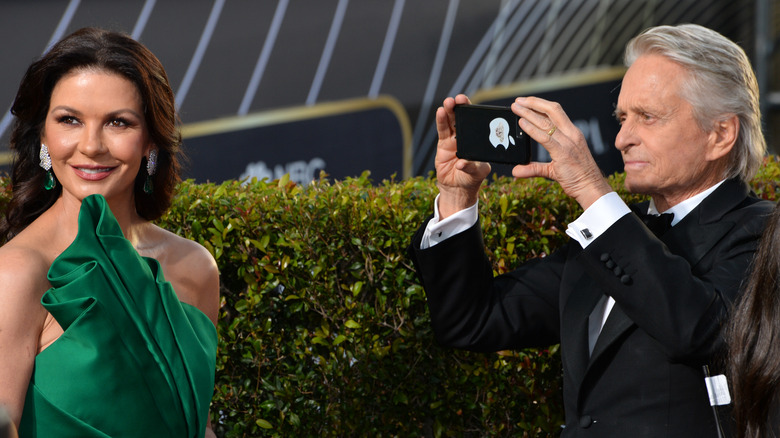 Shutterstock
All these years later, the wedding of the century (okay, maybe not the century, but at least of the year 2000) paid off. Though Michael Douglas and Catherine Zeta-Jones went through a rough patch in their marriage, per Glamour, the two still seem to be as in-love now as they were on their wedding day. In November 2020, Zeta-Jones celebrated the pair's 20th anniversary with a collage of photos from their big day and an incredibly cute caption. "20 years ago today Michael and I were married!! What an amazing magical night that was," she raved. "And 7304.85 days and nights on, I love you now as I did then." Douglas returned the favor, raving over his blushing bride on his own Instagram page. "Happy 20th Anniversary my darling," he exclaimed. "I love you always and forever."
However, the two just don't rave over one another on their anniversary ...  they also praise each other in other arenas as well. When Zeta-Jones launched her activewear collection, Douglas couldn't help but gush over his wife. "I could not be more proud of @catherinezetajones and her @casazetajones activewear and footwear collection," he wrote on Instagram in July. "I have seen how hard she has worked on this brand and how much of her heart she has poured into this project! Click the link in my bio to check it out!" Zeta-Jones left a comment back, saying, "love you." Stop guys, you're making us blush!