The Truth About Damon Dash And Aaliyah's Relationship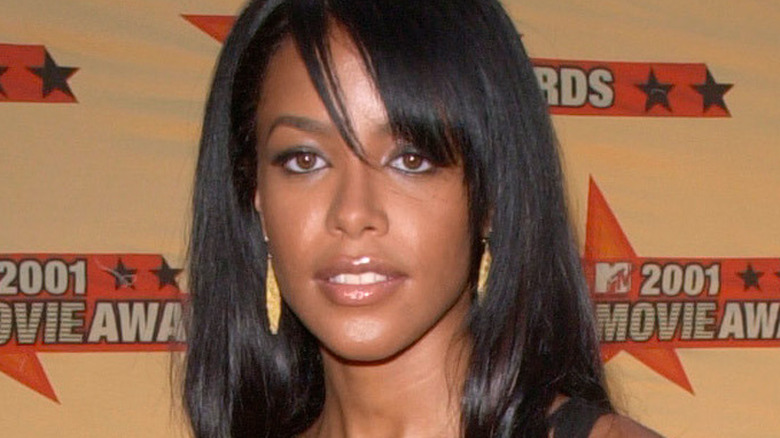 Shutterstock
Damon Dash and late musical legend Aaliyah were once R&B's "it" couple in the early 2000s. Their love story grew from a budding friendship when the two met through Dash's accountant in 1999, according to Bustle. The former friends were first photographed together at Diddy's Fourth of July bash in 2000, and according to the Roc-A-Fella Records co-founder, Aaliyah was being pursued at the time by Jay-Z but ultimately ended up with the former (via Page Six).
The "Try Again" singer and Dash were "inseparable" from then on, according to Billboard. Despite their eight-year age difference, the couple continued to connect and build a genuine, private relationship with one another. "She was intelligent and she caught me," Dash told The Juice (via Billboard). "I'm the kind of guy who says things sometimes just to make myself laugh, but she would just catch me making jokes for me. I couldn't get anything past her. She had a very quick mind and a very kind heart."
Both Aaliyah and Dash maintained busy schedules while they were together. At the time, the "Are You That Somebody" singer wrapped up her film debut in "Romeo Must Die," and began working on "Queen of the Damned." Dash explained to the outlet that their quality time meant so much to them, that they considered marriage once their schedules allowed for it: "Our time together meant so much that when we got more time, we felt like that [engagement] would be next." The couple was together for about a year up until her tragic death on August 25, 2001. It's clear that Damon Dash and Aaliyah's relationship meant the world to them both. Read on to learn more about their relationship.
Damon Dash still honors Aaliyah years after her death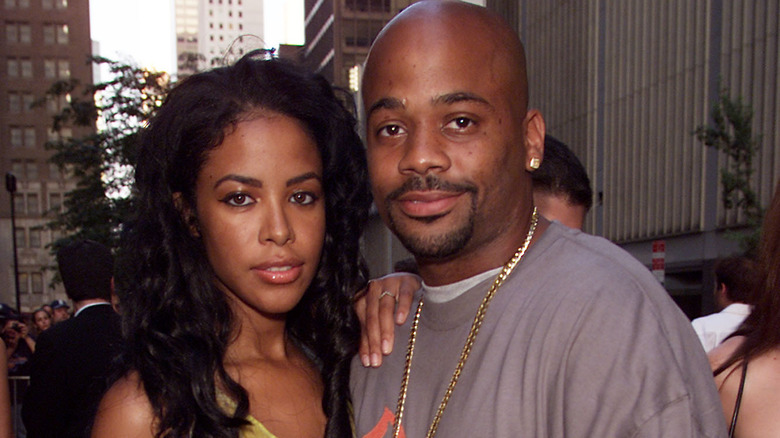 Frank Micelotta Archive/Getty Images
The whole world was shaken by the untimely death of Aaliyah on Aug. 25, 2001, when she was among nine passengers that were killed in a plane crash from the Bahamas, where she shot her "Rock The Boat" music video. It was later revealed that the plane's pilot had drugs in his system and the aircraft had been loaded over its weight capacity (via New York Times). The singer was 22 years old.
According to her former boyfriend, Damon Dash, her death was one of the most heartbreaking moments of his life. "She was the best person I ever knew. ... I never met a person like her in my life," Dash told MTV in August 2001. "Every day that we were together, we cherished. Every memory — every day was a special event, whether it was going to a store or going to a movie or just sitting in a house. Wherever we were was like our own little party, in our own little world."
Losing a loved one isn't the easiest task, but Dash still mourns Aaliyah nearly two decades after her death. During an interview with Page Six in 2019, the record exec spoke candidly about his former lover. "She was just cool as hell ... we would laugh ... we never stopped hanging and that is what happened with her. There was never any obligation or any title ... just liking being around somebody for who they are," Dash said. "I was not in love with Aaliyah through the television — I fell in love with her from hanging out and meeting her. She looked different than Aaliyah on the TV screen." We're not crying, you are.
Damon Dash spoke out against Aaliyah's relationship with R. Kelly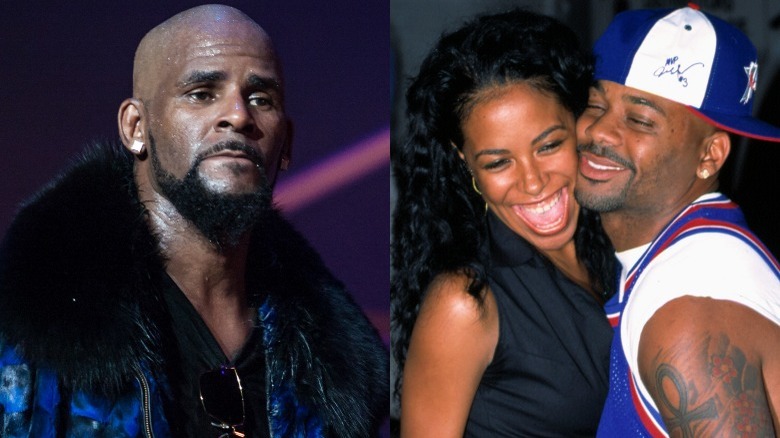 Shutterstock
Aside from speaking on his relationship with Aaliyah, Damon Dash is very vocal about the singer's relationship with former mentor, R. Kelly. Aaliyah met Kelly when she was 15 years old and the latter was 27 at the time; the two musicians worked together to produce her ironically titled debut album, "Age Ain't Nothing But A Number." On Aug. 31, 1994, the "I Believe I Can Fly" singer married Aaliyah with an official Illinois marriage certificate claiming that she was 18 years old (via NPR). The marriage was annulled months later due to Aaliyah's age, according to Associated Press.
Aaliyah and Kelly's relationship was further discussed in the Lifetime special, "Surviving R. Kelly," in which viewers were able to delve into the R&B singer's controversial past. During an appearance on the series' sequel, "Surviving R. Kelly: The Reckoning," Dash claims he knew "the whole story," leading him to seek therapy afterwards. "She just said he was a bad man, and she left it at that," Dash said during episode two of the series (via Oxygen).
Kelly is currently facing a slew of charges, including bribery charges related to his marriage to Aaliyah. Prosecutors allege that Kelly paid for a "fraudulent identification document" for someone identified in the revised indictment as "Jane Doe" (via USA Today). In Dash's opinion, Aaliyah was a 'sacrificial lamb' in the situation. "If, like, people would have protected Aaliyah, so many other girls wouldn't have got touched," he added. "You understand what I'm saying? ... You know, you shouldn't have to always learn from pain. Sometimes you can learn from other people. Like, Aaliyah was like the sacrificial lamb for all that, 'cause she didn't deserve none of that."