The Ridiculous Amount Of Money Jeff Bezos Makes Per Second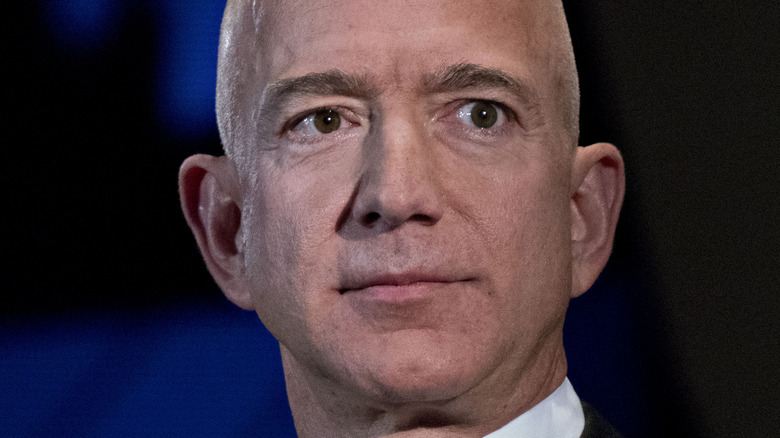 Bloomberg/Getty Images
Jeff Bezos is one of the richest men on Earth with a net worth of just under $200 billion, per Forbes. The billionaire owes much of his wealth to the success of Amazon, which he founded in 1994, according to NBC News. Bezos credits his mindset with allowing him to push forward and continue pursuing his dreams. In a 2018 interview with Insider, Bezos elaborated on his personal philosophy to illustrate how he has come so far over the years. "Life is full of different risks," he began. "...When you think about the things that you will regret when you're 80, they're almost always the things that you did not do. Very rarely are you going to regret something that you did that failed," he said.
In addition to taking risks, Bezos bases his success on making tactical, fast decisions. In a 2018 interview at the Economic Club of Washington D.C., Bezos declared (via Inc.), "All of my best decisions in business and in life have been made with heart, intuition, guts ... not analysis." Ultimately, however, Bezos believes that finding a calling is what leads to lasting success. At the George W. Bush Presidential Center's Forum on Leadership in 2018 (via Yahoo! Finance), he said, "You can have a job, or you can have a career, or you can have a calling. And if you can somehow figure out how to have a calling, you have hit the jackpot."
In this case, Bezos' calling made him rich. Keep reading to learn how much he makes in just one second. 
Jeff Bezos makes more per second than twice the median full-time weekly wage for most Americans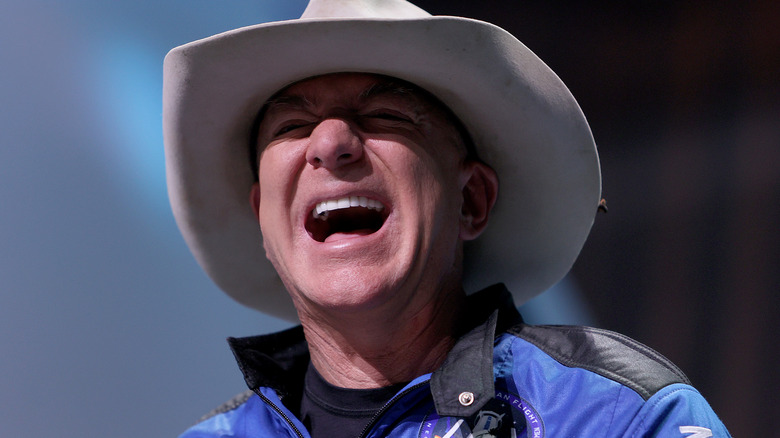 Joe Raedle/Getty Images
When combining all of the wealth Jeff Bezos made through his projects and investments in 2020 alone, he made a whopping $8.99 billion per month, $2.25 billion per week, and $321 million per day, according to Vizaca's calculations. And how much does this amount to per second? A staggering $3,715, which is more than twice the median full-time weekly wage for most Americans, as noted by Business Insider. This amount varies depending on the day, week, month, and even year, and has been steadily increasing over the years. It also jumped significantly throughout the COVID-19 pandemic. Vizaca reports that the largest single-day increase in Bezos' net worth earned him $150,463 per second throughout that day. If the billionaire's per-second income hasn't blown your mind yet, get this: Bezos is so wealthy that the average American spending $1 is equivalent to him spending $1.3 million. His net worth is also the equivalent of Ukraine's entire gross domestic product.
With all this money in hand, how does Bezos, who stepped down as CEO of Amazon in early July, spend his money? In addition to philanthropic pursuits, some of Bezos' recent purchases include vacations with his family, a "10,000-year clock," a deluxe apartment in New York City, a private jet, and a house in Washington D.C. that used to be a museum, per Moneywise. So, where does his wealth come from?
Jeff Bezos' wealth comes from many sources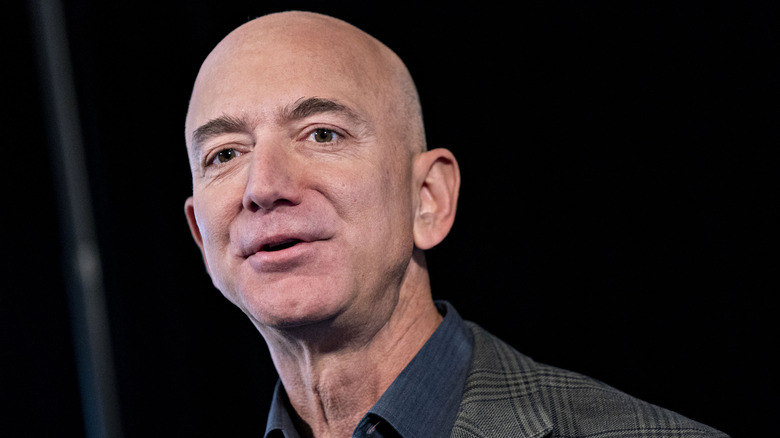 Bloomberg/Getty Images
Jeff Bezos is most well known for being the founder and executive chairman of Amazon, but he makes his money in a variety of ways, namely through investments in different sectors. In fact, Bezos' annual salary from Amazon tops out at a measly $81,840, per Forbes. Bezos makes most of his money through stock prices, as he owns 10.3% of Amazon's shares. He also has investments in cybersecurity company Lookout, Uber, and NextDoor, among many other companies, according to Yahoo! Life. 
Most recently, the tech visionary has turned his attention to space entrepreneurship. His investments in his own space exploration company, Blue Origin, enabled him to take a suborbital trip aboard the New Shepard spacecraft earlier this month, per NBC News. The moment marked the culmination of a lifelong dream for Bezos. Speaking to NBC following the trip, the billionaire reported, "It's amazing. There are no words. I'm not talented enough to put this into words." 
Moving forward, it seems Bezos will continue focusing his efforts on projects that go beyond the limits of planet Earth. He explained his overarching goal in a 2018 interview with CNBC. "Now take the scenario, where you move out into the solar system. [We would have] unlimited resources and solar power," he said. "That's the world that I want my great-grandchildren's great-grandchildren to live in."