The Real Meaning Behind Billie Eilish's 'Male Fantasy'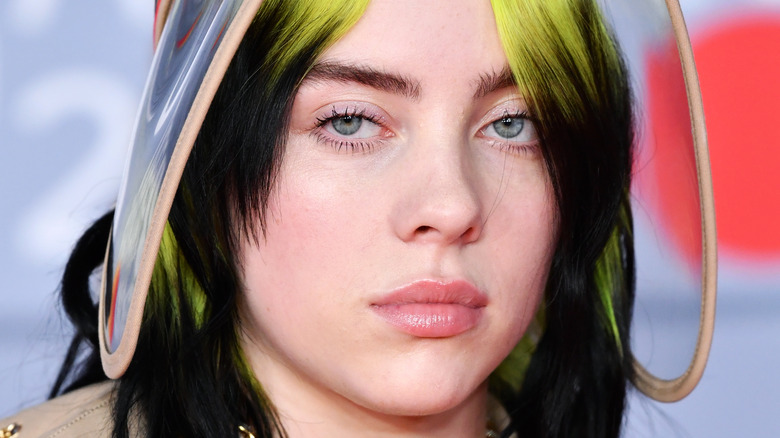 Gareth Cattermole/Getty Images
Billie Eilish dropped her second studio album, "Happier Than Ever," on July 30, and fans are already choosing their favorite songs. The teen skyrocketed to fame in 2019 after the release of her debut album "When We All Fall Asleep, Where Do We Go?," which won her a Grammy award (or seven). It appears Eilish has high standards for her sophomore album, saying (via People), "I wanted to make a very timeless record that wasn't just timeless in terms of what other people thought, but really just timeless for myself."
The "Bad Guy" singer also discussed what she wants fans to take away from her new music. She revealed, "The main thing that I would hope is, for people to hear what I say, and then go, 'Oh, God, I feel like that I didn't know that I felt like that. But this is how I feel,' and maybe make a change in their life that makes them happier." It appears that Eilish feels strongly about every track, writing on her Instagram, "I love every song on this project so so much it literally scares me thinking about putting it out into the world for anyone to listen to."
Eilish has already released the singles "NDA," "Lost Cause" and "Your Power" off her new album. But she hadn't yet released "Male Fantasy," which is a powerful ballad that leaves listeners with a lot to think about.
'Male Fantasy' about forcing her heart to heal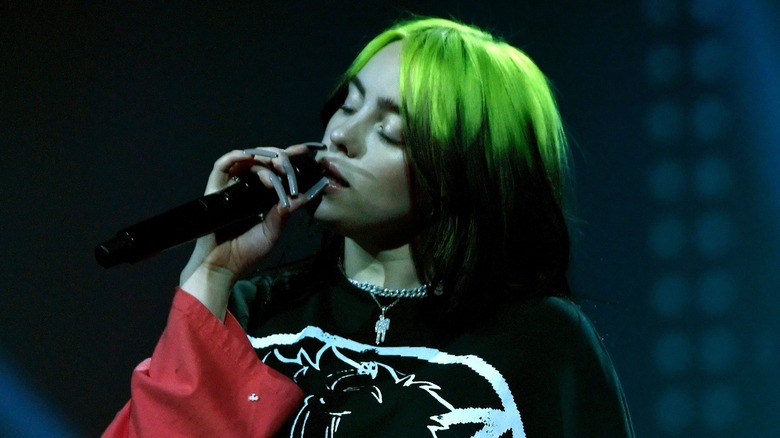 Kevin Mazur/Getty Images
"Male Fantasy" is the last track on Billie Eilish's new album "Happier Than Ever," leaving her fans with something meaningful that they could connect to. The song opens with Eilish singing about spending the night at home, watching and critiquing pornography, per Genius. The song's title pops up in the intro when she sings, "she would never be that satisfied, it's a male fantasy."
Yet, the song isn't about Eilish's issues with pornography, or even what she thinks is wrong with this male fantasy. Instead, the promised satisfaction that comes with pornography is used as a way for Eilish to distract herself from her loneliness after a break-up. Eilish reveals her true feelings in the chorus by singing, "Cause I loved you then and I love you now and I don't know how. Guess it's hard to know when nobody else comes around if I'm getting over you or just pretending to be alright, convince myself I hate you."
The "Everything I Wanted" singer even wonders if she'll ever feel better and move on in the lyrics, "It's all I think about whеn I'm behind the wheel. I worry this is how I'm always gonna feel." It appears that despite her attempts at distractions or at hating her ex, Eilish is having a hard time getting over the failed relationship, which is something that anyone who has ever been heartbroken can relate to.
Billie Eilish closes her album with poignant heartbreak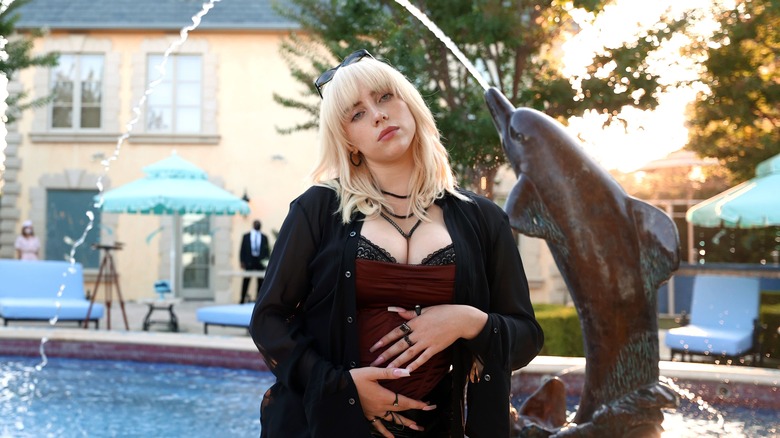 Matt Winkelmeyer/Getty Images
Singer Billie Eilish decided to end her album with the heartbreaking ballad "Male Fantasy," perhaps as a way to remind her fans that like her album, life doesn't always immediately have a happy ending. USA Today calls the move "sophisticated ambiguity," in that instead of closing with a track that is "a definitive declaration of healing," she decides to "keep listeners living in the question of how to move on from heartbreak."
Eilish also leads fans to question the difference between fake emotion, which is the "Male Fantasy" she sings about watching, and genuine emotion, which is seemingly what led her to her current state of heartbreak. This makes it difficult for Eilish to move on, which she points out by singing at the end of the song, "I know I should but I could never hate you."
It's clear that lyrics in general are important to the artist. Eilish explained (via People), that when it comes to the singles she releases, "It's really about lyrics and what I'm talking about and what I feel that the fans will appreciate." It seems that her fans always do appreciate what she puts into her music and how she is able to connect with anyone going through a tough time.