Brad Pitt's First Engagement You Might Not Remember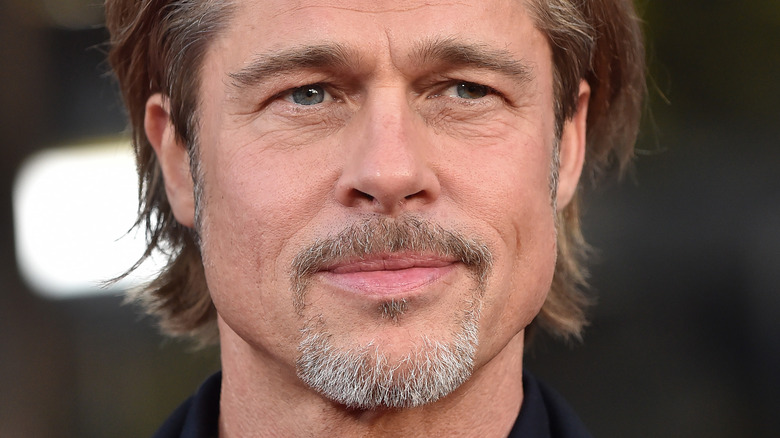 Shutterstock
Brad Pitt has dated and married some of the biggest stars in the entertainment industry, including his two ex-wives, Jennifer Aniston and Angelina Jolie. And yes, he's made a lot of headlines for all of the ups and downs in his personal life. Pitt and Aniston called it quits in 2005, the same year that he reportedly began dating Jolie, leading a lot of people to believe that his relationship with his "Mr. & Mrs. Smith" co-star might have led to the demise of his marriage.
And while no one knows what actually went down behind closed doors, Pitt has made it pretty clear that he's not a fan of the "d" word. Pitt's marriage to Jolie ended in 2016. Speaking about his divorce and how it affected their family and his role within it, the actor told GQ in 2017: "I grew up with a Father-knows-best/war mentality — the father is all-powerful, super strong — instead of really knowing the man and his own self-doubt and struggles. And it's hit me smack in the face with our divorce: I gotta be more. I gotta be more for them. I have to show them. And I haven't been great at it."
But little do Pitt's fans know that before all of his drama with Aniston and Jolie, he was engaged to another actor. And this is way before his highly-publicized engagement to Gwyneth Paltrow, too. Read below to find out who it is!
Brad Pitt was unceremoniously dumped by his first fiancee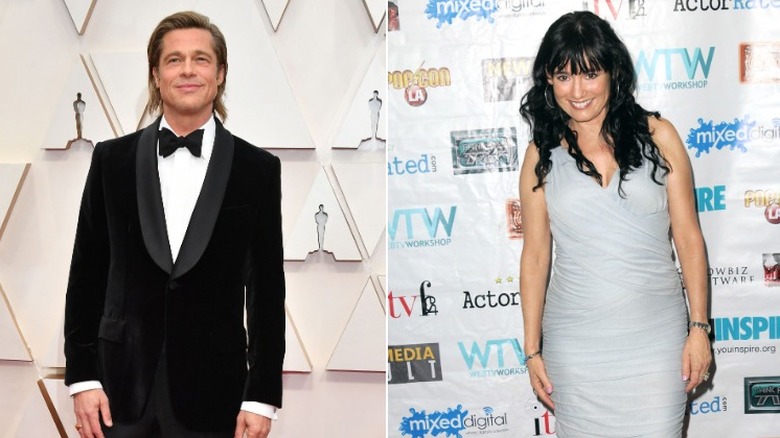 Amy Sussman, Albert L. Ortega/Getty Images
Back in 1989, and before Brad Pitt became a household name in Hollywood, he was briefly engaged to his "Cutting Class" co-star Jill Schoelen. Unfortunately for the actor, their engagement only lasted three months after he was dumped by Schoelen in a pretty dramatic way.
The "Troy" actor was still a struggling actor when he was with Schoelen, and he was blindsided by the way she pulled the plug on their relationship. Speaking to The Sun (via Cosmopolitan U.K.), Brad recalled, "She called me up in Los Angeles and was crying on the phone. She was lonely and there was a huge drama. At this point I had $800 to my name and I spent $600 of it getting a ticket from Los Angeles to Hungary to see her. I got there, went straight to the set where she was filming and that night we went out to dinner. She told me that she had fallen in love with the director of the film. I was so shocked I said, 'I'm outta here.'"
So, how does Pitt and Schoelen's relationship look like today?
Brad Pitt has one ex he can still count on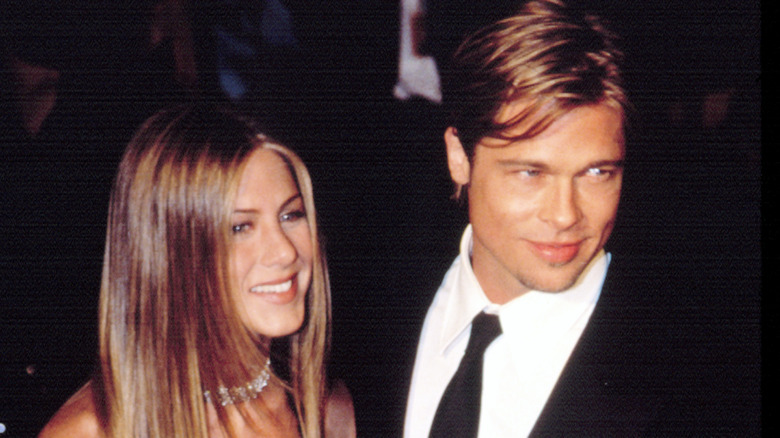 Shutterstock
While Brad Pitt is still making waves for who he might or might not be dating, Jill Schoelen went on to marry her husband, film composer Anthony Marinelli. The couple has two sons together and lives a private life outside of Hollywood. And she hasn't mentioned Pitt's name or spoken about their engagement to the press. She's also never been photographed at the same Hollywood event with Pitt during all these years.
Pitt, meanwhile, is still involved in his divorce and custody battle with Angelina Jolie, per the Associated Press. Thankfully for the actor, there's at least one ex-wife that he's still on good terms with: Jennifer Aniston. She even told People that they still talk to each other once in a while and that there's no awkwardness between them. Aniston said, "Brad and I are buddies, we're friends and we speak, and there's no oddness at all."
With that said, fans can't help but wonder if Pitt wishes he could turn back time in order to make some of his wrongs with his exes into rights.