The Friends Star Who Turned Down A Date With Ashton Kutcher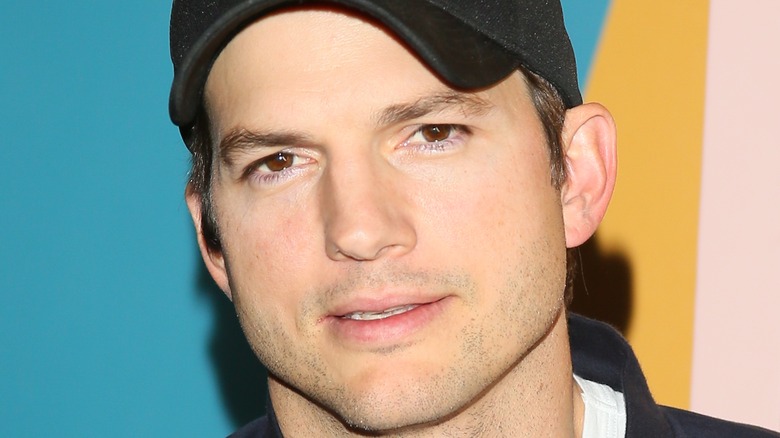 Jean Baptiste Lacroix/Getty Images
Ashton Kutcher has always been considered a Hollywood heartthrob and for good reason, too. Before he managed to carve a career for himself in the entertainment industry, he started off as a model after he won the Fresh Faces modeling contest in his native Iowa. He then made the move to New York City, where he signed with a modeling agency and shot campaigns for Calvin Klein and Abercrombie Fitch, according to CR Fashion Book.
Of course, it didn't take very long for Kutcher to become a household name, thanks to his roles in films such as "Dude, Where's My Car?" and his hit television sitcom, "That '70s Show." And with all of that fame also came the attention from some of the biggest names in Hollywood, including his ex-wife, Demi Moore. Recalling their early days before their marriage, Moore told Diane Sawyer in an interview (via Good Morning America): "I was a 40-year-old who had a big life. I didn't see all that because I was inside of it. I just felt like a 15-year-old girl hoping somebody liked me."
But there was one big-name star that Kutcher always had a celebrity crush on, and she was someone who happened to be on one of the biggest sitcoms in television history. Keep reading below to find out who it is!
Ashton Kutcher made a very ballsy move with a Friends star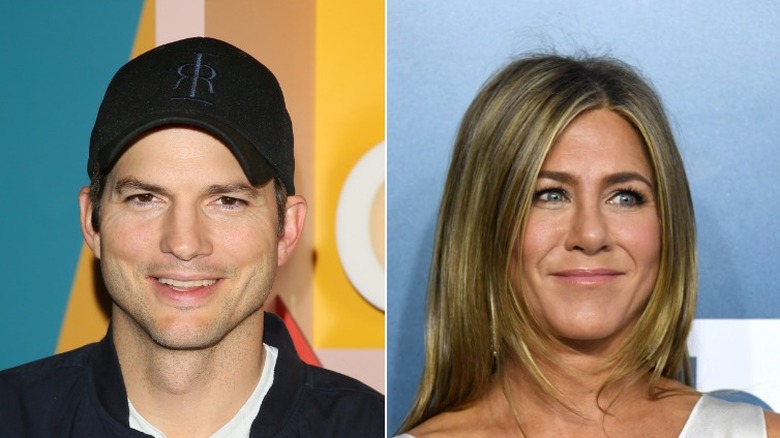 Jean Baptiste Lacroix, Jon Kopaloff/Getty Images
Ashton Kutcher once said on "The Graham Norton Show" that he bet a high school buddy that he would one day go out on a date with Jennifer Aniston. In fact, he was so smitten with the "Friends" actress that she was his screensaver at the time. This shouldn't come as a surprise, seeing as how Aniston along with her "Friends" co-stars were the biggest television celebrities of the late 1990s and early 2000s. 
But it wasn't until several years later, and well into Kutcher's own career in Hollywood, that he had an opportunity to realize his dream. Well, sort of. During an event in Hollywood, Kutcher had the guts to ask Aniston's then-husband Brad Pitt if he could ask his wife out on a date. Even though it was an odd thing to ask, Pitt seemed rather cool with it all and told Kutcher to go for it. Aniston might have not seen the humor in it the same way and politely declined Kutcher's offer, he shared on "Graham Norton."
However, Kutcher has never given up home.
Mila Kunis is not complaining about her marriage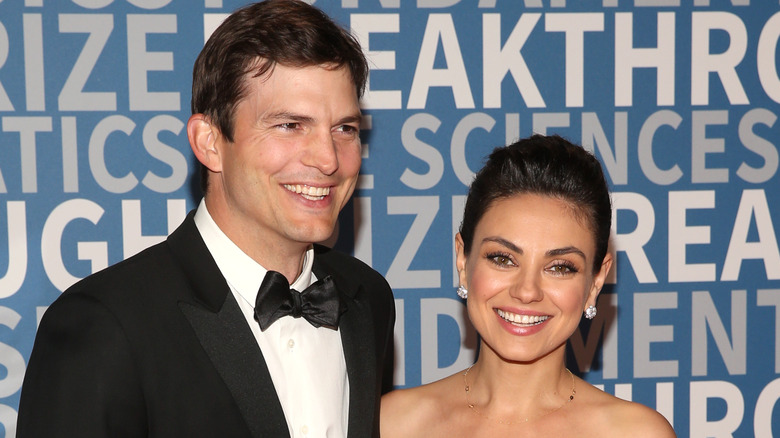 Jesse Grant/Getty Images
Ashton Kutcher went on to say that he and Jennifer Aniston became friends and joked that a relationship between them "might still happen." That seems very unlikely though seeing how Aniston moved on and married (but later divorced) Justin Theroux while Kutcher tied the knot with Mila Kunis in 2015. The couple now have two children together and like to live a very low-key life, off the Hollywood radar. In fact, their marriage has so far outlasted that of Aniston and Pitt's as they've been together for more than 14 years and married for six. And according to the Kunis, she couldn't be any happier with her husband as he's everything that she had ever wanted in a man.
Kunis told E! News back in 2018, "I have the world's greatest husband. I swear, I got very lucky, man. I got a man that has got a lot of patience and is incredibly supportive of our family."
In other words, one woman's loss is another woman's gain.