Why Alton Brown Isn't A Fan Of Guy Fieri
Shutterstock
When it comes to the realm of celebrity chef-dom, it seems that those within the culinary sphere are hardly immune from the petty (or, in some cases, justified) feuds that other mere mortals can find themselves embroiled in from time to time. Whether it's the late chef and travel journalist Anthony Bourdain's utter disdain for Sandra Lee over the racist monstrosity that once was "Kwanzaa cake"-gate, restaurateur Mario Batali's banishment from the upper echelons of gourmand-land over multiple instances of sexual assault, or the more paltry, less serious cases, like Bobby Flay and Giada de Laurentiis' brief fallout over losing a reality TV competition, dueling foodies are apparently more common than daisies. So it's no surprise, then, that he of the frosted tips and oblong shades, Guy Fieri, would also have a few enemies on his list. Even less of a surprise is that one of them is his fellow Food Network veteran Alton Brown.
So what's the deal with Brown and Fieri? And why can't the two seem to get along? Is there any chance that there's a streak of seriousness to it all? Or does the rivalry between the both of them fall in the category of "deliciously minor and trifling"? For the full three-course meal of it all, scroll on below to find out the delectable scoop. 
The deal between Guy Fieri and Alton Brown might have to do with ego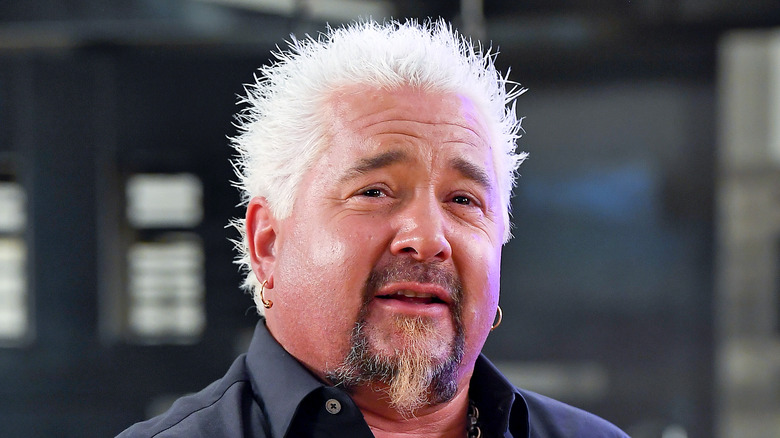 Steve Jennings/Getty Images
It seems that the feud between Alton Brown and Guy Fieri most recently cropped up in 2017, when Brown, who is no stranger to controversy himself, made a snide remark about Fieri during an appearance at DragonCon. At the time, the purpose of Brown's junket was to announce his new show on the Food Network called "Good Eats: The Return," a reboot of the original series hosted by Brown. While discussing the logistics of when the show would air, Brown took the opportunity to rib Fieri, who beginning in 2006 with his program "Guy's Big Bite," became the de facto face of the popular food channel (according to The New York Times, at least).
"The only problem that we still have to work out is that, well, essentially, in order to make room for the show on Food Network, they're gonna have to cut 'Diners, Drive-Ins, and Dives' down to seven-and-a-half hours per day," Brown chided, according to First for Women, adding, "I know, I know. Eight hours is the standard, but if they could just make do with seven-and-a-half." While the remarks could be dismissed as a simple (if not somewhat awkward) snipe, it's easy to speculate that it could be rooted in real tension, considering Brown's own decades-long tenure with the Food Network, beginning with the original "Good Eats" in 1999, paired with Fieri's slightly higher status. (It's unclear if this is actually the case.)
There's no love lost between Alton Brown and Guy Fieri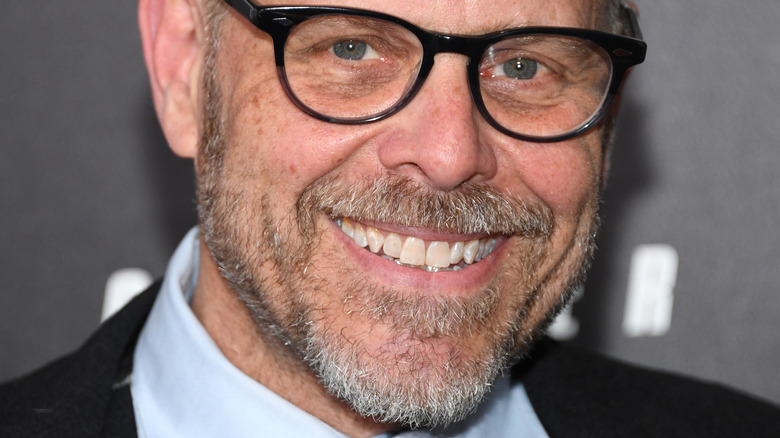 Dimitrios Kambouris/Getty Images
Even though Alton Brown's "Good Eats: The Return" was able to find a slot on the Food Network, it ultimately ended up moving to the streaming platform Discovery+ before going off the air for good after only two seasons, so perhaps Guy Fieri had the last laugh after all. But aside from the possible network kerfuffle, Brown's dislike of Fieri actually goes back farther than 2017 — at least, according to Brown's official Twitter account. And the comment made by Brown was, for those familiar with the New York City culinary scene, somewhat of a low blow.
In 2012, Fieri became the subject of ridicule after New York Times restaurant critic Pete Wells thoroughly thrashed what was then Fieri's latest restaurateur-related jaunt, the opening of Guy's American Kitchen and Bar in Times Square. The review, which has since entered the pantheon of vicious, schadenfreude-based critical takedowns, tore apart Fieri's food-related venture in a legendary, singular series of rhetorical questions. Only two days after the review's publication, Brown decided to hop on the bandwagon — but decided to take aim not only at Fieri, but at the people of New York in general. "I am planning on visiting Guy Fieri's NYC eatery this weekend because it can't be as bad as all those snooty New Yorkers say #wishmeluck," tweeted Brown. Ostensibly a defense of Fieri, the tweet was taken as a sarcastic barb at everyone mentioned.