The Real Reason Britney Spears Fans Are Concerned About Her Topless Photos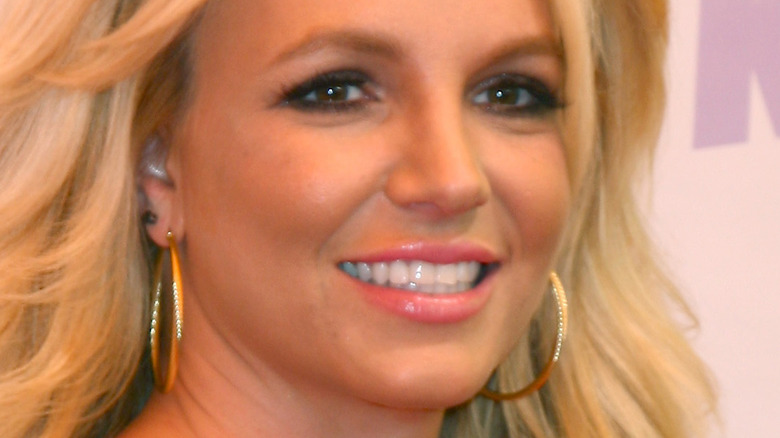 Shutterstock
Britney Spears' Instagram activity has been questioned by her fans once again. For the past several months, fans of the pop star have been curious about her social media posts, many wondering if she is in charge of her own accounts. And despite the fact that her social media manager confirmed that Spears has access to her own Instagram, according to Vanity Fair, there is still a great deal of confusion — and concern — amongst Spears' most loyal followers. 
Back on June 23, Spears, who has been under a conservatorship since 2008, spoke in open court for the first time, telling the judge overseeing her case that her father, her management team, and even her doctors, have abused her over the years, according to CNN. Spears made another court appearance on July 14, and was granted the right to hire her own lawyer. Since those two appearances, her social media activity has changed a bit. She has opened up a bit more about what she's going through — and she's even posted some topless photos and videos, which she has never done before. To date, Spears has uploaded four separate topless posts — and fans are concerned. Keep reading to find out the reason why.
Britney Spears fans are wondering if she's okay after her numerous topless posts
Britney Spears posted her first topless photo to Instagram back on July 23. Fans seemed to be in complete support of Spears, showing her a lot of love in the comments section. She posted another topless shot on July 27, and a third on July 29, but her most recent — on July 30 — is when fans really seemed to speak out about the posts. As Page Six points out, several concerned fans commented on the post, wondering if Spears was the one really posting or if someone else was posting these shots, perhaps without her knowledge. "I feel these are being posted my someone else," one Instagram user commented. "Something suspicious is going on," added another Instagram user. "Who else is straight up concerned," echoed a third Instagram user. 
Fans are hoping that Spears' conservatorship comes to an end, and that she will soon be able to speak her truth and let everyone know exactly what's been going on. Until then, the speculation and concern for Spears' well being will continue. Of course, everyone hopes that Spears is okay, and that she will be granted freedom from her conservatorship if that is what she truly desires.