Who Is Ansel Elgort's Girlfriend, Violetta Komyshan?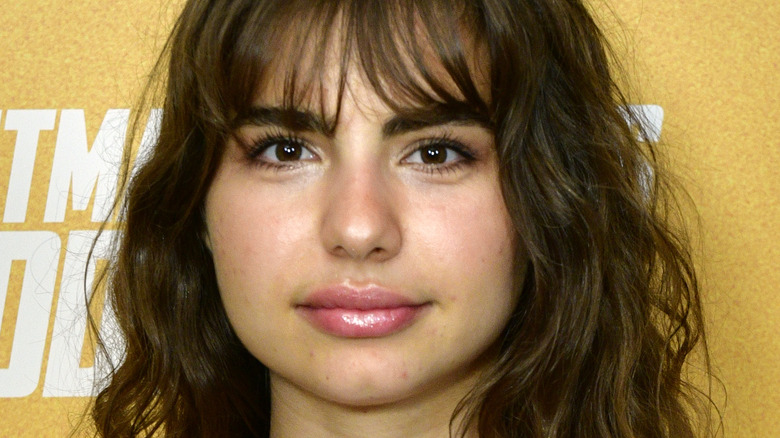 Eugene Gologursky/Getty Images
While it's commonplace for celebrities to be romantically involved with other celebrities, Ansel Elgort is one of those rare Hollywood specimens to date outside showbiz. But before you get too excited and fantasize about running off with your favorite actor, Elgort has actually been with girlfriend Violetta Komyshan long before fame and fortune. Elgort and Komyshan's love story is something out of a teen rom-com. The high-school sweethearts met at LaGuardia in New York (the prestigious arts school the film "Fame" is based on), and apparently it was love at first sight.
Komyshan recounted their meet-cute to Cosmopolitan in 2017, saying Elgort "had his eye" on her during freshman year. "I was with my friend, and he was walking down the block. I didn't even know he went to my school — I just thought he was really attractive. I looked at him and told my friend, 'Oh my god, that guy's so hot,' and she's like, 'Oh, that's Ansel, he goes to LaGuardia." Originally, she thought he was interested in her friend — but after Elgort asked someone to introduce them, she realized he "totally liked" her ... and the rest is history.
Despite being together for almost a decade, it's unclear whether Elgort is still as "obsessed" with Komyshan. Back in April, fans noticed Komyshan removed all photos with Elgort, while the actor — who has over 9 million followers — deleted every single post. As we wait to hear more, let's get to know Elgort's "talented" and "hardworking" girlfriend, as The Blast called her.
Violetta Komyshan is a professional ballet dancer who trained in Paris
Violetta Komyshan may not be on the big screen like her beau, but she's used to having all eyes on her. Komyshan works in the equally cut-throat industry of professional dancing, specifically ballet. She was born in Toronto to Ukrainian parents, but moved to Brooklyn when she was 5, per Marie Claire. When Komyshan was 11, she scored her big break, receiving a full dance scholarship in Manhattan after a choreographer held auditions at her school. 
Then in 2012, she attended LaGuardia as a dance major (per The Blast). But according to her now-defunct BalletNext bio, Komyshan's "most memorable" dance experience was training at the American Academy of Dance in Paris and at Paris Opera Ballet alongside "one of her idols, Violette Verdy." Komyshan also gave college a try, but realized studying wasn't her "priority." "I was leaving school every day and running to dance classes," she told The New York Post. Since then, Komyshan has danced for BalletNext, Chicago Ballet Conservatory, and performed at the Whitney Museum's 2019 Biennial, per E! News.
"I mean, it's kind of crazy because my mind wants to do 30 things at the same time. But I feel like you can never really make it to the top if you don't focus your ­energy on [one] thing. Right now, it's dance," she told the Post. And she certainly has been dancing — even "picking up new skills" at the American Circus Theatre recently. She also showed off some moves during Ansel Elgort's music video. 
Violetta Komyshan starred in Ansel Elgort's now-deleted steamy music video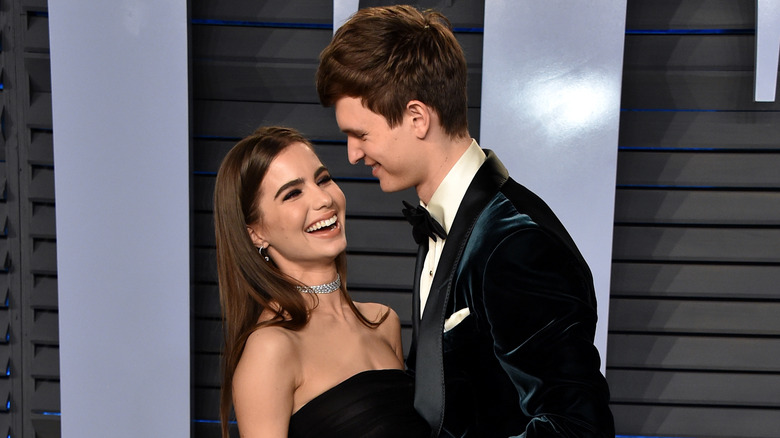 John Shearer/Getty Images
Besides appearing as each other's red carpet dates, Ansel Elgort and Violetta Komyshan have also sent single hearts aflutter with a "sexy" music video. In 2017, Elgort dropped the "very racy" video for "Thief" alongside Komyshan, which saw them "about to have sex, taking intimate showers and baths," according to E! News. But like the couple's missing Instagram photos, the video also vanished, causing further speculation about their current situation. However, Elgort and Komyshan's relationship has always been full of intrigue.
As Elgort's star power rose after "The Fault in Our Stars," the pair broke up due to conflicting "commitments," per Us Weekly. After five months apart, Elgort and Komyshan got back together after he realized "love" was "missing" from his life, per E! Then in 2019, fans began scratching their heads after Elgort told the Sunday Times he wanted to "find a lot more love" ... to be fair, he clarified he was after "non-sexual love." But timing couldn't be worse, as Elgort's "West Side Story" co-star Rachel Zegler was also accused of being a "homewrecker" after innocently tweeting that "falling love with him was easy," per E! News.
No matter how Komyshan and Elgort are doing now, we're sure the ballerina will pour her heart out during dance. The influencer, who also has almost a million Instagram followers, also doubles as a fitness instructor with a booty-toning workout on YouTube. We're crossing our fingers for more content ... and also their relationship, of course!