The Truth About Coco Austin's Controversial Parenting Decisions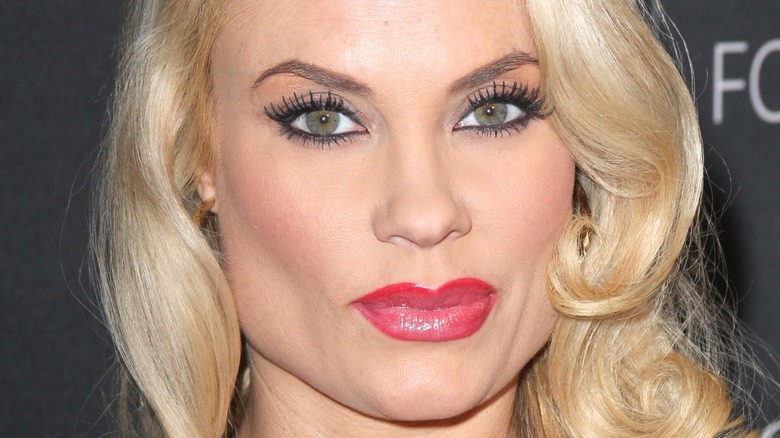 Shutterstock
Coco Austin is making some controversial confessions about her parenting decisions when it comes to her and husband Ice-T's daughter, Chanel. The two welcomed their little girl into the world in November 2015 and most certainly haven't been afraid to show off their adorable daughter on social media since. The couple set Chanel up with her own Instagram account even before she was born, and the sweet little girl has racked up an impressive 451,000 followers since then. The two have also proudly given fans a look at their private life at home with their baby girl on their own accounts on multiple occasions since.
The family's close bond is pretty obvious to everyone and Austin has repeatedly showed off how much she loves twinning with her daughter with various snaps showing them wearing the exact same ensemble. But it's that very close relationship that has some eyebrows raised after Austin got very candid about what life is really like for Chanel at home.
Keep on scrolling to learn more about some of Austin's more unconventional parenting choices.
Coco Austin revealed she still breastfeeds her 5-year-old daughter
One of the biggest eyebrow raisers came when Coco Austin confessed to Us Weekly what her 5-year-old daughter, Chanel, likes to eat.
The star controversially shared that "Chanel still likes [her] boobs" while describing breastfeeding as "a big bonding moment for a mother and your child," also sharing that Chanel loves to eat steak, hamburgers, and a few snacks. As for when Coco will stop breastfeeding? The model pointed out that in some countries children are breastfed until they're 7 years old and said, "If she doesn't want it, all right, that's where you stop it. But I'm not just going to say no."
Little Chanel also made a guest appearance during the July interview, sharing that breastfeeding actually helps her to sleep. And speaking of sleeping, Coco also revealed that she, Chanel, and Ice-T will sometimes all sleep in the same bed together alongside the family's four dogs. Now that's crowded!
It sounds like Chanel doesn't hit the family bed alone earlier than her parents either, as Austin explained that they'll very often let their little girl stay up late because of their own crazy schedules. That means sometimes Chanel will sometimes be up until past midnight and won't get up "until 11 in the afternoon." Austin joked, "We're not that traditional married couple. We're on a different planet, to tell you the truth."
But Austin wasn't quite done confessing about her parental choices there...
Coco Austin and Ice-T's daughter watched her first horror movie at 18 months old
Coco Austin confessed to Us Weekly that she and Ice-T will let their 5-year-old daughter, Chanel, watch horror movies — and she's seen quite a few in her time. 
The former "Ice Loves Coco" star revealed her little girl has a big love for spook-fests and even shared that she's got it mastered if she knows there's something extra scary or sexual content coming her way that she shouldn't watch. "[Chanel] knows when there's something that she can't see. And she, like, turns her head and closes her eyes. She's really good with that," Austin revealed, sharing that Chanel actually watched her first horror movie, the terrifying "It," when she was just 18 months old.
"We, kind of, explained to her that it's acting. Her dad's an actor. It's pretend," Austin confessed, adding that Chanel also loves to watch her dad on screen and is a fan of his long-running series, "Law & Order: Special Victims Unit" as well as his various movies. Austin said that Chanel is a "really good" actor herself because "she grew up in that life."
It sounds like we might be seeing much more of Chanel on the big or small screen in the years to come!