Why Daisy Ridley's First Meeting With Tom Holland Got 'Awkward'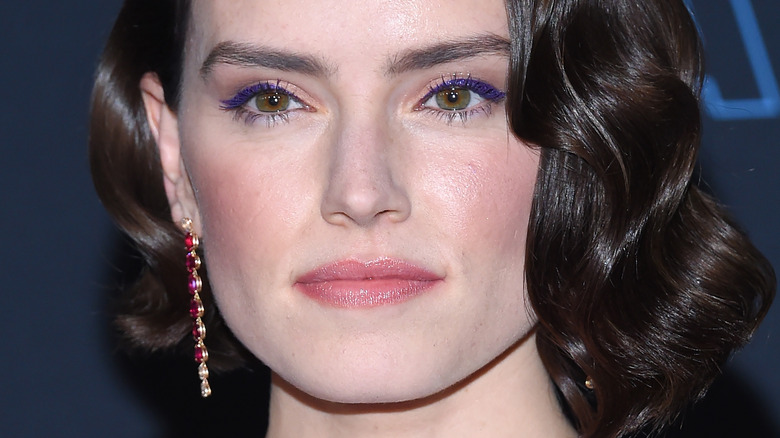 Shutterstock
Daisy Ridley first won her way into our hearts when she was cast as Rey in the "Star Wars" sequels. She eventually became "Rey Nobody," then "Rey Palpatine," and finally "Rey Skywalker" by the time "The Rise of Skywalker" concluded. Her star turn in the Disney/Lucasfilm sci-fi juggernaut made her a household name, and casting offers soon came rolling in from all directions. 
Even though Ridley's been subjected to nasty remarks from trolls, she told Entertainment Weekly that she does not let such rude comments get to her. "Conversations are just more public, so there's stuff I wouldn't have seen," she said. "It's been tricky, but then it's having that thing of I feel really proud of it, and I'm so thrilled to be part of it."
But there's one meeting that Ridley recalls as, perhaps, being more awkward than she would have liked. What really happened between Daisy Ridley and Tom Holland? We decided to find out.
Daisy Ridley and Tom Holland starred in 'Chaos Walking' together
Shutterstock
Even though Daisy Ridley and Tom Holland come from the same stock — British actors who are part of a mega-franchise — Daisy Ridley recalled that their first meeting was anything but comfortable. 
"We met the night that Tom won his [Rising Star] BAFTA and it was so weird because we both knew we were doing [Chaos Walking] but we didn't know when and we didn't know how," she said to AP Entertainment. "It was actually hilarious, because we met again on the plane to Montreal but we were in those seats that face each other and you know like it's super awkward when you don't really know someone? So, we would put the screen up slowly and then the screen takes ages to go up and you're like, 'Oh my god, so awkward' — but no, it ended up being great."
Tom also revealed in an interview with Digital Spy that he actually auditioned for the role of Finn in the "Star Wars" sequel trilogy. That role, of course, went to John Boyega. But wouldn't it have been a lot less awkward if the two stars were able to star in "Star Wars" together before "Chaos Walking"?