Why Sharon Stone Says Her Career Is Under Threat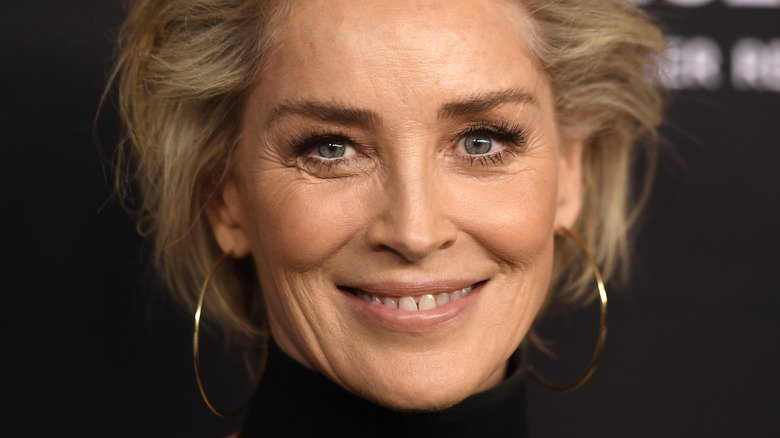 Frazer Harrison/Getty Images
Sharon Stone caused some major news with the publication of her new memoir, "The Beauty of Living Twice." The book was actually full of shocking revelations about her life, spanning from childhood to the more sordid stories of her early years in Hollywood. One of the more surprising stories from her memoir had to do with the iconic scene in "Basic Instinct." Stone claimed she was misled about how much nudity would actually make it on screen.
Besides the surprises Stone shared in her tell-all memoir, the actor has been busy with other ventures. In July, Deadline announced that Stone was running as a Membership First National Delegate and National Board Member of the Screen Actors Guild. During her promotional video, Stone dropped the surprising news that her career is under threat because of certain safety protocols she's trying to put in place. The issue has to do with vaccinations and with actors' safety in general. Here's what's going on.
Sharon Stone's work is at risk because she wants everyone vaccinated
While campaigning for a spot as a leader in the Screen Actors Guild, Sharon Stone made some surprising announcements. She said she lost her SAG-AFTRA health insurance over a measly amount of money. "I lost my vested insurance after 43 years in the business because of COVID. I was $13 short and, you know, I don't really think that that is reasonable for any of us," she said, according to Deadline. The organization recently raised premiums and changed its eligibility requirements.
In another video, the actor explained how she was at risk of losing a job because she wants the crew to be vaccinated. "I've been offered a job — a good job, a job I really want to do in Atlanta," she began. "That's why my hair is standing on end ... because the Producers Guild of America will not guarantee that everyone on our show is vaccinated before I go to work."
Vanity Fair notes that Stone used a Socratic method of rhetoric, adding, "Will I go to work before everyone on my show is vaccinated? No. No, I won't. Am I being threatened that I will lose my job? Yes. Yes I am. Will I lose my job if everyone is not vaccinated on my show? Yes. Yes I could. Will I stand up for all of us so that every set that we go on is vaccinated? Yes. Yes, I will." We'll see what happens.