Inside Jimmy Carter's Life After Leaving The White House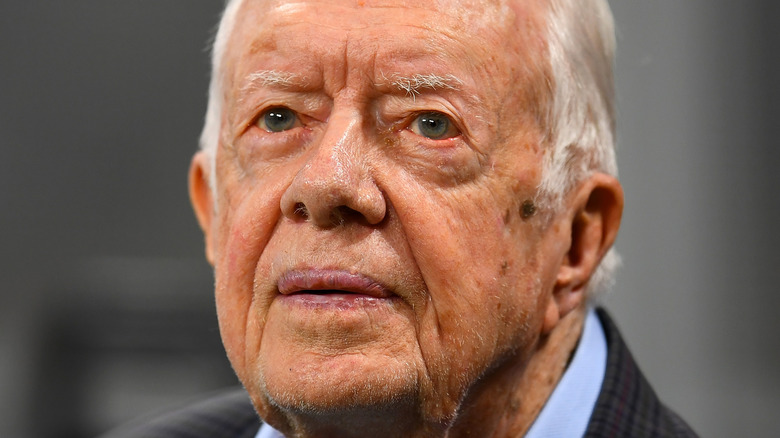 Scott Cunningham/Getty Images
What is there left to do after serving as leader of the United States? For many, the goal is to enjoy proper relaxation and private time away from the public, but the answer isn't the same across the board.
If you're super curious about life after a presidency in the current times, look no further than the United States' 39th President, Jimmy Carter. As the oldest living ex-president, there's an understandable interest in Carter's life, which proved true when he and his wife Rosalynn trended on the internet this past May for a visit they had with President Joe Biden and first lady Jill Biden. In a photo posted on Twitter by The Carter Center, the 46th President and First Lady appear to tower over the other couple. The pic made quick rounds on the web and sent curious users into discussions regarding the lenses, camera angle, and technique that made the photo possible.
But beyond contributing to optical illusions that send the internet into frenzies, what else has the 96-year-old former president been up to? Keep scrolling to find out.
Jimmy Carter is on a mission for world peace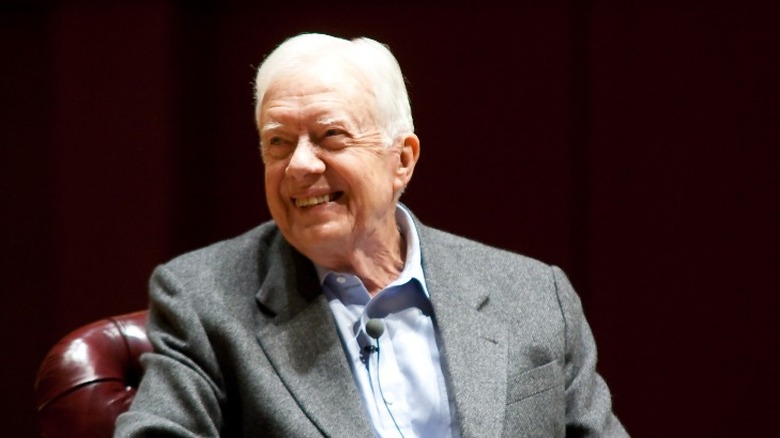 Shutterstock
After his singular term from 1977 to 1981, Jimmy Carter returned to his beloved home state of Georgia with his wife. He apparently missed the busy schedule as a president since he garnered the position of University Distinguished Professor at Emory University the following year, per The Carter Center. It was that same year when he co-founded The Carter Presidential Center alongside Rosalynn and continued his mission to champion human rights and peace worldwide through this nonpartisan organization.
 The Carter Center and President Carter have since collaborated on a series of diplomatic missions that have sent the Georgia native across the globe, from reporting on illegal voting practices in Panama to ensuring a transition of power in Haiti, via Britannica. For all his efforts to promote democracy, Carter received the Nobel Peace Prize in 2002. "War may sometimes be a necessary evil," he said of his win, per Politico. "But no matter how necessary, it is always an evil, never a good. We will not learn to live together in peace by killing each other's children."
The issue of peace is important to the Carters, and 11 years after winning the prize, the ex-president told Parade, "I'd like to be judged primarily by our work at the Carter Center for the last 32 years. I don't mean to exclude the White House. But in my more self-satisfied moments, I think about our unwavering promotion of peace and human rights."
It's safe to say Jimmy Carter is never bored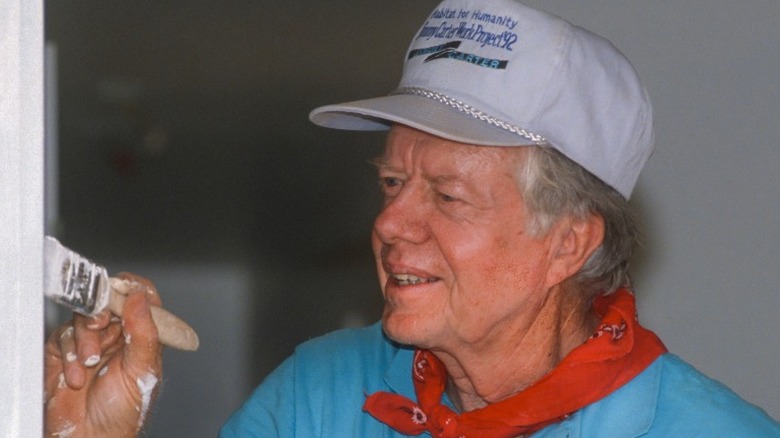 Shutterstock
Fresh out of his presidency, Jimmy Carter started a decades-long collaboration with Habitat for Humanity, a U.S.-based nonprofit that aims to renovate housing for those in need during both national and international missions. Since 1984, the Carter couple has collaborated on an annual, weekly basis in an event called the Carter Work Project alongside Habitat for Humanity to repair more than 4,300+ homes with the help of 103,000 volunteers, per Habitat for Humanity. "One of the things Jesus taught was: If you have any talents, try to utilize them for the benefit of others," Carter told People about the partnership.
Besides his humanitarian efforts, Carter is also an established writer, and The Carter Center currently names him as the author of 32 books, many of which zero in on topics of faith, the Middle East, and autobiographical reflections. The former Commander in Chief even has a handful of Grammy wins and nominations under his belt, most of which are attributed to Best Spoken Word Album. Of course, it hasn't all been easy for Carter — he was diagnosed with Stage 4 cancer in 2015 and suffered a fall in 2019. Thankfully, be bounced back both times.
According to the above and more, Carter has definitely been proof that the presidency doesn't put a limit on peaking in your life, and the Plains resident shows no plans of slowing down!