Will There Be A Rob & Chyna Season 2?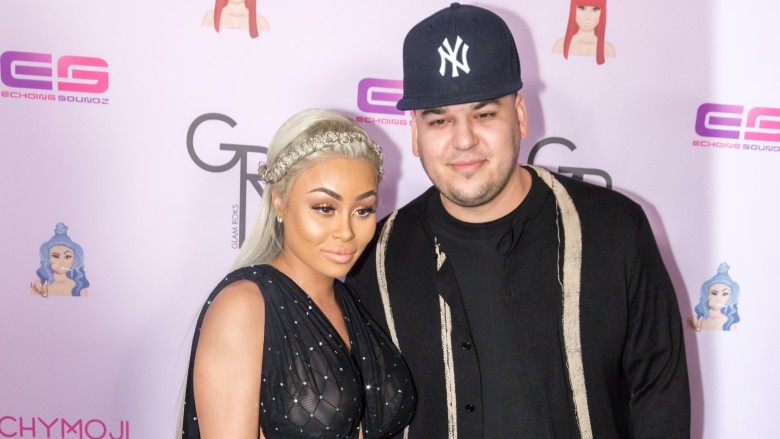 Getty Images
Stop us if you've heard this one before: Rob Kardashian and Blac Chyna are back together...maybe.
TMZ reported on March 8, 2017 that Kardashian, 28, and Chyna, 27, were cohabiting again in her home in a gated San Fernando Valley, Calif., community. While that sounds like great news for the couple and their 4-month-old daughter, Dream, reportedly it's a nightmare for their neighbors.
The site claims that Kardashian moved in with Chyna late last week, and as of Tuesday, March 7, 2017, the gated community's fellow residents are peeved about it. Law enforcement sources said that they received numerous complaints about the couple, including that "thugs" were often seen visiting the property—and that said alleged thugs jumped the community's wall instead of entering through the front gate.
Neighbors were also annoyed that Kardashian parks his car on the front lawn of Chyna's home, which he reportedly does because she has a giant fleet of cars in her driveway that make it difficult to navigate getting in and out. On top of all that, neighbors complain about excessive noise at all hours of the day and night, and they're concerned that the goings-on at the Chyna-Kardashian residence will lower the property value of the rest of the affluent residents of the community.
However, Entertainment Tonight reports that the pair are totally done but it was an amicable split—and that may not bode well for their business ventures, including season 2 of Rob & Chyna.
"They are doing the best they can to stay civil and to co-parent the best they can," a source told ETOnline. "They have worked out an informal custody arrangement. They found out what works for them and they're doing a good job at it. [Rob and Chyna] realize Dream will connect them for life, and it's not worth it for them to fight and get dramatic about their breakup. They're forever connected by that beautiful girl, so there can't be any bad blood."
The source also insisted that the pair's reality show was over for good, though a rep for E! claimed that season 2 was still filming and was confirmed for a renewal.
The conflicting reports are nothing new: On March 3, 2017, some reports claimed that Kardashian was heartbroken and on another downward spiral following his split from Chyna, while others said that daughter Dream inspired him to get his life back in order.
Looks like we'll have to tune in to find out...if Rob & Chyna isn't canceled, that is.