Inside The Royal Family's Plans For Meghan Markle's Birthday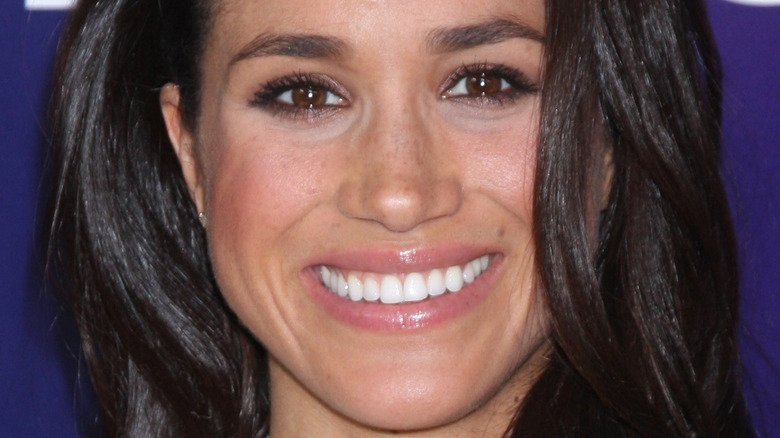 Shutterstock
Meghan Markle will celebrate her 40th birthday on August 4, 2021, and many royal watchers are wondering how the royal family will celebrate her on her special day. In the past, the Duchess of Sussex has received public well-wishes from Prince Harry's family on social media, many sharing a photo of her and adding a birthday message. Back in 2020, Harry's family took to social media to post their well-wishes on Meghan's birthday, according to Harper's Bazaar. Queen Elizabeth, Prince Charles and Camilla Parker Bowles, and Prince William and Kate Middleton all posted birthday tributes to Meghan on Instagram. 
For the most part, any gifts that Meghan may have received from her in-laws over the years have been kept private, but it is presumed that she has received thoughtful items for her birthday in the past. Queen Elizabeth has been known to shower her loved ones during special times in their lives. For example, just before the queen and Meghan's first joint engagement, the queen gifted Meghan with a pair of pearl earrings and a matching necklace, according to Hello! magazine.
A lot has happened over the past year, however, and the rift between the Duke and Duchess of Sussex and the royal family have many wondering if Meghan will receive the same public well-wishes on her birthday — and a few royal experts have weighed in. Keep reading for more.
Meghan Markle expected to receive public well-wishes from the royal family on her birthday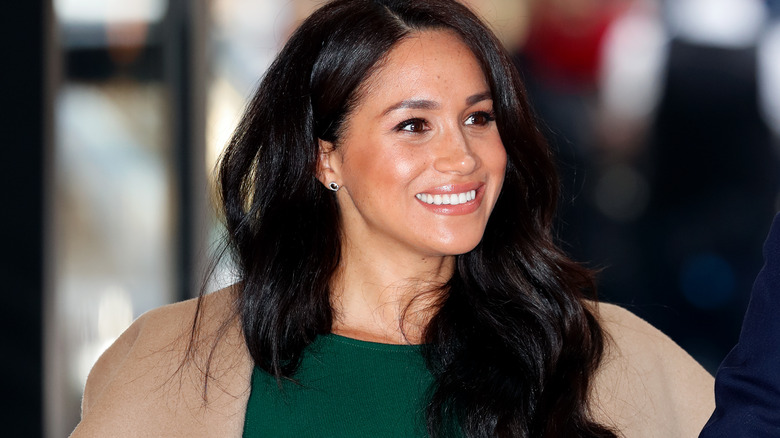 Max Mumby/indigo/Getty Images
This year marks Meghan Markle's second birthday in the United States since she and Prince Harry stepped down as senior members of the royal family, but many wonder if her Oprah Winfrey interview back in March will impact the way that the royal family acknowledges her on August 4. Royal expert Phil Dampier told The Sun that things will probably play out per usual on Meghan's birthday. "I think it is likely they will send a public message through gritted teeth. But whether a present will be sent privately, I don't know, such is the state of the relationship. I think Charles, the Queen, and William and Kate don't want to make the situation worse by having a public slanging match with them, but privately I think they are very upset by how things have turned out. They're not obliged to give her messages on her birthday, but they don't want to make the it worse," he added.
Royal author Adam Helliker agrees, telling The Sun that he fully expects public messages from the royal family in honor of Meghan's birthday. He told the outlet that he believes that "perfunctory birthday greetings" will be sent by Prince Charles and Camilla and Prince William and Kate Middleton. He added that if William and Kate didn't post a birthday message, "[it would be seen as] sour grapes." 
Royal expert Richard Fitzwilliams told The Sun that the royal family will also likely reach out to Meghan privately.
How will Meghan Markle spend her 40th birthday?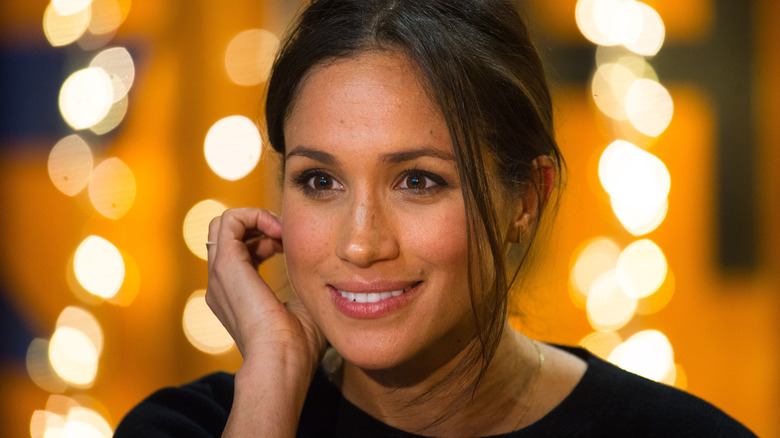 Wpa Pool/Getty Images
Royal expert Richard Fitzwilliams also told The Sun that the public likely won't know if the royal family sends Meghan Markle any birthday gifts. "I wouldn't know if they'd send anything and it's unlikely that we will find out. We wouldn't be told if anything special will be sent," he said. Nevertheless, Meghan will be spending her special day with Prince Harry and the couple's two children, Archie and Lilibet Diana, and there's no doubt that Harry will be doing something special for his wife on her milestone birthday. While there have been rumors that Meghan is planning a lavish soiree at her new home in Montecito, Page Six has reported that no such party will be taking place. 
According to Page Six, Meghan will be having a "low-key" birthday celebration, surrounded by her immediate family. The main reason for this seems to be the growing concerns about the latest coronavirus strain and the increasing numbers in the state of California. While it's possible that Meghan could have a small get together with some of her gal pals, Page Six confirms that it would be a "limited-attendance birthday party," as opposed to a celebrity-packed birthday bash. As the outlet points out, Harry and Meghan have traditionally spent birthdays and special occasions quietly, and have kept things "small."