The Prestigious College You Didn't Know Matt Damon Attended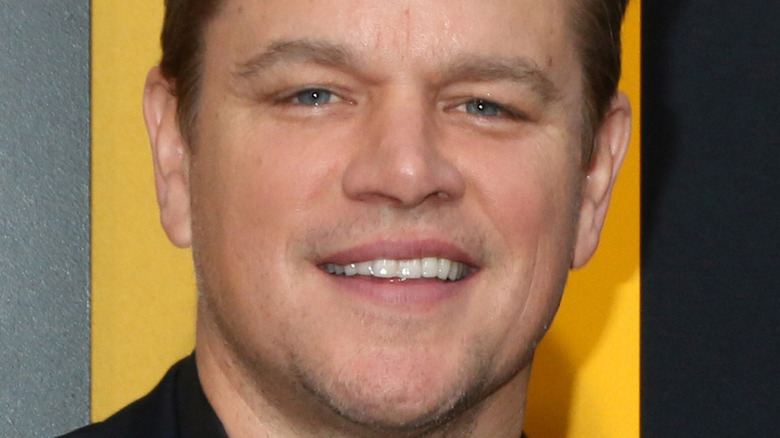 Shutterstock
Matt Damon and Ben Affleck have shared a decades-long friendship that hasn't faltered through any of the pair's trials and tribulations. Both actors have stirred up major controversy — from Affleck's scandalous romances to Damon's admission to using an offensive slur — but they have had each other's backs. A fact that's all the more impressive when you consider that they met as kids. "We were basically best friends since I was 10 and he was 8," Damon told Interview, sharing how he "forced into hanging out with Ben" because "my mother is a professor of early childhood development, and she knew Ben's mother — who's a teacher of little kids — and sought her out after we moved back to Cambridge."
Forced or not, the pair bonded over their love of dramatic acting, which they both embraced in high school. Damon and Affleck both attended the Cambridge Rindge and Latin School where they pursued their passion together. "We used to have business lunches together in high school when we had no business to talk about," Damon joked to People, while Affleck shared with Parade how when "Matt was 16 and I was 14, we'd go together down to New York City" to audition. They even had a joint bank account which, as Damon told CNN, had "money that we'd made doing local commercials and we could only use it on trips to New York to audition." Eventually, they'd move in together in Los Angeles, but not before Damon took a shot at college.
What prestigious college did Matt Damon attend?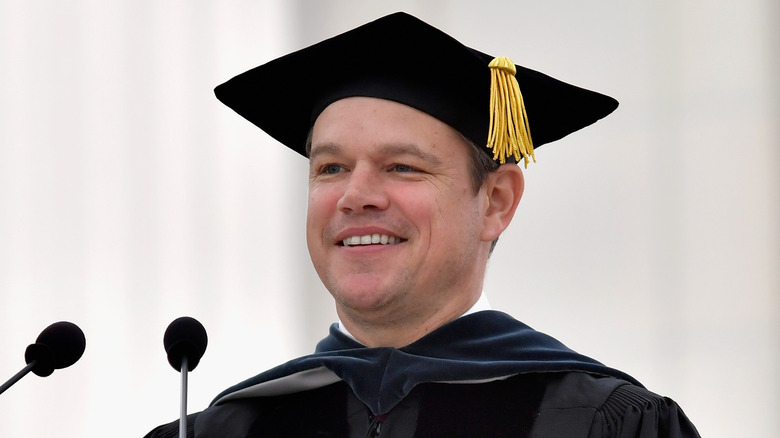 Paul Marotta/Getty Images
After graduating from Cambridge Rindge and Latin School, Matt Damon and Ben Affleck briefly separated when Affleck moved to Los Angeles to start at Occidental College, per Boston magazine, and Damon stayed in Cambridge to attend... Harvard! Damon was 18 and fresh off the heels of his cameo in 1988's "Mystic Pizza" when he applied to the prestigious college as an English major, per Alumni Spotlight, with a letter in which he confessed, "For as long as I can remember, I've wanted to be an actor." Needless to say, it worked and the aspiring actor was accepted. Embracing college life, he moved into an undergrad residence, Lowell House, joined the Delphic Club, and acted in a number of school productions, including "A...My Name Is Alice" and "Burn This," per Harvard Crimson.
Throughout his time at Harvard, Damon continued to go to auditions and eventually landed the lead in 1993's "Geronimo: An American Legend." Choosing his career over his studies, he dropped out, although he did sneak into his year's graduation ceremony just to witness it. It was something the Oscar winner joked about in 2016 while speaking to the graduating class at MIT. "For the second time in my life, I am fake graduating from a college in my hometown," he quipped. But all jokes aside, he told Harvard Crimson in 1997 just how important the college was to him, gushing, "I loved Harvard. It was a huge, huge part of my life."
How did college change Matt Damon's future?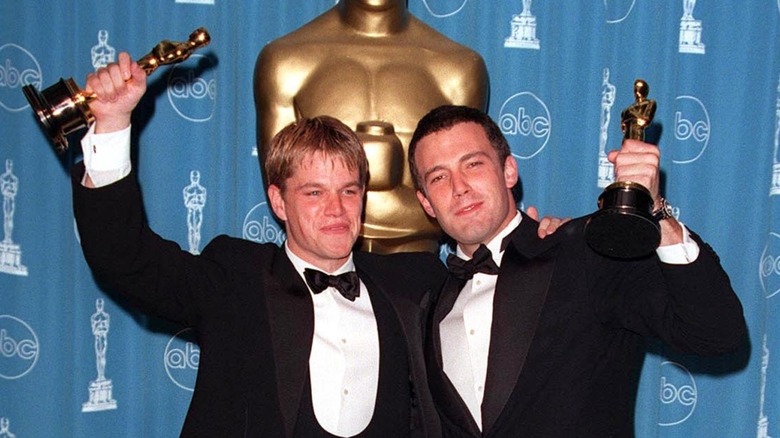 Shutterstock
Despite landing the lead in "Geronimo: An American Legend," Matt Damon's big break didn't come until a few years later when he and bestie Ben Affleck hit it big with 1997's "Good Will Hunting," which won the Oscar for Best Original Screenplay. If not for Harvard, the movie might not even exist. Damon's stint in college played an important role in the film's creation, starting with its script. "I was in my fifth year at Harvard, and I had a few electives left," Damon told Boston magazine. He chose a playwriting class "and the culmination of it was to write a one-act play, and I just started writing a movie," he shared, recalling, "I handed the professor at the end of the semester a 40-some-odd-page document, and said, 'Look, I might have failed your class, but it is the first act of something longer.'" It was the first draft of what would later become "Good Will Hunting."
What's more, Skylar (played by Minnie Driver) was named after (and likely inspired by) Damon's college girlfriend, per Harvard Crimson. After Damon moved to L.A. to reunite with Affleck and work on the film, his Harvard connection came in handy. They reached out to Harvard alum and producer Chris Moore, who told the magazine, "I always liked Matt, because we'd met in Cambridge. They said they had this script they'd been working on, so I said, 'Sure, I'll read the script.'" The rest is history.