Inside Jennifer Aniston's Relationship With John Mayer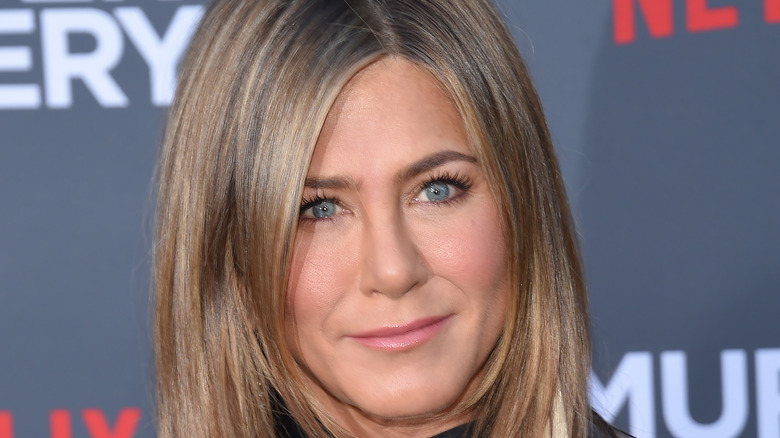 Shutterstock
When thinking back on Jennifer Aniston's dating history, it's only natural that Brad Pitt pops up at the forefront of people's minds. The two were the It Couple of the noughties, with a breakup heard around the world after Angelina Jolie stepped foot on the set of "Mr. & Mrs. Smith." Fans can therefore be forgiven for forgetting that Aniston also dated another major heartthrob after Pitt, in the form of John Mayer. However, her relationship with the "Daughters" singer was thrust back into public consciousness in March 2021.
According to Latin Times, social media believed that the former flames were spending time together thanks to a video on the guitarist's TikTok page, which showed a dog who *may* have been Aniston's beloved rescue pup, Lord Chesterfield. The proof? Internet sleuths thought the dog was wearing a collar identical to one seen in a recent photo on Aniston's Instagram page. Per Latin Times, celebrity persona DeuxMoi added fuel to the fire by suggesting that Aniston's pup was having "a doggy playmate" with Mayer's. When asked about the situation by InStyle in August 2021, Aniston kept fans guessing about the current situation with Mayer. "The [dog] collars are so cool," the "Friends" star said. "My trainer's friend makes them — the brand is called RN Design. I've received a lot of questions about the dog collars." Hmm, not exactly the answer we were looking for! But while we're waiting on more details, here's a look back at Aniston's relationship with Mayer.
Jennifer Aniston and John Mayer seem to just be good friends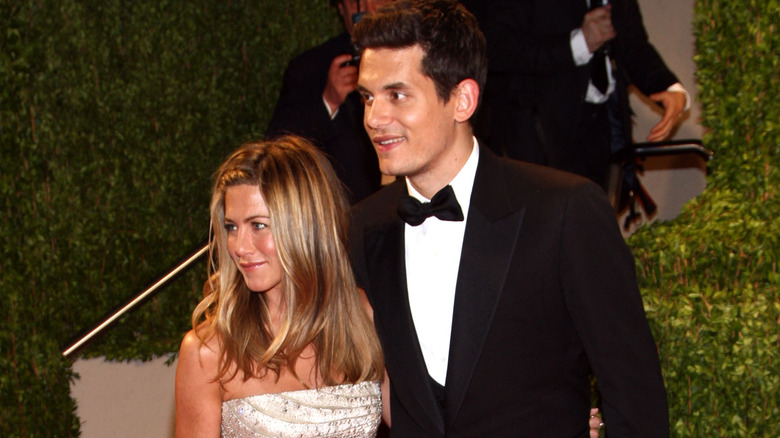 Alberto E. Rodriguez/Getty Images
In February 2008, sparks flew when Jennifer Aniston and John Mayer met at an Oscars party. The two broke up over the summer, but reunited to walk the red carpet together at the 2009 Academy Awards, according to Us Weekly. Though they split for good shortly afterwards, the outlet reports that they have a "nice friendship," over a decade later. "John has a deep admiration and respect for Jen," a source told Us Weekly. "There is definitely no weirdness between them." In April 2021, the pair reconnected during an Instagram Live dedicated to the late Bill Withers, according to Us Weekly. "Whether he was speaking to you or speaking to an interviewer 15 years ago, 14, 13 years ago, everything he said is useful ... Four percent of the things that I say are useful," Mayer said, prompting Aniston to comment with three crying laughing emojis.
But while the exes seem to be on good terms now, their breakup may have been a little rough. In 2009, Mayer alluded that Aniston was too old for him, telling Playboy (via Page Six), "In some ways, I wish I could be with her. But I can't change the fact that I need to be 32." He added, "the brunt of her success came before TMZ and Twitter...I think she's still hoping it goes back to 1998." Ouch! For her part, Aniston remained poised as ever, telling Vogue he was "a wonderful guy."