Experts Reveal What May Be In Store For Meghan Markle's Year Ahead
Max Mumby/indigo/Getty Images
Meghan Markle is officially 40-years-old! The Duchess of Sussex has made some big life changes over the past few years, from marrying a prince to becoming a mother, it seems as though Meghan is heading into the next decade ready for whatever life brings her. Meghan and her husband, Prince Harry, have made some big moves over the past few years. The biggest, perhaps, was their decision to step down as senior members of the royal family and move out of the UK. Now living in California, the world appears to be at their fingertips, and the pair has some big plans on the horizon.
As Meghan embarks on the journey that is the future of her life, it appears she has a lot to look forward to. Aside from her work-related projects, which include an animated series that will debut on Netflix, according to Deadline, Meghan has two healthy children that she will get to watch grow into adults. To take a deeper look into what might be in store for Meghan's year ahead, the Daily Mail got some intel from a few experts — an astrologer and a psychic. Keep reading to find out what they had to say about Meghan's future. 
Meghan Markle needs to slow down, psychic says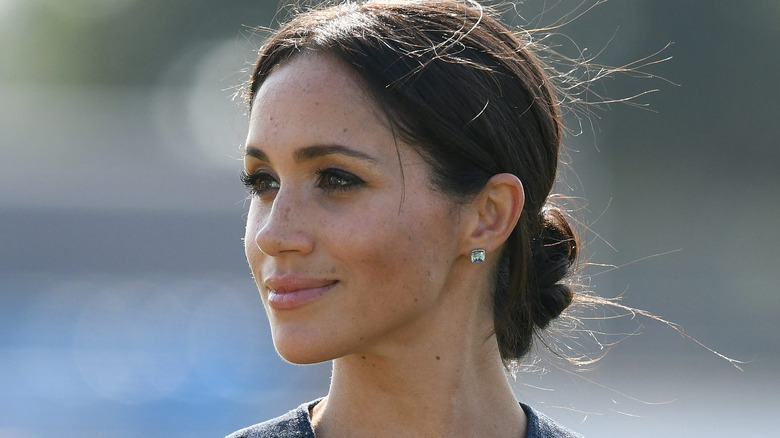 Shutterstock
It's no secret that Meghan Markle is dedicated to the work that she chooses to do, but psychic Nicolas Aujula suggests that it's time for the Duchess of Sussex to relax a bit, and allow things to fall into place. "Born in the sign of Leo, Meghan is warm hearted, commanding and uber confident who definitely wears the trousers in her marriage. She is very good at making things happen and will take no for an answer. She needs to learn to slow down more as she approaches 40, to not feel like she has to always be in the driving seat. She has a lot of orange hues around her aura, it's a very creative and fertile [color]," he told the Daily Mail. 
Aujula goes on to say that Meghan is very independent, adding that "she doesn't follow rules and will always command her own life," according to the Daily Mail. He predicts good things for Meghan as she continues to navigate this new life that she has chosen for herself — and for her family. "She will continue grow into popularity in [the] U.S., she will eclipse Hollywood royalty to make her own place in history... The world of politics will open up for her in coming years," he adds.
When it comes to the rift between Meghan and the royal family, Aujula predicts that things with Prince William and Kate Middleton will improve, but "there will always be a frosty relationship with Prince Charles."
Meghan Markle's role as a mother will guide her, astrologer suggests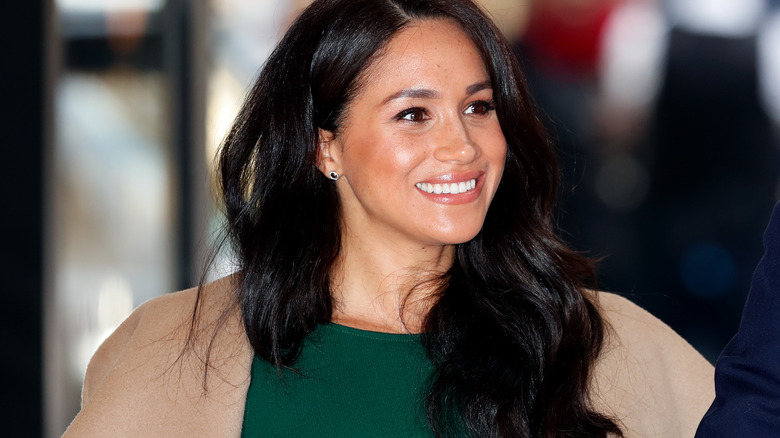 Max Mumby/indigo/Getty Images
UK-based astrologer Francesca Oddie told the Daily Mail that Meghan Markle has been going through a "transformation" that has been brought to the forefront after welcoming her daughter, Lilibet Diana, in June. "Transiting Chiron, the wounded healer, is on her MC and this makes me think that she is reflecting deeply on how she interfaces with the world, her childhood but also how she wants to mother. How does she want her daughter to see her? Fresh love is incredibly motivating and can be a catalyst to live a different life," Oddie says. She goes on to predict that Meghan might speak out or write a book about "what mothering her daughter means for her." And there's more. 
"[Meghan's] relationship with Harry may take on an even more professional role. There could be some challenges, but Saturn confers work in every sense of the word. There are more shocks, changes and turnarounds coming for Megan this year, but I think the professional capacity of Megan was a woman and mother is about to be [monetized], perhaps also with a philanthropic element to whatever she creates," Oddie told the Daily Mail. 
Interestingly, on her birthday (August 4), Meghan announced the 40-40 initiative on the Archewell website. The Duchess of Sussex launched this new mentorship program that is meant to help women who lost their jobs during the coronavirus pandemic get back up on their feet.