What We Know About Lady Gaga And Tony Bennett's New Duets Album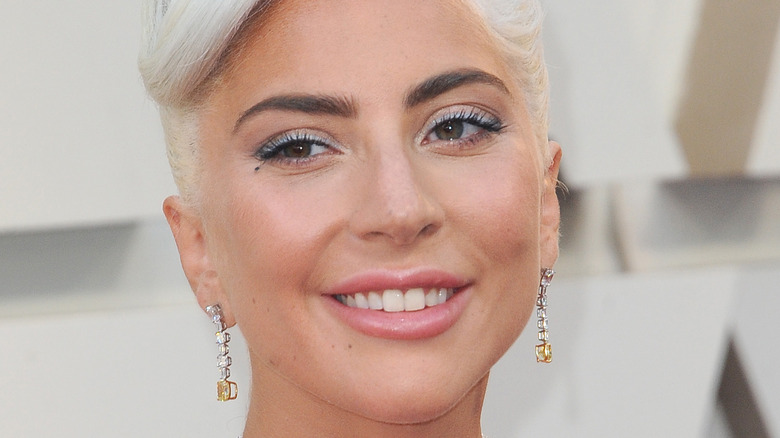 Shutterstock
Lady Gaga and Tony Bennett are working together once again, which should come as no surprise after they enjoyed so much success on their first outing. In 2014, the iconic duo released their first duets album, "Cheek To Cheek," which debuted at No. 1 on the US Billboard 200. If that wasn't enough, the music superstars also took home a Grammy Award for Best Traditional Pop Album at the 57th annual ceremony.
Gaga and Bennett have remained friends over the years and have always spoken highly of one another. During a joint interview with Parade in 2014, Gaga expressed that Bennett saved her life. "I tell Tony every day that he saved my life," the "Born This Way" hitmaker said. She explained that Bennett came into her life when she was considering leaving music. "I'm not going to say any names, but people get irrational when it comes to ­money — with how they treat you, with what they expect from you," she revealed. "But if you help an artist, it doesn't give you the right, once the artist is big, to take advantage of them. ... I was so sad. I couldn't sleep. I felt dead. And then I spent a lot of time with Tony. He wanted nothing but my friendship and my voice," she continued, tearing up. Within the same interview, Bennett praised Gaga claiming "she's up there with Ella Fitzgerald, who was the greatest singer in the world."
Now, their second album is significant for a different reason.
"Love For Sale" could be Tony Bennett's very last album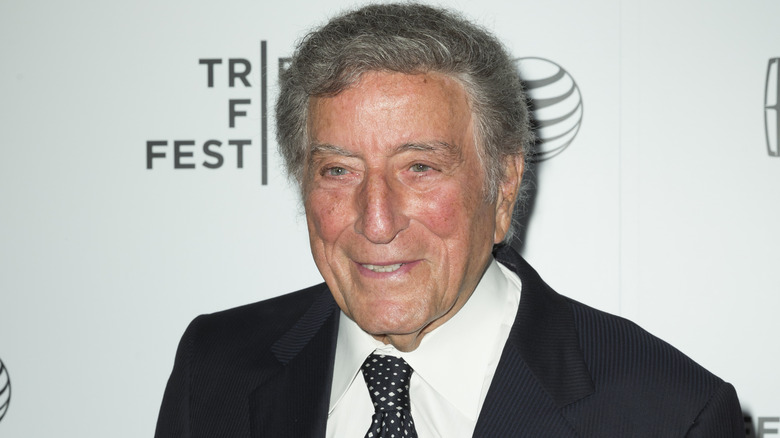 Shutterstock
As reported by AARP, Tony Bennett was diagnosed with Alzheimer's disease in 2016 and started to record his second duets album with Lady Gaga in 2018. However, according to BBC, the news wasn't shared with the world until February 2021. Bennett's wife, Susan Crow, spoke to AARP about Bennett's battle and revealed he was already showing signs of the disease when he and Gaga first got back into the studio and admitted she wasn't sure if the music icon was up for the task of making another LP.
During the creative processes of Bennett's previous work, he was known for being a perfectionist and was very hands-on with the artists he had previously worked with, such as Amy Winehouse and Faith Hill. With that being said, it was noted that he was much quieter while making "Love For Sale." While Bennett was described as "lost and bewildered" during the recording process and will be unable to sit for promotional interviews with his condition, he seemed to be at his most lucid while recording. At least once while watching Bennett perform, Gaga was reportedly moved to tears.
With Bennett's wife and his eldest son Danny Bennett left in charge of Tony's life and career, it has been said that this new record with Gaga "may very well be the last Tony Bennett record." This record, though, has been several years in the making.
Tony Bennett asked Lady Gaga to do another album years ago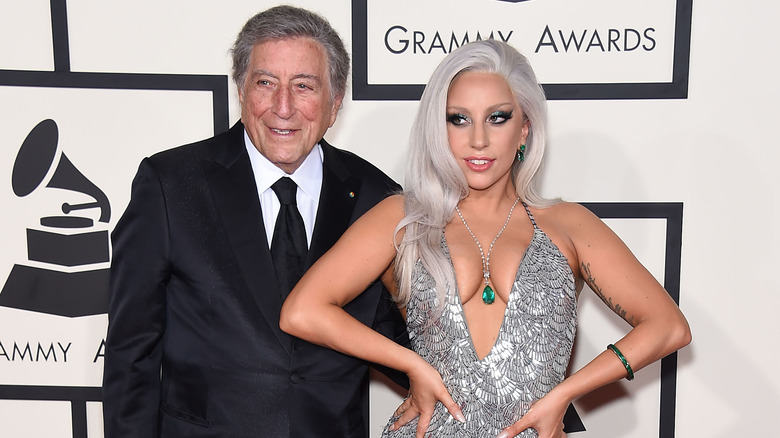 Shutterstock
Lady Gaga took to Instagram on August 3 and revealed that the follow-up to 2014's "Cheek To Cheek" has been years in the making. The "Rain On Me" chart-topper shared the official artwork to their second duets album, "Love For Sale," and explained that Tony Bennett asked the pop diva to do another record with him the day "Cheek To Cheek" dropped.
"The day we released 'Cheek To Cheek' in 2014, @itstonybennett called me and asked me if I wanted to record another album with him, this time celebrating the songs of Cole Porter," she said. "I'm always honored to sing with my friend Tony, so of course I accepted the invitation. Today, I am so excited to announce that our new album 'Love For Sale' will be released October 1. You can pre-order the album and listen to our first single 'I Get A Kick Out Of You' everywhere now!"
According to Music News, the album will consist of 12 tracks. The only song that has yet to be released is the lead single, "I Get A Kick Out Of You." The duo performed together at their emotional "One Last Time: An Evening With Tony Bennett and Lady Gaga" concert on August 3 in honor of Bennett's 95th birthday, with a second show on August 5. Of course, Bennett's legacy is incredibly strong and will continue to inspire new generations, with or without new material, for decades to come.