Who Are Meghan Markle's Closest Friends In Hollywood?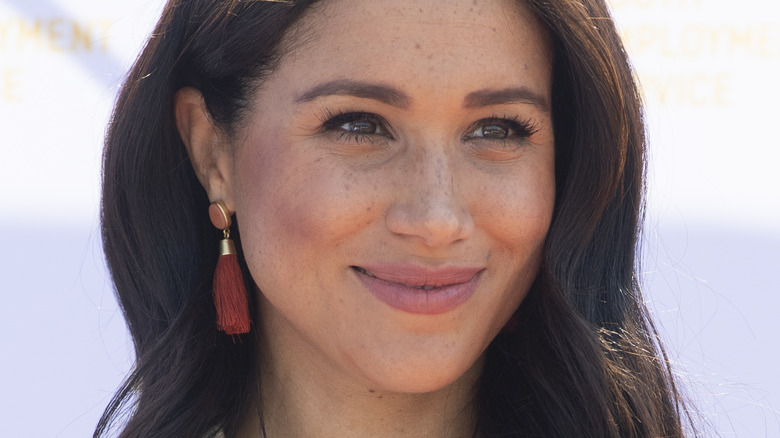 Wpa Pool/Getty Images
Meghan Markle might not be sharing banana bread recipes with her sister-in-law Kate Middleton at the moment, but that doesn't mean she has a void to fill. While it might appear as though things are strained between Markle and her own family, along with Prince Harry's family, the ex-"Suits" star can count on the support and friendship of more than a dozen people in the entertainment industry, all of whom she maintains very strong connections with, per Us Weekly. In fact, royal fans would say that Markle is a "girl's girl," as she values her female friendships perhaps more than the relationships she has with some of her extended family members — and maybe some people behind the scenes at Buckingham Palace, too.
Before the Duke and Duchess of Sussex's seismic interview with Oprah Winfrey earlier this year, the palace announced that they would be opening up an investigation into some of the claims made that suggested Markle bullied her staff members. According to the U.K. Mirror, the palace said it "does not and will not tolerate bullying or harassment" of any kind. But Markle still stands as one of the most popular figures in Hollywood — especially when it comes to her very famous best friends, many of whom have defended her name and her reputation, per Fox News. 
To find out just who these Hollywood pals are, keep reading.
Meghan Markle's tight-knit inner circle includes plenty of A-listers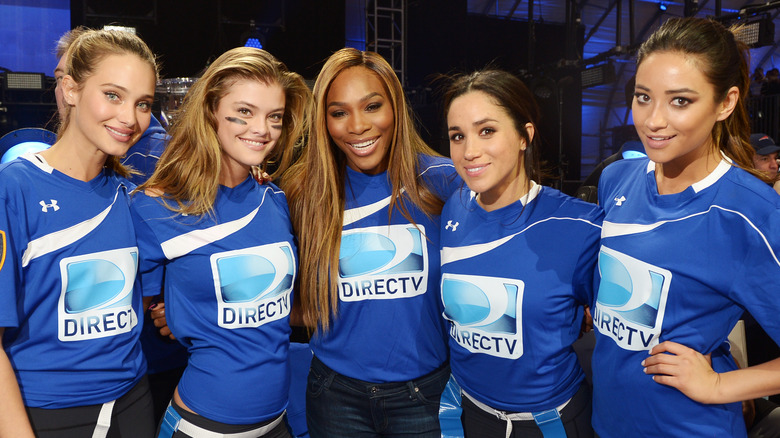 Michael Loccisano/Getty Images
Meghan Markle might never have reached A-list status in Hollywood, but she's managed to make plenty of high-powered friends — and maintain those friendships — enough that she might even be separated by only seven degrees from Kevin Bacon.
Per the Daily Mail, The Duchess of Sussex launched her new 40x40 mentoring project on her 40th birthday with the help of some of the biggest names in the business, including Adele, poet Amanda Gorman, Canadian Prime Minister Justin Trudeau's wife Sophie Gregoire Trudeau, and fashion designer Stella McCartney. If that weren't enough, A-listers like George and Amal Clooney — who were both invited to the Sussexes' wedding in 2018, per the U.K. Mirror — along with Gayle King, Priyanka Chopra, and, of course, Oprah Winfrey, are just a few people who are in Markle's contacts list. (They may have even already seen photos of her newborn baby Lilibet before everyone else!)
While a lot has been said and written about Markle over the years, her friends still think she's the same person she was before becoming a royal. One of her best friends, Serena Williams, once gave her tips on how to handle all of the media attention she's gotten. Williams told Vanity Fair in September 2017, "Her personality just shines. I told her, 'You've got to be who you are, Meghan. You can't hide.'"