Inside Louis C.K.'s Life Since His Scandal Was Revealed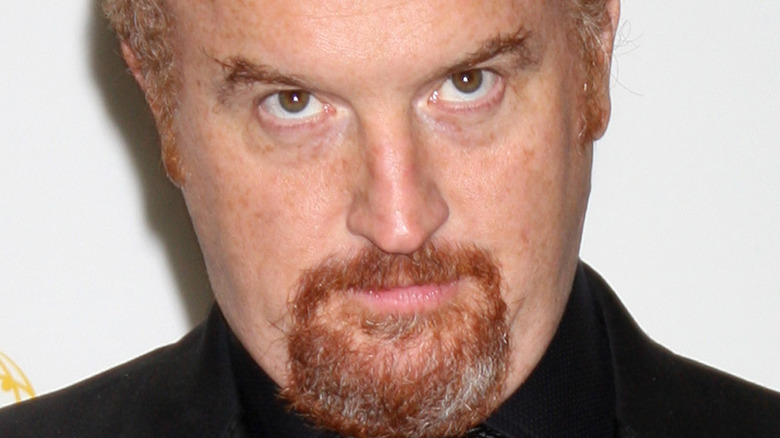 Shutterstock
The most surprising comeback of 2021 has got to be Louis C.K. For those who don't remember the comic, whose real name is Louis Székely, faced massive public backlash in 2018 when he was accused of sexually assaulting multiple women. Over the course of a few weeks, several women came forward to speak out against C.K. They claimed that the world-famous comic had masturbated in front of them without their consent. A theme that ran through the allegations was that C.K. used his professional standing to coerce the women into uncomfortable and aggressive situations, to which they felt they could not object.
C.K. copped to the allegations and bowed out of the public eye. "These stories are true," C.K. said in a statement, per the New York Post. "At the time, I said to myself that what I did was okay because I never showed a woman my d**k without asking first, which is also true."
After being the subject of so many damning editorials and so much public shaming, most thought C.K.'s career was dead and buried, but they were wrong. In August 2021, C.K. officially announced his comeback. Here's what we know about the tour and what C.K. has been up to since his career crashed and burned.
If you or anyone you know has been a victim of sexual assault, help is available. Visit the Rape, Abuse & Incest National Network website or contact RAINN's National Helpline at 1-800-656-HOPE (4673).
Louis C.K. is planning a comeback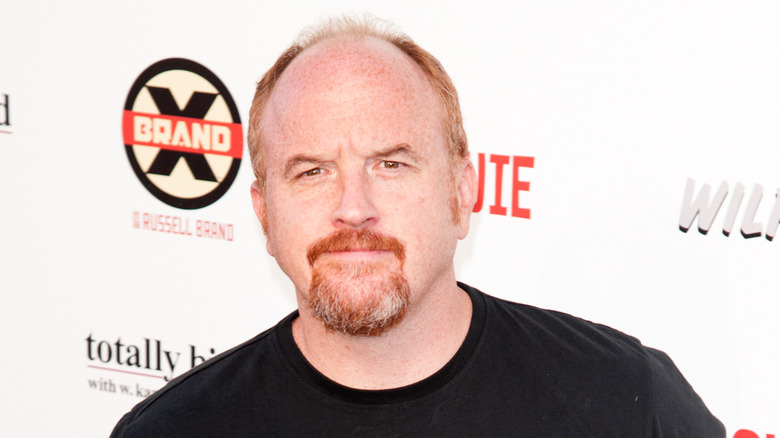 Shutterstock
Louis C.K. raised some eyebrows in August when he released a statement outlining his plans for a career comeback. "Hello Person that you are being right now, I am writing to you today because I am going to be touring around the United States of America, performing stand-up comedy in theaters in several different cities," the email reportedly read, per New York Post.
According to his website, the proposed tour will last five months and will hit a total of 24 US cities, including Philadelphia, Portland, Chicago, and Boston (interestingly, C.K. does not plan to perform in LA). There are also tentative plans to carry the tour into 2022 in several eastern European venues including Kiev and Bucharest. C.K. also assured his fans that his tour would take rising COVID-19 numbers with the utmost seriousness. He promised to "comply with the local governments of each city in terms of health standards and practices. Like everyone else, we will just do our best under the circumstances."
Finally, C.K. ended the email on a hopeful note, "I'm really looking forward to seeing your faces as I tell some rather impolite jokes and stories," he said. C.K. did not mention the sexual harassment scandal that stymied his career. While C.K. seems optimistic about his comeback, this isn't the first time he's tried to reclaim his name since the scandal — and last time, things didn't go so well.
Louis C.K. couldn't stay out of trouble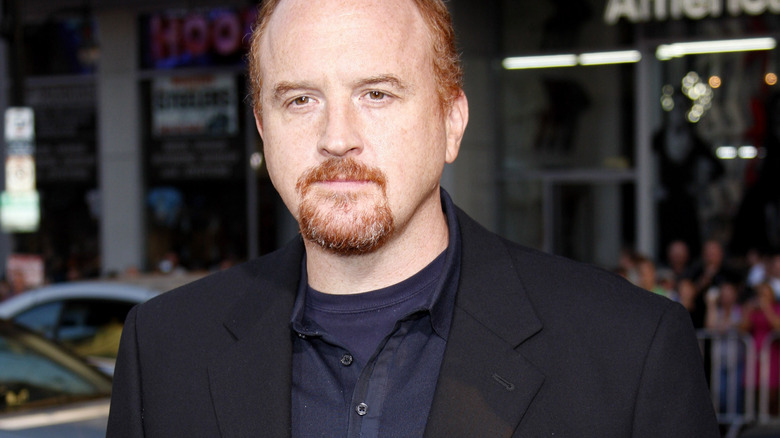 Shutterstock
When news of his sexual misconduct hit the stands, Louis C.K. was forced to take a break from his career, though that was never his plan. Most people thought C.K. was gone for good, but just one year after terminating his contract with Netflix, C.K. attempted a comeback.
C.K. began popping up in comedy clubs around New York City to workshop his material. He found himself in the news yet again after video footage of a crude set mocking Parkland shooting survivors, people who identify as gender-neutral, and little girls wearing sexually suggestive clothing surfaced, per The Washington Post. As you can probably imagine, the jokes didn't land. Some thought C.K. would lean into the scandal and turn towards right wing comedy, but apparently, he hasn't. According to a 2020 article in The Washington Post, C.K. has scrapped the more controversial material in lieu of his familiar brand of nihilistic comedy.
In some of his more recent sets, C.K. touched on the scandal that now haunts his career. He refused to address any of his actions but instead spoke to the ostracization he's experienced since getting blacklisted from the comedy scene. Mostly he just talked about how he has to eat alone, and people still flip him off at restaurants. We'll just have to see if audiences still find it hard to sympathize.