Why A Royal Expert Just Accused Meghan Markle Of Mocking The Queen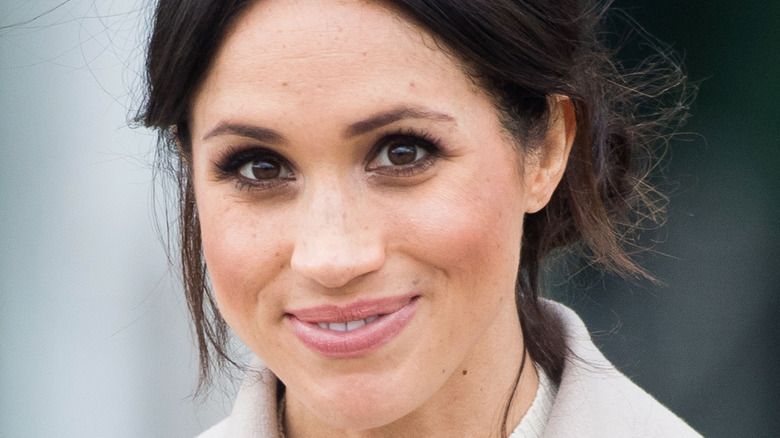 Shutterstock
Meghan Markle turned 40 years old on August 4 and marked the occasion by posting a celebratory video on Archewell — her and Prince Harry's production company — in which she introduced the 40x40 initiative with Melissa McCarthy. In the video, Meghan revealed that she asked 40 of her friends to join her on her new philanthropic effort, which aims to help women rejoin the workforce after the coronavirus pandemic left millions without jobs throughout the past year.
"Because I'm turning 40, I'm asking 40 friends to donate 40 minutes of their time to help mentor a woman who is mobilizing back into the workforce. Over two million women in the U.S. alone, and tens of millions around the world have lost their jobs due to COVID," Meghan told Melissa in the light-hearted video. "And I think if we all do it, and all commit 40 minutes to some sort of act of service, we can create a ripple effect."
While a lot of people praised Meghan on social media for celebrating and uplifting others on her birthday, one royal expert was not happy with her video and accused her of mocking Queen Elizabeth II. Find out what the royal expert has said below.
Royal expert thinks Meghan Markle made fun of the Queen's traditions
In Meghan Markle's 40th birthday video, she and Melissa McCarthy share a playful chat, with the "Bridesmaids" actor changing into a tea party outfit, complete with a fascinator, pearl necklace, and gloves. Melissa's costume and Meghan's actions were not well received by royal expert, Angela Levin, who accused the Duchess of Sussex of mocking Queen Elizabeth II and her "tea drinking habits."
"Anyone else think that Meghan and her friend Melissa McCartney were mocking the Queen in the birthday video?" Levin wrote in a tweet, shortly after Meghan's birthday video was released. "Both holding old fashioned cup and saucer like Meg used in her blog after 1st meeting with queen. Melissa sipping from the cup wearing fancy hat and gloves?" She continued in another tweet, "The mockery shows what she thinks of the Royal Family. She's got what she wanted and is confident she can outsmart us all. We just have to wait for Harry's outpouring in his memoir."
Levin's tweets sparked a debate on whether Meghan indeed poked fun at the queen or at British traditions in general. "McCarthy is a comedic actress and Meghan's cup and goodies were adorable rather incorporating a time of day," a user wrote in defense of Meghan, before adding, "Mockery would of included faking a British accent-for the love of God, leave her alone!" Whichever side fans and critics are on, Meghan sure got people talking about her initiative.