The Truth About Misha Collins' Wife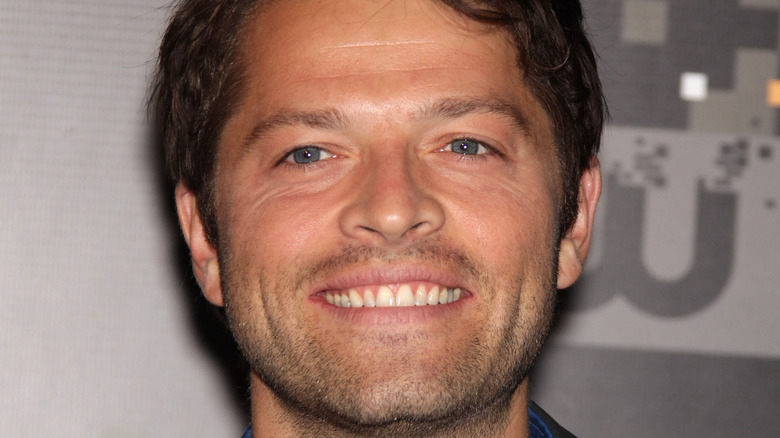 Shutterstock
We may receive a commission on purchases made from links.
"Supernatural," the American drama series that captured our attention and hearts from 2005 until 2020, had a pretty long stint on TV arguably due to its dark, sometimes creepy plot lines and fantastic casting. Of course, we got to feast our eyes on brothers Sam and Dean Winchester, played by Jared Padalecki and Jensen Ackles, respectively, per IMDb. These two fictional brothers hold a lot of appeal for fans — even famous fans like Perry Mattfeld, who loves to tease them on red carpets. While Padalecki and Ackles get so much attention, we can't forget about "Supernatural" icon Misha Collins, who is most famous for his portrayal of Castiel but played numerous characters on the series, from Lucifer to Jimmy Novak, per his IMDb credits. Collins is also making news for his surprising connection to none other than Monica Lewinsky, who he not only knew as a White House intern but has defended since the get-go.
Supporting all of this wonderful work is Collins' wife, Victoria Vantoch, a talented, brilliant woman with a very interesting career of her own. She also had a funny interaction with Charlie Sheen. Not to throw so many celebrities at you at once, but this is a fun one. Here's her story.
Victoria Vantoch wrote a book about her three-way relationship with Misha Collins
If you can't find a book you need, write one! At least this was the philosophy taken up by Misha Collins' wife, Victoria Vantcoh. The author and historian earned a doctorate in history from the University of Southern California, according to her GoodReads bio. Vantoch wrote a 2013 historical book, and her 2007 book, "The Threesome Handbook: Make the Most of Your Favorite Fantasy – the Ultimate Guide for Tri-Curious Singles and Couples."
Vantoch and Collins met in high school, according to The Washington Independent, and married in 2001. While their relationship followed many traditional tropes, she explained that people sometimes became uncomfortable with the nuances of their specific relationship. Writing in "The Threesome Handbook," Vantoch explained: "After several months in our trio relationship, my husband and I started telling friends about our girlfriend ... No one seemed to mind the concept of an occasional three-way fling with a stranger, but the concept of dating a third person was a bit much for polite company," she wrote (via GoodReads).
She also explained her whole motivation for writing the book: "I couldn't find a decent threesome guidebook at the library, so I started scouring the internet, reading biographies, and asking lots of people lots of questions. As it turns out, America is full of trisexuals eager to tell their stories." Why are we not surprised that this is where Charlie Sheen comes in?
Misha Collins defended his wife's book when Charlie Sheen got in the mix
Author and sexuality historian Victoria Vantoch caught Charlie Sheen's attention on Twitter when a fan jokingly tagged him in a post and asked him to write an updated version of Vantoch's second book, "The Threesome Handbook." Sheen tweeted back: "Done! Wrote it in my sleep!" But Vantoch's husband, Misha Collins, wasn't having it. He tweeted back to Sheen: "No u didn't, d****e bag, my wife did." So, that's sort of where the Sheen aspect begins and ends. But it's a fun tidbit, no?
Collins and Vantoch share two children, a son named West and a daughter named Maison Marie, who regularly pop up on the couples' social media. In fact, the family had a joint venture with another book. And this one's a little different from wife Vantoch's other works. It's a cookbook called "The Adventurous Eaters Club," which was published in 2019 and featured the whole family on the cover. Aw!
While Vantoch has worked as a journalist and writer, she's also taught history in college, per her GoodReads bio, and lectured at places like the National Air and Space Museum and the Library of Congress. She's super interesting all around!