Why Joe Biden's Tan Suit Is Causing Such A Stir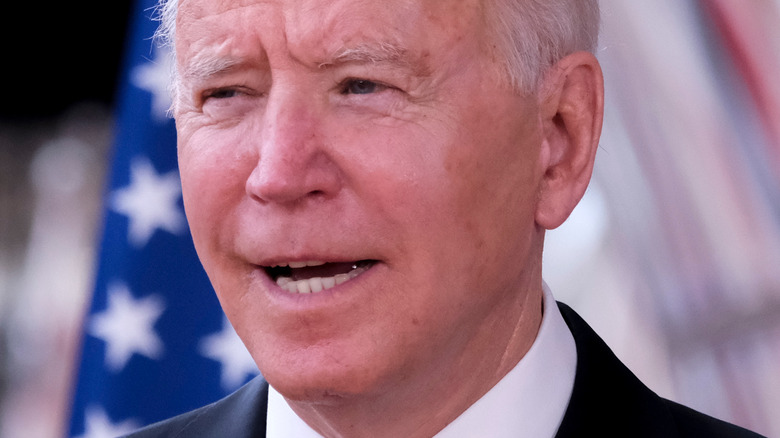 Shutterstock
Fashion commentary has always been an integral part of culture, especially when it comes to important political figures. From Jackie Kennedy to Hillary Clinton to Michelle Obama, Kamala Harris, and Dr. Jill Biden, their outfits at events have been discussed in detail by fashion blogs and publications, per Refinery29. Their male counterparts, not to be outdone, have also earned praise for their dapper looks at public engagements.
Former President Barack Obama has been praised for taking menswear to another level, per GQ, whereas current President Joe Biden is known for his All-American look, donning Ray-Ban aviator sunglasses whenever he's out and about. However, with praise comes a slew of critics who do not appreciate presidents changing the style code.
Biden has learned this the hard way after he appeared at a White House event on August 6 wearing a tan suit. Find out why people freaked over his outfit below.
Joe Biden is a victim of another 'tan suit gate'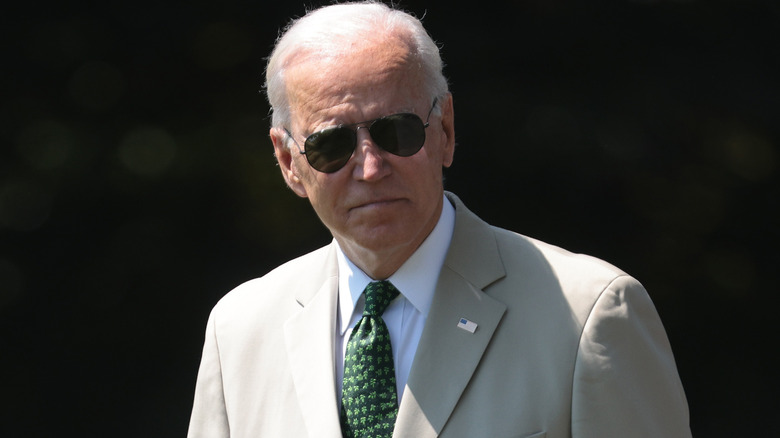 Win Mcnamee/Getty Images
On August 6, President Joe Biden surprised the media when he wore a tan suit while delivering a speech at the White House. Social media was fired up because Biden's suit looked a lot like the one former President Barack Obama wore at a conference in 2014, per Business Insider. Back then, Obama was slammed by conservatives over the look for being "unpresidential." Republic congressman Peter King blasted Obama on CNN and said his tan suit reflected a "lack of seriousness," whereas Fox Business host Lou Dobbs said the choice "was shocking to a lot of people."
The outrage quickly turned into "tan suit gate," and many Twitter users could not help but wonder if Biden purposely trolled critics by wearing a similar suit. "I'm going with the theory that Joe Biden wearing a tan suit is a deliberate attempt to troll Fox News," journalist Dan Rather wrote on Twitter.
Others speculated that Biden wore the suit to pay tribute to Obama who turned 60 two days ago. "I thought of President Obama when I saw President Biden in the tan suit. Did he wear it to honor Obama's 60th Birthday? Maybe," another user tweeted. As of publication time, Biden has not commented on his fashion inspiration.