Are Misha Collins And Jensen Ackles Friends?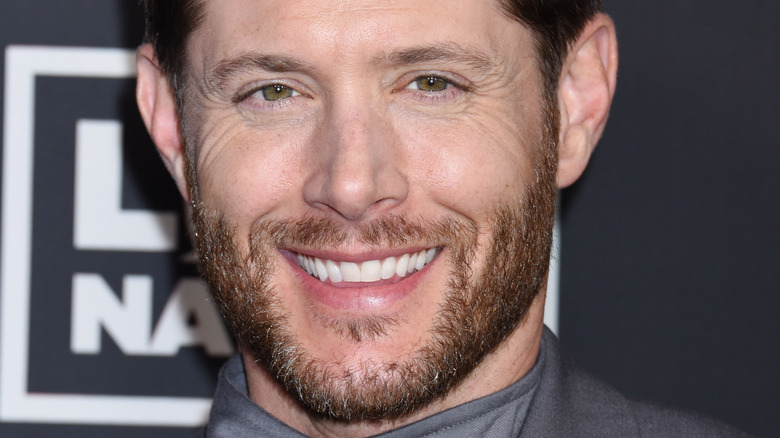 Shutterstock
American drama "Supernatural" enjoyed an astounding run, airing from 2005 to 2020, according to IMDb. After 15 seasons, it's safe to say that the show squeezed every last moment of drama out of its plot that was humanly possible. The series served us Sam and Dean Winchester, the leading stars who played brothers on their quest to fight evil, per Entertainment Tonight, played by Jared Padalecki and Jensen Ackles respectively.
While these two play the stars, the series also brought us closer to Misha Collins, who played the character Castiel, and also Lucifer, and occasionally the character Jimmy Novak, per his IMDb credits. So yeah, he wore many hats. But he also leads an interesting life outside of "Supernatural." Collins has been happily married for years. He also has an interesting connection to the Clinton-Lewinsky scandal.
With all of this in his background, we are still not over reminiscing about Collins on "Supernatural," and his relationship with fellow cast members, especially Ackles. What's their bond like today? We've got the scoop.
Misha Collins calls himself a 'superfan' of Jensen Ackles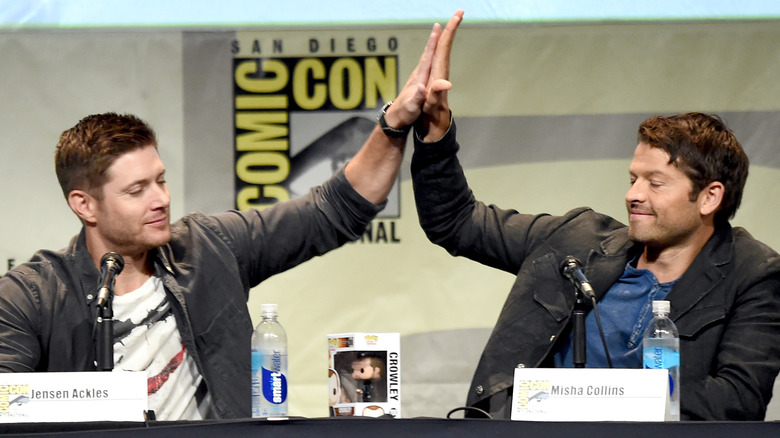 Kevin Winter/Getty Images
Misha Collins and Jensen Ackles are obviously super tight and have remained so, even after "Supernatural" wrapped. On May 22, the two hosted a Zoom ceremony for the opening of GISH, the Greatest International Scavenger Hunt. While the video was a nice excuse to see them again since the finale of "Supernatural," it was also a clear display of their off-screen chemistry.
Collins began the video by calling Ackles "my dear friend" and went on to roast Ackles for the massive beard he was sporting. Ackles, who was working on a new project in Toronto, Canada, joked about how rowdy the set for "Supernatural" was. When Collins jokingly asked what it was like to work with "professional actors," Ackles teasingly responded with: "It's incredibly refreshing." Ackles then added, "It's incredibly refreshing to know that we're not the only wildly unprofessional set out there."
The two actors seem to have an ongoing friendship that clearly blossomed on the "unprofessional" set of the beloved drama. For Ackles' birthday, Collins shared a photo of the two of them on Instagram and lovingly wrote: "After 12 yrs of working with him, I can genuinely say I've become a superfan of his."
Inside the Twitter bromance between Misha Collins and Jensen Ackles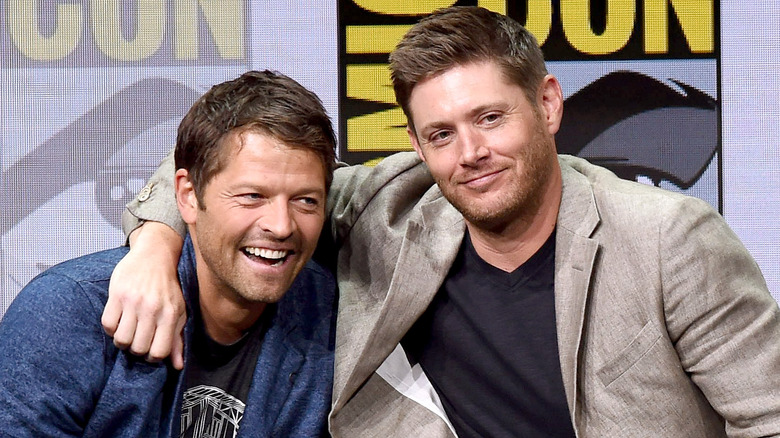 Kevin Winter/Getty Images
Misha Collins and Jensen Ackles love to give each other the old back and forth on Twitter. When talking about their characters' subtext on "Supernatural," the two actors jumped on Twitter to talk about it. In November 2014, Collins tweeted, "'Subtext' is really getting it's day in the sun here isn't it." Ackles responded: "[Y]ou keep ur 'subtext' to urself, sir. I've told u...I'm not that kinda girl...wait, what. Crap."
As Screen Rant notes, Ackles took a turn directing several episodes of "Supernatural" and in response, Collins decided to share some love with his friend online. "Nice work, [Jensen Ackles]. You do great work behind the camera & you have a much more chiseled jaw-line than the average TV Director," Collins tweeted.
Collins wasn't quite done with using Twitter, though. News broke that a prequel for "Supernaturals" was in development, per Entertainment Weekly, called "The Winchesters." The show will be produced by Ackles and his wife, Daneel Ackles, so Collins put himself in the ring with the tweet: "Seems like this show would benefit from a time-traveling angel-in-a-trenchcoat character. Just saying..." Could there be a reunion between the two pals? Time will tell.