Inside Kathy Griffin's Recovery From Her Lung Cancer Surgery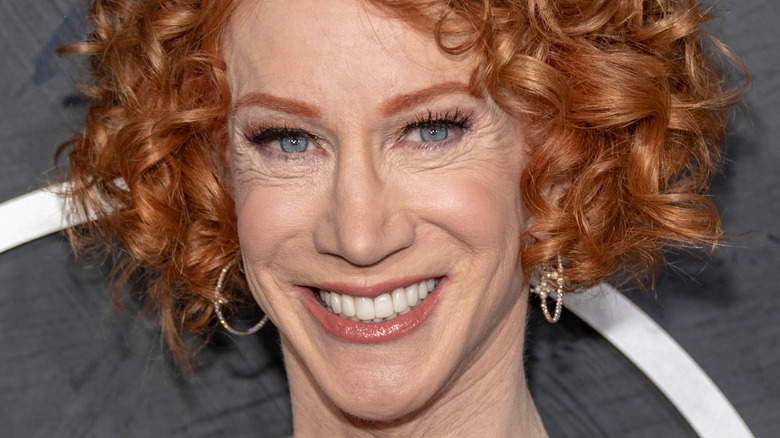 Shutterstock
It has only been days since Kathy Griffin tweeted that she had been diagnosed with lung cancer and would be undergoing surgical treatment. "Yes, I have lung cancer even though I've never smoked!" the comedian shared on August 2. "The doctors are very optimistic as it is stage one and contained in my left lung." Given the early catch of the cancer, Griffin shared that more extreme treatments like chemotherapy and radiation wouldn't be necessary, and she expected to be "up and running around as usual in a month or less."
One day later — post-surgery — Griffin tweeted an update of relief, telling fans that she felt "grateful for all the love you guys are sending me. My cancer surgery went well yesterday. Phew." She also mentioned her August 2 interview with ABC News' "Nightline" in which she divulged some hard truths about her history of prescription pill addiction. "I am in recovery, but I am a drug addict," she revealed in the interview. She shared on Twitter that "very nervous" about telling the world. 
Griffin continued to keep fans in the loop on her recovery progress. Here is what she revealed in a new video. 
If you or anyone you know is struggling with addiction issues, help is available. Visit the Substance Abuse and Mental Health Services Administration website or contact SAMHSA's National Helpline at 1-800-662-HELP (4357).
Kathy Griffin is laughing through recovery
Kathy Griffin may have a raspy voice after her lung cancer treatment surgery, as revealed in an August 8 Instagram video, but she has chosen to take a comedic approach to her recovery. "Hi, you guys. I might start to post little videos about, like, my recovery and stuff, but my voice is, like, really hoarse," Griffin said in the video, laughingly telling her fans her new voice shouldn't "scare people." The comedian continued, "I'm laughing. It's just even that notion. Also, for some reason, I laugh at everything now. And if it's horrible, I laugh way more!" 
This isn't the first time Griffin has been deliberately glib about her recovery process. Also on August 8, the funny-woman posted a series of flower bouquet photos to her Instagram, instructing followers to play a game of "Match the photo of the gorgeous flowers with the celebrity name of who you think sent them to me," with the celebrity candidates being Kris Jenner, Paula Abdul, cooking show host Rachael Ray, financial advisor Suze Orman, and singer Sia. "Will & Grace" star Debra Messing commented on her floral post, "You are so loved."
Indeed, and we certainly applaud Griffin's positive attitude toward a potentially dark subject matter!