Nick Cannon's Unorthodox Lifestyle Explained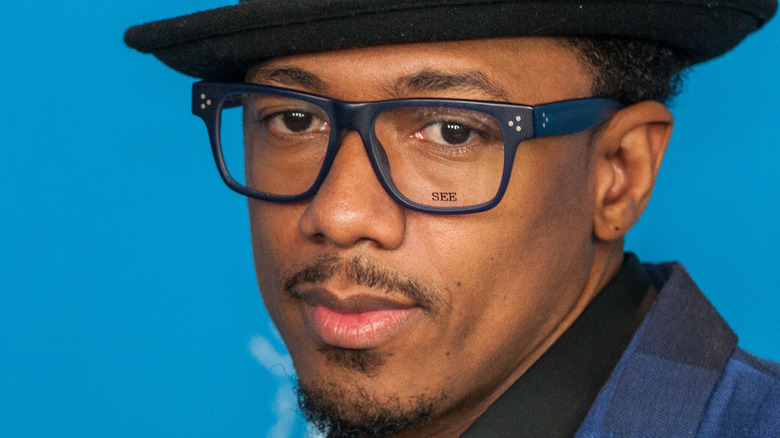 Shutterstock
Nick Cannon had his first two children with ex-wife Mariah Carey, and his number of kids has grown seemingly exponentially over the years. The "Wild N' Out" host was personally responsible for changing Carey's perspective on having kids of her own. "Our desire to have children became a force of nature and why we got married so quickly," she wrote in her book "The Meaning of Mariah Carey" (via People). The couple welcomed twins Monroe and Moroccan during their six-year marriage. 
However, their divorce became a bitter affair that lasted more than two years. "Honestly, I think Nick and I could have worked it out between the two of us, but egos and emotions got inflamed," Carey wrote in her book. In the end, the former couple buried the hatchet and were able to put their kids first. "We both wanted to make sure everything was cool for our family. We will always be family, and we make it work," the singer penned in regards to their post-divorce relationship.
Since their split, Cannon's number of progeny grew as he has welcomed five more children with three different women. Four of those babies were born in the span of one year, per Us Weekly. Keep reading to learn more about Cannon's unique view on parenthood and relationships.
Why Nick Cannon's kids were not his decision
Besides his twins with Mariah Carey, Nick Cannon had a son, Golden, and a daughter, Powerful, with Brittany Bell. Plus Cannon had twins, Zillion and Zion, with Abby De La Rosa, and a son, Zen, with Alyssa Scott, who was born only nine days after De La Rosa's twins, per Us Weekly. In July, the "Drumline" actor defended himself while on his Power 106 radio show when he was accused of being reckless with birth control. Cannon insisted that all the children with multiple mothers were planned. "I'm having these kids on purpose," Cannon said (via Us Weekly). "I didn't have no accident." 
While pregnant with twins Zillion and Zion, De La Rosa discussed her "unconventional" relationship with Cannon in a since-deleted Instagram post from January. "He changed my life in all the most unconventional ways, inspiring me to open my mind to the unknown when it came to loving outside of 'labels' and 'ownership," she wrote (via Us Weekly).
During an appearance on "The Breakfast Club" on August 9, Cannon spoke about his unorthodox outlook on parenting. According to the former "Masked Singer" host, it was the women who made the choice to have his children. "It ain't my decision. I'm following suit," Cannon said (via Us Weekly). "I'm not going around like, 'Who am I gonna impregnate next?'" the multi-hyphenate performer joked. "When you look at a family structure, the woman is always the one who leads and makes decisions," he added. Keep reading to see why Cannon is against marriage.
Nick Cannon believes marriage is akin to ownership
Nick Cannon not only shared his views on childbearing, but he also mentioned being against the model of the traditional monogamous marriage. "That's a Eurocentric concept," Cannon said on "The Breakfast Club" (via Us Weekly). "The idea that a man should have one woman?" the television host added. "We shouldn't have anything. I have no ownership over this person."
Even though he had been married in the past, Cannon views the concept as rooted in the exchange of property. "I've never really subscribed to that mentality," he said on the wildly popular radio show. "I understand the institution of marriage, but if we go back to what that's about, that was to classify property," the actor said. "One father gave another man his daughter for land." Cannon added that he staunchly opposed the concept of "ownership" over another person.
The "Wild N' Out" host has been unafraid to share his personal views in the past, and was fired from the show in July 2020 after expressing anti-Semitic theories on his podcast, per NPR. Cannon later apologized, and spoke to leaders in the Jewish community, including Rabbi Abraham Cooper. "He understood that the words and references that he thought were based on fact, turned out to be hateful propaganda and stereotypical rhetoric," Cooper said after his conversation with Cannon, via AP News.