How Far Did Garth Brooks Get In School?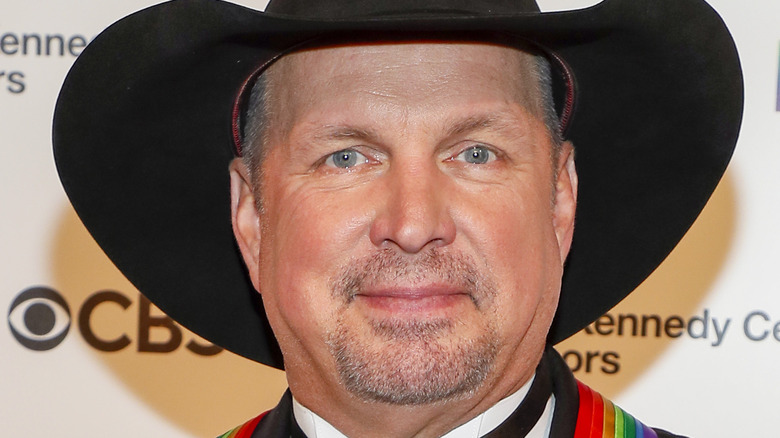 Paul Morigi/Getty Images
Legendary singer and songwriter Garth Brooks has had a great year. Brooks, one of the top-selling country artists of all time, sang at President Joe Biden's inauguration ceremony on January 20. He did so alongside Lady Gaga and Jennifer Lopez, per The Hollywood Reporter, and according to the outlet, Brooks made a statement to the media after Dr. Jill Biden asked him to perform. Brooks said, "This is a great day in our household; this is not a political statement; this is a statement of unity. This is history, and it is an honor to get to serve."
In May, Brooks was one of the 43rd class of Kennedy Center Honorees. According to CMT, the Kennedy Center Honors are awarded each year to "those in various performing arts fields, for their lifetime of contributions to American culture." CMT reported that Brooks was the first artist to win the Country Music Awards' Entertainer of the year honor seven times.
Brooks shared a photo of himself with his wife Trisha Yearwood on Instagram after the Kennedy Center Honors; he captioned the photo with a quote, writing, "To loosely quote Maya Angelou, I stand here as one but I stand here for the people who have carried me to this point. Grateful! love, g #KCHonors." After such a big year, some fans are curious how far Brooks got in school. Keep reading to find out!
Garth Brooks graduated college and got an MBA
Garth Brooks graduated from Oklahoma State University in 1984, and the country singer earned an MBA from the school in 2011, per the OSU website. According to the college website, Brooks got a track scholarship to OSU and competed in the javelin. He earned a Bachelor's Degree in advertising and later used the university's distance learning program to get his MBA. Not every bestselling country star has a master's!
The star's love of education doesn't stop there. In March, Brooks and his wife Trisha Yearwood were part of a group of artists to promote music education. Good Morning America reported on Brooks and Yearwood's efforts to help the National Music Council and the National Federation of State High School Associations, promoting the benefits of music education and its impact on their lives. The celebrity couple made a video to promote the project. In the video, Brooks said, music was "the most powerful sword for communication ... Everybody loves music, everybody should, it's within us all."
Brooks is one of the biggest selling country music artists of all time, and he is one of the top ten most educated country music stars, per College Consensus. He's an impressive guy!