What You Didn't Know About Jill Biden's Inauguration Look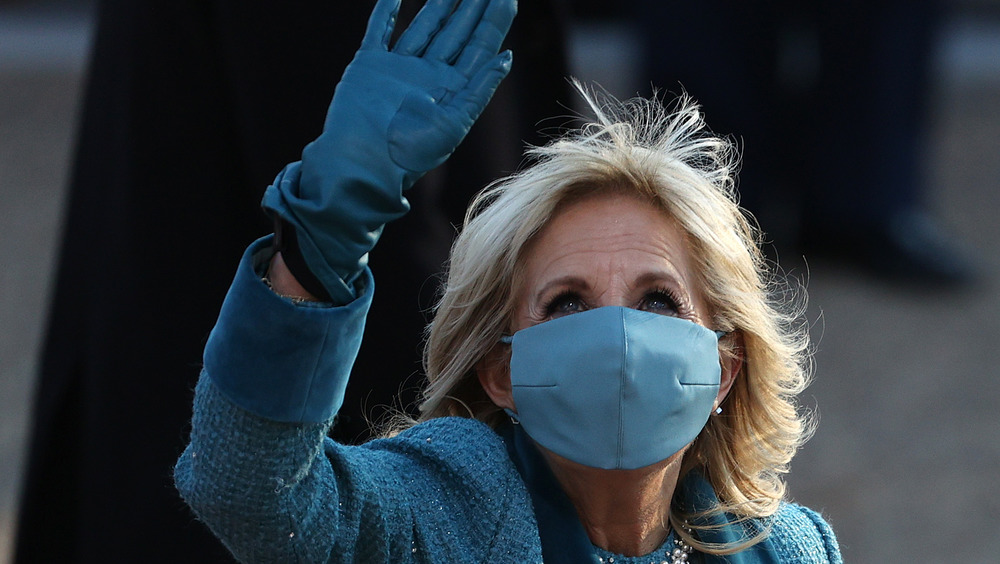 Patrick Smith/Getty Images
First lady Dr. Jill Biden's outfit choice for inauguration day was simply a look and a half! While the weather was a tad chilly in Washington, D.C. with snow falling in the earlier part of the day, Biden didn't allow something as insignificant as a few snowflakes flying around to get in her way. Instead she opted to allow her bright blue coat to steal the show — and that it did. 
As reported by The Washington Post, Biden's blue tweed coat was created by American designer Alexandra O'Neill. Per In Style, O'Neill is "known for her playful dresses and tops, which often include sequins and feathery details." In a press release, the budding designer divulged that under the Markarian coat she made for her, the first lady wore a "tapered dress with a chiffon bodice and scalloped skirt." The designer also revealed to In Style that the dress was adorned with Swarovski crystals and pearls laid out in a romantic floral pattern. Swoon! And about the color? According to O'Neill, Biden chose blue to convey a message of "trust, confidence, and stability." What's not to love?
But what else is there to know about the outfit and first lady Dr. Jill Biden's White House fashion sense? Keep reading after the jump to find out.
First lady Jill Biden is carving her own path in fashion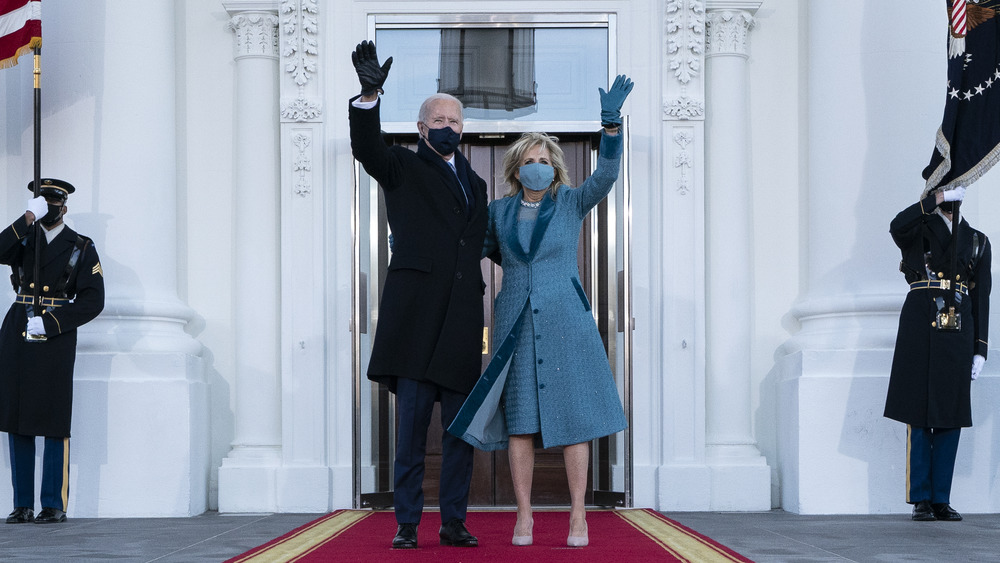 Pool/Getty Images
It may seem like a tall order to follow in the footsteps of a former fashion model like former first lady Melania Trump, but it appears first lady Dr. Jill Biden has no problem carving out her own signature White House style.
While Trump opted to don the likes of expensive European designers such as Chanel and Dolce & Gabbana while departing from the White House during her last day as first lady (per CNN), Biden had no qualms about selecting what some might consider a rather "green" American designer here at home to tackle her inauguration outfit. Luckily, it appears she was in good hands as the ensemble was absolutely stunning and just what the occasion called for.
It's reported that Biden might actually be taking a page out of former first lady Michelle Obama's book, as Obama also opted to utilize lesser-known American designers during her time in the White House, namely Jason Wu, Maria Pinto, and Tracey Reese, per L'Officiel. As you may recall, Obama opted to wear a golden yellow dress and jacket created by Cuban-born American designer, Isabel Toledo, at her husband's inauguration in 2009, per HuffPost. It did not go unnoticed that Obama favored the likes of fashion designers who were just beginning to make their mark in the world — and it appears that first lady Biden may now pick up that same baton and start running with it too. 
Was Jill Biden channeling her inner Destiny's Child?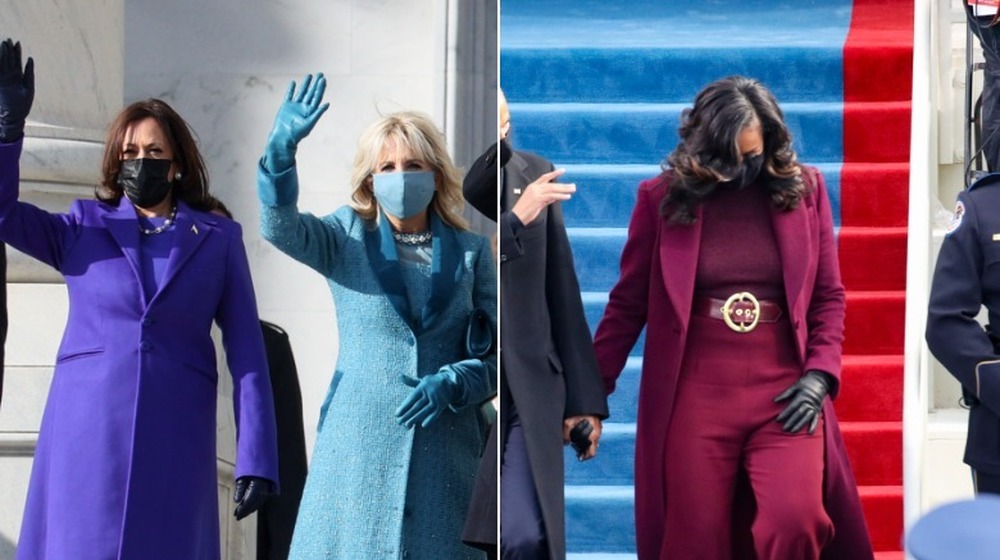 Joe Raedle, Rob Carr/Getty Images
Twitter lit up like a Christmas tree when the masses caught their first glimpses of first lady Dr. Jill Biden, Vice President Kamala Harris, and former first lady Michelle Obama's matching jewel-toned monochromatic looks on inauguration day. While Biden opted for bright blue, Harris sported a deep purple ensemble in homage to Shirley Chisholm (per WWD), and Obama sported a wine color suit and coat.
Many Twitter users compared the trio to Destiny's Child, due to their effortlessly cool and coordinated 'fits. One Twitter user declared that they would be telling their children that this threesome was actually Destiny's Child, while another joked about the possibility of a group chat aptly titled "Democracy's Child."
While we'll never know for sure if the inauguration's three leading ladies got together and resolved to coordinate their styles, it is rather fun to think about the group chat that would've had to go down. Just imagine Biden sending Harris and Obama a text message that read, "Wear an American designer tomorrow or you can't sit with us." Or maybe, "Hey ladies, I have Tina Knowles on the phone. What are ya'll thinking about for inauguration day? Xoxo, the almost first lady." Better yet, what if she pulled up with the secret service in tow at each of their homes and simply yelled out "Get in losers, we're going shopping!" We can always dream.