Johnny Weir Responds To Criticism Of His Olympics Closing Outfit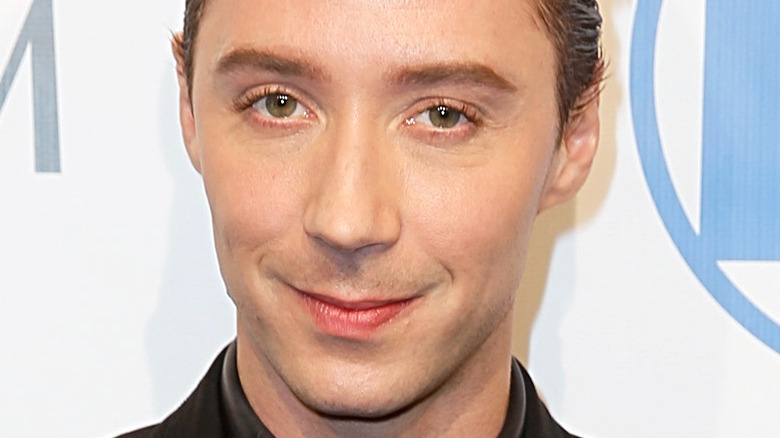 Dominik Bindl/Getty Images
Olympic figure skater turned analyst and host, Johnny Weir, is not afraid to go toe-to-toe with his critics — namely attorney and former advisor to Donald Trump, Jenna Ellis. As reported by Page Six, Ellis took to Twitter to call out Weir for the attire he wore as he co-hosted NBC's Olympics closing ceremony coverage: an ivory and beige jacket, ivory pants, and boots to match. To pull the look together, the Olympian opted to sweep his hair back in a classic updo adorned with metallic rings reminiscent of the Olympics symbol.
"#WokeOlympics closing ceremony clown. How appropriate and utterly embarrassing," Ellis fired out in a controversial tweet. To add insult to injury, Ellis penned yet another contentious tweet that read, "Bring back the days when boys cared about growing up to be actual men. Biblical masculinity over woke fragility," along with a photo of Weir wearing the outfit in question. Phew. Those are fighting words!
As one can imagine Ellis' antagonistic comments didn't exactly land well. Many Twitter users popped out of various corners of the internet, quickly clamoring to Weir's defense. "Please explain how what he wears affects you. Seriously. You can't – because it doesn't," one tweet read, while another user simply asked, "You disbarred yet?" YIKES.  Fortunately, it appears that Weir had the last laugh. Keep reading after the jump to learn about his response to the unsolicited criticism. 
Johnny Weir took the high road
Remember the saying, "I am rubber and you're glue, whatever you say bounces off me and sticks to you"? As reported by Page Six, shortly after Jenna Ellis criticized Olympic figure skater Johnny Weir for his Olympic co-hosting 'fit, Weir opted to rise above the insults and take a slightly more mature approach. Instead of volleying back his own criticisms of Ellis, Weir took the high road — a road seemingly less traveled by these days.
"The man I've grown into is a human that embraces the strength of the man & woman who raised me to be myself," he penned in a Twitter response, before adding, "If you feel squashed by the boot of someone else's beliefs, remember you are free to live your life the way YOU believe. Also, religion isn't an excuse for hate." Folks, we think that's what we call a good ol' fashioned burn.
Alas, Ellis chimed in one last time. In yet another dubious tweet, she referenced Bible scriptures and claimed that her tweet had nothing to do with hate at all. "It's actually genuine love to speak truth, not relativism and embracing every form of casual perversion under the banner of 'being myself.'" She then wrapped by stating that Weir would eventually have to "answer to God" for his choices and beliefs and then instructed him to "Choose truth & Jesus."
Whatever happened to the old adage, "If you don't have anything nice to say, don't say anything at all"???