Who Is Joey Lawrence's Fiancée, Samantha Cope?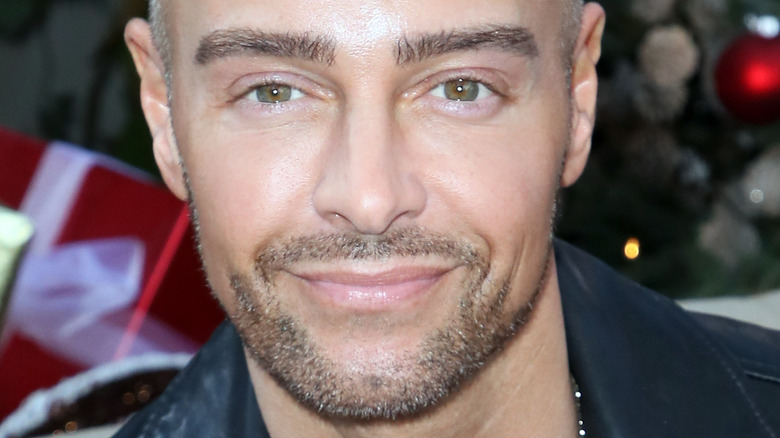 David Livingston/Getty Images
Whoa! "Blossom" star Joey Lawrence is engaged one year after ending his marriage to Chandie Lawrence. He broke the big news to Us Weekly while discussing what's currently going on with his career, and it turns out that his love life and his work life are now intertwined (more on that later). The new lady in the actor's life is Samantha Cope, and she couldn't say enough nice things about her future husband in a July 30 Instagram post. "Life is so full of blessings but also little unpredictable battles," she wrote. "I can't thank you enough for staying positive even in the toughest of times. You're my fav babe."
In response to Cope's post, Joey described her as "an incredible pillar of strength love and kindness." The two dated for 11 months, meaning that they got together a few weeks after Joey filed for divorce from Chandie on July 14, 2020 (via Entertainment Tonight). The exes have two daughters together, Charleston, 15, and Liberty, 11, and Joey told Us that the girls are fans of their future stepmother. "They like her a lot," Joey stated.
The "Melissa & Joey" star spoke about what dating during a pandemic is like. He and Cope did not get to go on many conventional dates, but perhaps the unusual circumstances helped them get to know each other on a deeper level. "It was just hanging out, trapped in that, you know, confined space." he said. So how did the actor meet his lucky fiancée?
Joey Lawrence and Samantha Cope met at work
Samantha Cope is an actor, and she got to know her future husband while working with him on the upcoming Lifetime movie "A Deadly Deed." Shooting the film was a family affair for Joey Lawrence — Matthew Lawrence co-stars, while Andrew Lawrence directs. In other words, Cope also got to know her future brothers-in-law at work. "Meeting her has just been really the greatest thing ever," Joey told Us Weekly.
The couple became writing partners while quarantining together, and they have already sold a script for a romantic comedy to the streaming platform Tubi. "When you can meet the greatest person for you in that kind of environment, it's saying something," Joey said of the unusual start of their romantic and working relationship. He also said that he and Cope only went to the movies once and "out to dinner five times" while they were dating.
Cope's past credits include the film "Flowers and Honey," the HBO series "Insecure," and the Lifetime movie "The Single Mom Conspiracy," in which she plays the villain (via Cinemaholic). Her acting career began in 2007 with a small part on the Nickelodeon show "Drake & Josh," which was followed by a role in a 2009 episode of the Disney Channel series "Hannah Montana." She and Joey worked together again in March when they filmed the holiday movie "Mistletoe Mixup" in Utah. It also features appearances by both of Joey's brothers.
Samantha Cope appeared on 'To Catch a Predator'
One of Samantha Cope's first acting roles was an unconventional one. In 2007, she played one of the decoys posing as an underage girl on the Dateline NBC series "To Catch a Predator." Her episode of the show was set in Flagler Beach, Florida. She was 19 years old at the time, but 53-year-old retired truck driver James Wiles believed she was 13 when he met her at a beach house, per NBC News.
In addition to being an actor, Cope is an animal lover who spends a lot of time with horses and her pet dogs, Dakota and Jax. When she adopted Dakota in May 2020, she even created a separate Instagram profile for the pup. In an April 2020 post, she seemed to reveal that Jax and Joey Lawrence share the same nickname. "I am feeling so thankful for the extra time at home with babe & Jax (even tho I call them both 'babe') and enjoying sunset dinners together in the backyard," she wrote.
Cope is also a member of the team that cares for the furry residents at the nonprofit farm animal rescue BIG Heart Ranch. According to her bio on the Malibu Foundation website, the Idaho native is certified in equine therapy. She helps rehabilitate animals and works to save dogs in shelters. Larence once paid $1,000 to rescue a dog from a shelter in Australia, per People, so he and Cope are clearly the paw-fect pair.