Here's What Scarlett Johansson Looks Like Without Makeup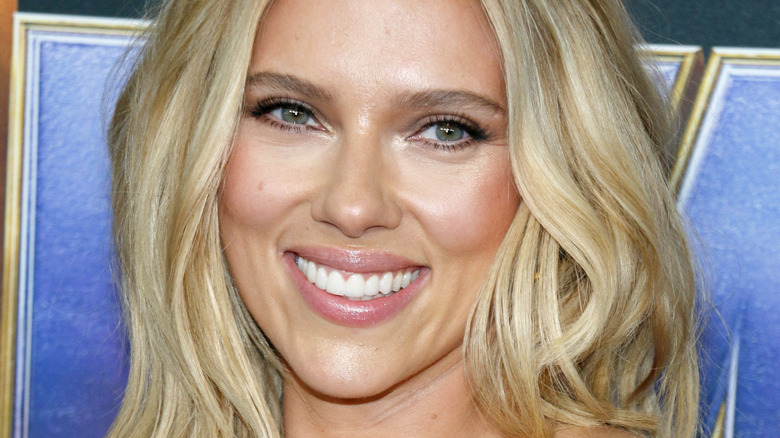 Shutterstock
Declared the "Sexiest Woman Alive" twice (in 2006 and 2013) by Esquire magazine, Scarlett Johansson is one of the biggest movie stars in the world and decisively one of the most stunning. With her sensuously deep voice, artfully crafted cheekbones, and famous curves, Johansson earned a reputation for her beauty since those opening seconds of 2003's "Lost in Translation." However, such an esteem for one's looks holds its drawbacks as well. 
Speaking to HelloBeautiful in a piece about a "Black Widow" set visit published in June, Johansson described the shift away from objectification of her titular Marvel Cinematic Universe character. "It definitely has changed," Johansson said, calling Black Widow's introduction in the MCU in 2009's "Iron Man 2" as "so sexualized ... talked about like she's like a piece of something and like a possession. I think Tony even says something like that." (That's a reference to Robert Downey Jr.'s Tony Stark character quipping, "I want one," about Black Widow as she exits the scene.)
Johansson's looks being glorified is nothing new. Woody Allen, who has directed her in three films, notably called her "sexually overwhelming." Most of her scripts following "Lost in Translation," per The Hollywood Reporter in 2019, would begin with a sweeping description such as, "her blond hair" or "she billowed through a room." Therefore, it's ever-refreshing to find that the Dolce and Gabbana beauty spokesperson rocked a bare face for one film role — find out what the star looks like without makeup, next!
Scarlett Johansson foregoes all makeup in We Bought a Zoo
It took playing a zookeeper to get Scarlett Johansson looking au naturel on the big screen. In the Matt Damon melodrama "We Bought a Zoo," Johansson is stripped of the perfectly wavy, platinum blonde locks many associate with the actor and had it replaced with a barely styled dirty blonde. Also gone is any visible trace of eye makeup, with her eyelashes unadorned by mascara and her signature cat-eye eyeliner missing. (As Johansson told Vogue in 2014, "I've been wearing winged eyeliner for so long. Once you get it down, it becomes your thing.")
To make Johansson's character look fully grounded, she also eschewed her foundation, letting her naturally smooth complexion shine through. The verdict? Johansson is a natural beauty, for sure. As the actor told Style magazine (via the Daily Mail), natural beauty isn't her day-to-day style, but she doesn't go overboard, either. The world-famous beauty shared, "I always like to put a little bit of make-up on. I'm not the kind of person that just slops around in sweatpants. I like to feel a little more together."
However, Johansson keeps her everyday staple to just "a really rich and vibrant red lipstick," adding, "I always keep red lipstick in my bag because I never know when I might show up to an event and be completely under-dressed. I feel like red lipstick is the cure-all for everything." It certainly has worked fabulously well for her so far!
Scarlett Johansson almost sued a tabloid once over a nose job claim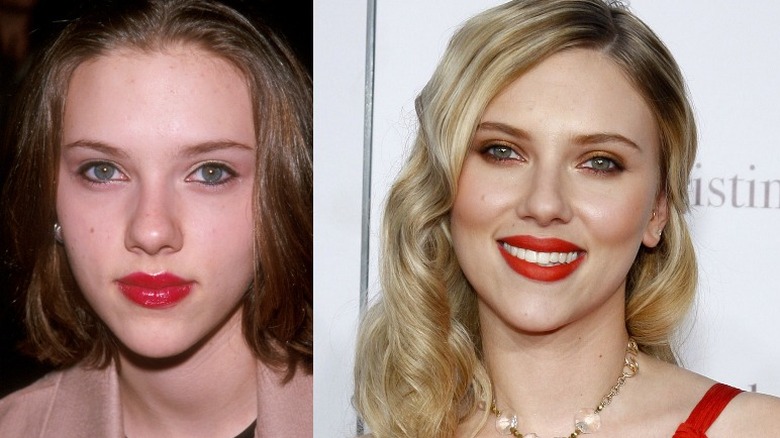 Evan Agostini & Jun Sato/Getty & Shutterstock
Scarlett Johansson might appreciate a red lip regularly, but don't go accusing the actor of having undergone plastic surgery. Us Weekly made this error, speculating in 2008 that Johansson, then 23, had a nose job done — using comparison cover photos of the actor clearly taken a good chunk of time apart (via HuffPost). The outlet even called upon an "expert" to weigh in. Welp... Us Weekly's investigative work earned them a threat by Johansson and her team to sue for defamation of character.
Johansson's representative told OK! (via Fox News), "Us Weekly made a pathetic attempt to validate its story by using two cover photos ... with obviously different make-up and lighting, and then relying on an 'expert's opinion' on what 'might' have been done. It wasn't.'" Per HuffPost, her spokesperson further slammed Us Weekly for publishing "an outrageous and defamatory fabrication lacking any conceivable basis or proof, despite vehement denials by Ms. Johansson prior to publication." Johansson also told OK!, "I have always been straightforward with the press regarding my body image. I am very concerned that my fans (and perhaps even my employers) will feel mislead."
In a June HelloBeautiful profile, Johansson certainly seemed more assured than ever in her natural body, revealing that while once her self-worth was, particularly at that age, "probably measured against" compliments, age has taught her to "come into your own ... and you understand yourself without changing now." Beautifully put.