How Expensive Was Denise Richards And Charlie Sheen's Divorce?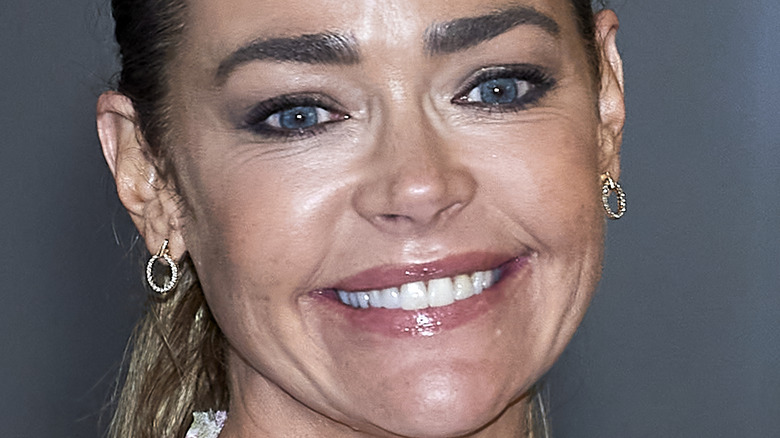 Carlos Alvarez/Getty Images
Denise Richards has made it no secret that her marriage to Charlie Sheen included some rather turbulent years. The Hollywood star pulled the plug on her marriage when she was only a few months pregnant with the couple's second child, Lola. Per The Smoking Gun, she had accused the actor of abusing prescription medicine, violent mood swings sometimes resulting in domestic violence, compulsive gamblings, and other things that certainly made her feel like the marriage was over.
But before their union came to a screeching halt in 2006, Richards says that there were a lot of misconceptions about her and their marriage during their earlier years together. According to People, Richards opened up about the public's perception about her and Sheen during an episode of "The Real Housewives of Beverly Hills." She said, "A lot of people have an impression of me being wild and crazy, but Charlie was sober when we got married, so we were not this swinging couple that people might assume. We weren't."
With that said, Richards was certainly in for a wild ride even after she filed for divorce from the actor. And it all came with a price, too. Keep reading to find out just how much.
Inside Denise Richards' well-documented financial struggles with Charlie Sheen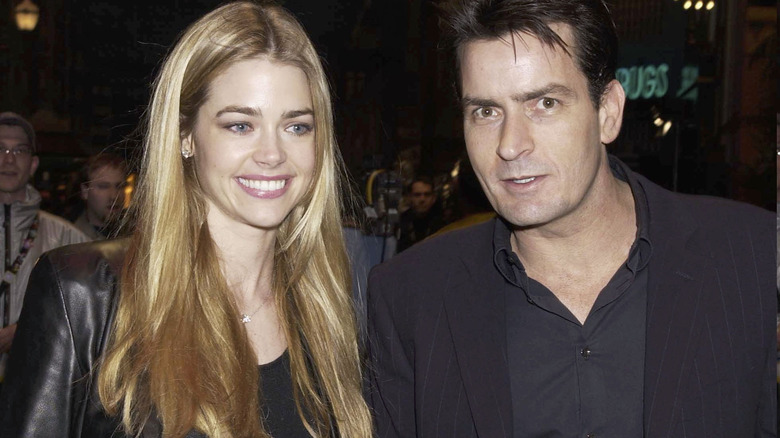 Dave Benett/Getty Images
According to People, Denise Richards revealed that she and Charlie Sheen did not have a prenuptial agreement. Explaining why she didn't take Sheen for half of his worth, Richards said, "Charlie and I didn't have a prenup when we got married and when we got divorced, I could have asked for half of what he made. And I did not, because I ain't a greedy f***ing whore."
Sheen was once considered the highest paid television actor, making about $1.8 million per episode for "Two and A Half Men," according to The Things. And while the full details of their divorce settlement have never been disclosed, per the outlet, sources say that Sheen pays Richards $80,000 to cover the costs for their two daughters, Lola and Sam. However, "The Bold and the Beautiful" star did claim that her ex-husband owed her $450,000 in unpaid child support in documents that were filed in Los Angeles in 2019, according to Us Weekly.
The documents alleged that Sheen had "failed to pay $450,000 in support while diverting over $600,000 in assets to adult family members and converting thousands of dollars into cash for his own personal use." In other words, Sheen wasn't keeping up with his part of the deal in their divorce agreement.
How is Denise Richards and Charlie Sheen's relationship now?
Kevin Winter/Getty Images
Thankfully, Denise Richards and Charlie Sheen are in a much better place now, past financial woes aside. In fact, Richards has made a point of making sure that Sheen is always involved in their daughters' lives and often includes him in family gatherings, holidays and birthday parties.
In February 2021, Sheen told Yahoo! Entertainment that he certainly regrets his behavior and some of the choices he made during his mental health crisis. He said, "There was 55 different ways for me to handle that situation, and I chose number 56. And so, you know, I think the growth for me post-meltdown or melt forward or melt somewhere — however you want to label it — it has to start with absolute ownership of my role in all of it."
Sheen might have lost a lot during his "winning!" years, but Richards never lost sight of her ex — or those alimony checks, for that matter. It seemed like that was more of a price to pay for Richards than Sheen.
If you or someone you know is dealing with domestic abuse, you can call the National Domestic Violence Hotline at 1−800−799−7233. You can also find more information, resources, and support at their website.
If you or anyone you know is struggling with addiction issues, help is available. Visit the Substance Abuse and Mental Health Services Administration website or contact SAMHSA's National Helpline at 1-800-662-HELP (4357).