The Real Reason Kenya Moore Filed For Divorce From Marc Daly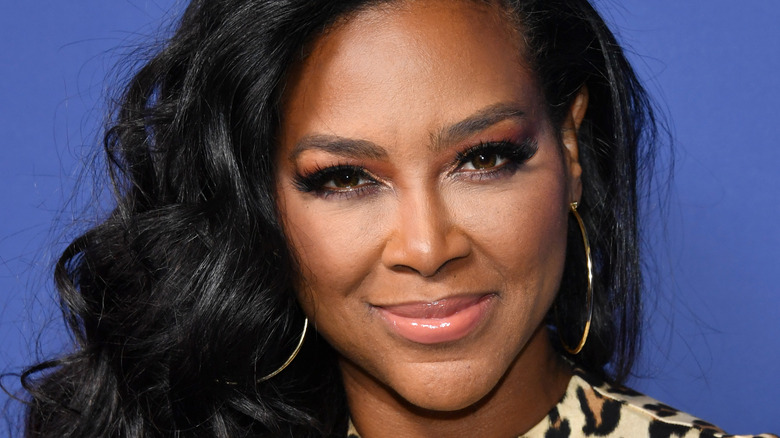 Dimitrios Kambouris/Getty Images
Kenya Moore and Marc Daly are no more (for real this time). As reported by Radar Online, the "Real Housewives of Atlanta" star has officially filed for divorce from her estranged husband. To some, this news may not come as a surprise, as her and Marc first announced their divorce plans in 2019. 
"It is with profound sadness that I regret to inform my fans that I am divorcing my husband, Marc Daly," Kenya said in an official statement to People in 2019. "Due to recent and ongoing circumstances, I can no longer continue in the marriage. My sole concern and focus is and will always be my daughter, Brooklyn, my miracle baby. She was made in love and true commitment. I ask for our privacy to be respected moving forward." However, Kenya didn't file for divorce at the time, and reunited with Marc a few months later.
During an appearance on "Watch What Happens Live" in April 2020, Kenya said things with Marc were going great. "We're actually getting along better than we've gotten along probably shortly after we got married," she told host Andy Cohen. "I mean it's just been no arguments, no real fights or disagreements and he's been really sweet and caring and thoughtful," Kenya continued. "It's like, 'Wow, you know, this is the man I married.'" In June, Kenya even shared pictures from their vacation in the Bahamas, where they looked happier than ever. So, why did Kenya file for divorce ... now?
Kenya Moore and Marc Daly have been living apart for years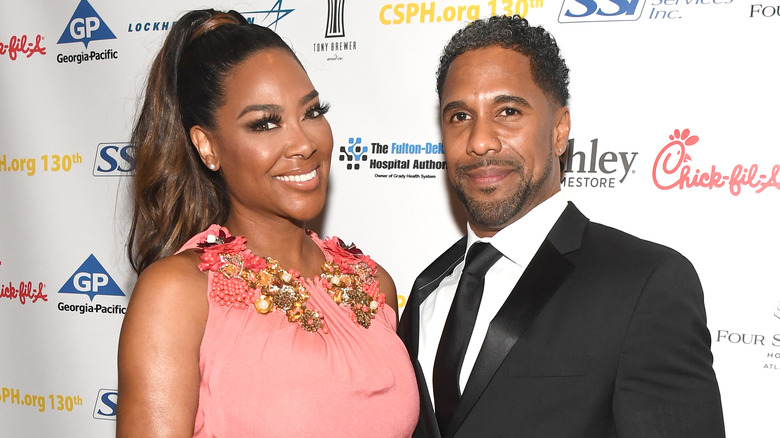 Paras Griffin/Getty Images
Although Kenya Moore and Marc Daly tried to make their marriage work in 2020, it looks like the two were still living separately. According to court documents obtained by Radar Online, Kenya filed for divorce in May, stating that she and Marc had been broken up since September 19, 2019. She also added that they lived in a "bonafide state of separation since that date." In the same documents, Kenya shared that marriage is "irretrievably broken," and reconciliation is out of the question.
The "RHOA" star is also seeking primary physical custody over her and Marc's two-year-old daughter, Brooklyn Daly. "To date, there are various issues impacting the care, safety and well-being of the minor child that could be continuously impacted if not addressed at least on a 'Temporary' basis," Kenya stated in the documents. "Without assistance and direction for this Honorable Court, it is our belief that the un-resolved matters as to the minor child will continue, and could become irreparable."
As far as properties and other shared assets, meanwhile, Kenya is looking for a fair split. "The parties have acquired other joint personal property as a result of their marriage by way of gifts or joint purchases which must be equitably divided as well as martial debt which must be equitably divided." Not long after Kenya's divorce filing, however, Marc responded with a lawsuit of his own.
Marc Daly wants legal joint custody over their daughter
As reported by Radar Online, Marc Daly countersued Kenya Moore on June 11, just weeks after the "RHOA" star filed for divorce. According to court documents obtained by the same publication, Marc is fine with Kenya having primary custody over their daughter, Brooklyn, but is still seeking joint legal custody. In addition, the restaurant owner wants the judge to preserve his "separate real and personal property."
What about "Moore Manor," Kenya's gorgeous home in Atlanta? Well, it seems like Marc wants a piece of it, as he considered the house to be their marital residence. In the lawsuit, Kenya's ex-husband is requesting an "equitable division of the parties' marital residence." When it comes to his legal fees, Marc wants to Kenya to cover those costs as well. As Kenya didn't sign a prenup prior to tying the knot with Marc, we can definitely see this divorce getting messier as finances are concerned.
And although Kenya has yet to address the divorce publicly, she is hoping for the case to remain private. "The Petitioner is a high-profile individual who has a vested and heightened interest in keeping her private life from becoming public," Kenya's lawyers stated in the official court documents (via Radar Online). "Due to her public persona, the Petitioner's life, safety and privacy interests are generally the subject of media outlets and as such." Stay tuned for updates!