Who Was Andrew Cuomo's Father, Mario Cuomo?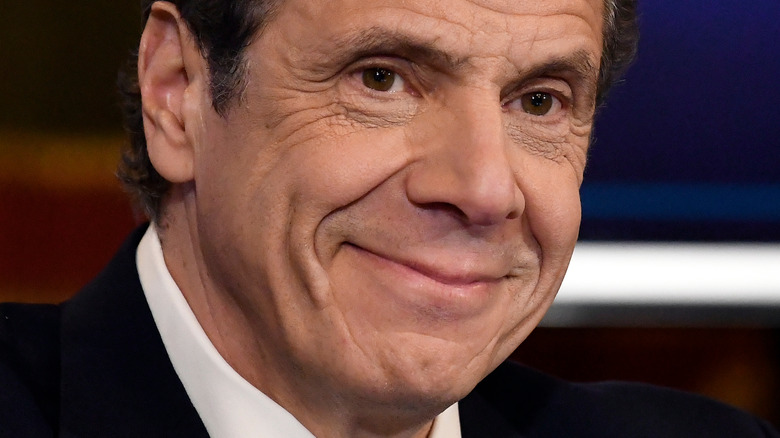 Shutterstock
Both former Governor of New York Andrew Cuomo and his brother, CNN anchor Chris Cuomo, have made headlines since the beginning of the pandemic with their light-hearted and brotherly banter on "Cuomo Prime Time." In fact, the Cuomo brothers managed to win the hearts of millions of Americans as they provided the kind of comedic relief that was needed, as many were unsure about the future due to COVID-19.
Andrew also became a father-like figure to millions of people — both in and outside of the state of New York — as the public got to see a personal side of him that they hadn't seen before. He also emphasized the importance of family during the height of the pandemic and his popularity with his brother. In one of his speeches about family, Andrew said, per The New Yorker, "I come from an Italian-American household where we had a great tradition on Sundays — the family had to come together at the table. [This week] Mariah brought her boyfriend. The boyfriend is very nice, and we like the boyfriend. Advice to fathers: the answer of what you think of the boyfriend is always 'I like the boyfriend.' Always." Mariah is one of his three daughters, according to Town & Country.
With that said, a lot of people can't help but wonder how Andrew's own father, Mario Cuomo, was like when Andrew was growing up. Here's what you need to know.
Mario Cuomo had a traditional parenting style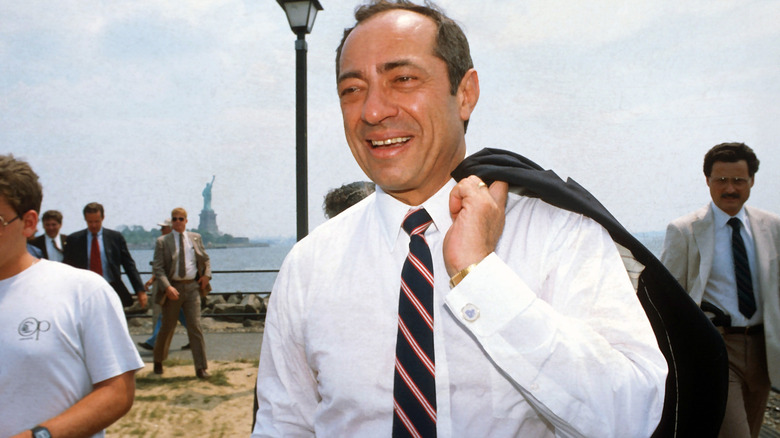 Yvonne Hemsey/Getty Images
Andrew Cuomo and Chris Cuomo can consider themselves political royalty in the Empire state thanks to their father, Mario Cuomo, who served as the 52nd Governor of New York for three terms, from 1983 to 1994. Together with his wife Matilda, the Cuomos had five children. In addition to Andrew and Chris, there were also sisters Margaret, Maria, and Madeline, per Business Insider. 
During a press conference in March 2020, Andrew made it no secret that his father was as tough as nails while he and his siblings were growing up, and that he had a particular path in mind for them. "If you had said to my father, 'I want to follow my individual star,' he would say, 'You can follow your individual star right out that door,'" he said, per Entertainment Tonight.
In an interview with The New York Times, Mario's former aide, John Mariano, revealed a little bit about how Chris relied more on his brother Andrew than their father while growing up. He said, "The relationship between Andrew and Chris when they were younger was much more a father and son type relationship. Mario was governor, he was busy, and Andrew remained very, very close to Chris."
Inside Mario Cuomo's legacy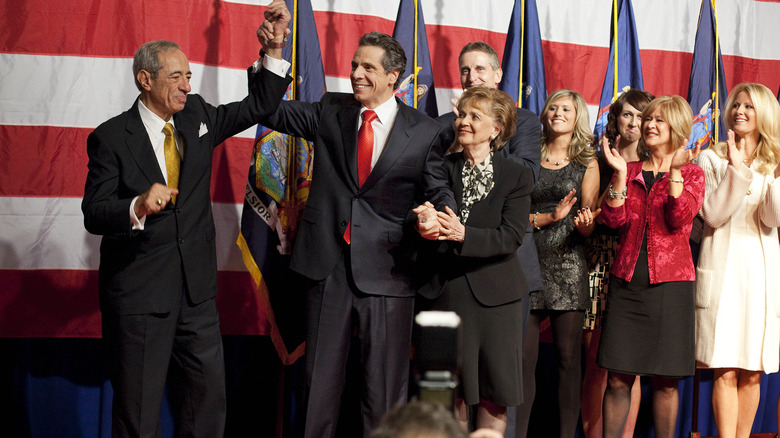 Michael Nagle/Getty Images
Mario Cuomo died in 2015 at the age of 82, but it's without a doubt that his legacy lives on through Andrew Cuomo, Chris Cuomo, and the rest of the Cuomo family. And while the Cuomo brothers have a penchant for the spotlight, Mario was best known for not only his liberal views, but also getting to the point in his public speeches. The governor wasn't the kind of celebrity that his sons are, but he was so good with words that he was even dubbed as the "Hamlet on the Hudson" during his tenure in office, according to The Economist.
On the 6-year anniversary of his death, former New York Gov. Andrew Cuomo remembered his father with touching words, showing how impactful he truly was. "New Year's Day holds a special meaning for me. Six years ago today we lost my father, Mario Cuomo. He inspired me and a generation of Americans with his dedication to public service and steadfast commitment to doing the most good for the most people," he tweeted. "I hear you every day, Pop."
According to The New York Times, when he was asked what he wanted as an epitaph, Mario's answer was quite simple. It's a line he had used many years while traveling through the state of New York: "He tried." It's a line that both Andrew and Chris can definitely repeat, too.