Inside The Tragic Death Of Angelina Jolie's Mother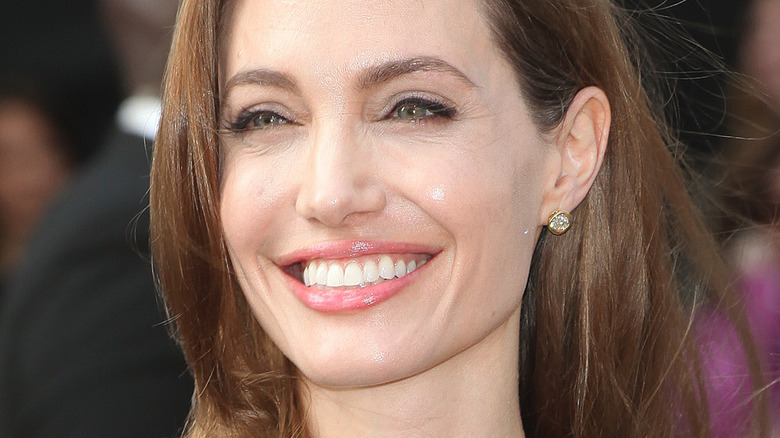 Shutterstock
One thing consistently clear about Angelina Jolie has been her admiration and deeply close relationship with her late mother, Marcheline Bertrand. The Oscar-winning actor has often spoken about Bertrand's influence on her life, including on Jolie's own approach to motherhood regarding her brood of six — Maddox, Pax, Zahara, Shiloh, Knox, and Vivienne Jolie-Pitt. "My mother was very gentle," Jolie told Sydney Morning Herald in May. "I can be many things in my work and in life, but I am very warm and gentle with my children." She also noted in 2017 to Elle France about Bertrand's skills as a grandmother. "I know how much she would have contributed to their lives," Jolie shared.
The "Eternals" star also admitted to the French outlet that she herself could have benefited from her mother's presence throughout and after her 2016 divorce from Pitt, saying, "I would give anything for her to be with me at this time. I've needed her. I talk to her often in my mind and try to think what she might say and how she might guide me."
Bertrand's influence extended to Jolie's much-discussed humanitarian work. Jolie, UNHCR's Special Envoy, thanked Bertrand in 2013 after receiving the Jean Hersholt Humanitarian Award for stressing to her "that nothing would mean anything if I didn't live a life of use to others" (via The Indian Express). With Bertrand making such a powerful impact on her famous daughter, here is the tragic truth about her 2007 death.
Angelina Jolie's children help her remember her mom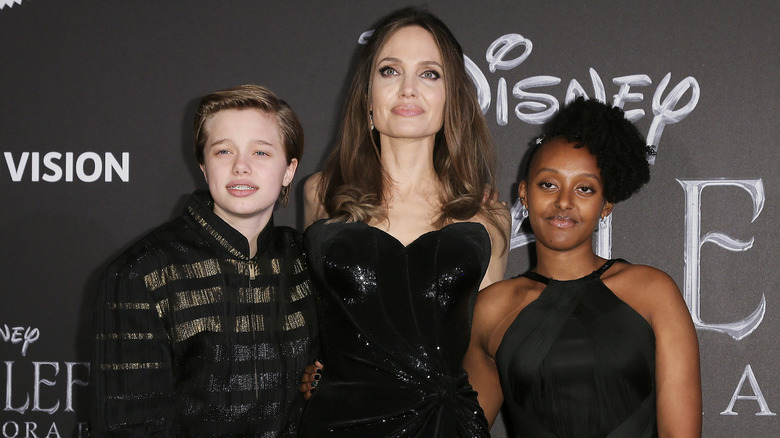 Ernesto Ruscio/Getty Images
Angelina Jolie told the Associated Press in a January 2007 statement (via People) that her mother Marcheline Bertrand died from ovarian cancer at Cedars-Sinai Medical Center in Los Angeles, Calif. Diagnosed seven years prior, Bertrand died with Jolie, son James Haven Voight, and Jolie's ex Brad Pitt at her bedside. As People reported, the family requested that "in lieu of flowers or gifts, donations be made to the Women's Cancer Research Institute at Cedars-Sinai."
Jolie penned a heartbreaking (and heartwarming) tribute to her mom in a The New York Times op-ed for Mother's Day 2020. "When I look back to that time, I can see how much her death changed me," Jolie wrote. "It was not sudden, but so much shifted inside. Losing a mother's love and warm, soft embrace is like having someone rip away a protective blanket." 
The "Maleficent" actor revealed she got a small "W" tattoo on her hand in honor of the Rolling Stones song "Winter," which Bertrand would sing to her as a girl. "'It sure been a cold, cold winter,' she would sing to me. And at the line, 'I wanna wrap my coat around you,' she would wrap me up in my blankets and snuggle me," Jolie touchingly wrote. For Jolie however, her children especially brought back her mother's warmth to her. As she wrote, "When your children come into your life, they immediately and forever come first." 
Her mom's death inspired her to take preventative action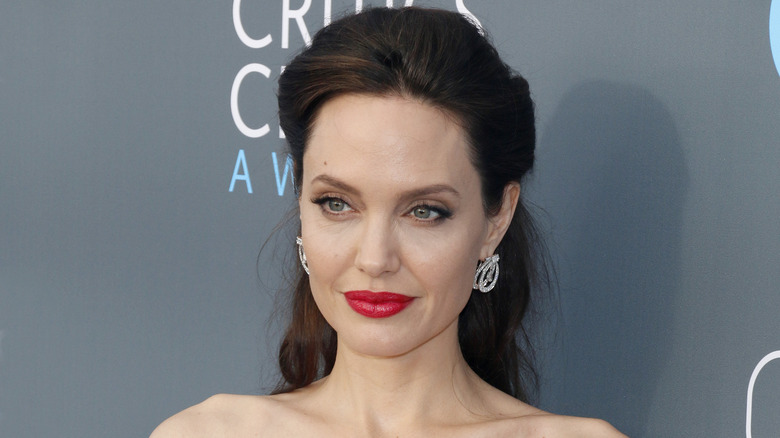 Shutterstock
Understandably, due to her mother's death from cancer at 56, daughter Angelina Jolie decided to get preventative surgeries herself, as revealed via a 2013 The New York Times op-ed. Sharing details from her double mastectomy procedure, Jolie wrote, "I carry a 'faulty' gene, BRCA1, which sharply increases my risk of developing breast cancer and ovarian cancer. My doctors estimated that I had an 87% risk of breast cancer and a 50% risk of ovarian cancer." Recalling the procedure as similar to "a scene out of a science fiction film," Jolie reassured anyone else considering a similar surgery that she didn't "feel any less of a woman" afterward.
Two years after the mastectomy, Jolie's blood tests showed a scary potential "sign of early cancer," leading her to also remove her ovaries and fallopian tubes. Jolie, in another op-ed for The New York Times, opened up again about the experience. "It is not easy to make these decisions," she penned. "But it is possible to take control and tackle head-on any health issue." 
Dr. Robyn Andersen of the Fred Hutchinson Cancer Research Center affirmed in 2014 that Jolie's candor had a "global and long-lasting" impact on women seeking genetic testing as a preventative measure. "Having women with strong family histories [of cancer] seeking counseling and education and in many cases, surgery, based on having the role modeling of Angelina Jolie can be very helpful," she said.