What's Really Going On With David Schwimmer And Jennifer Aniston?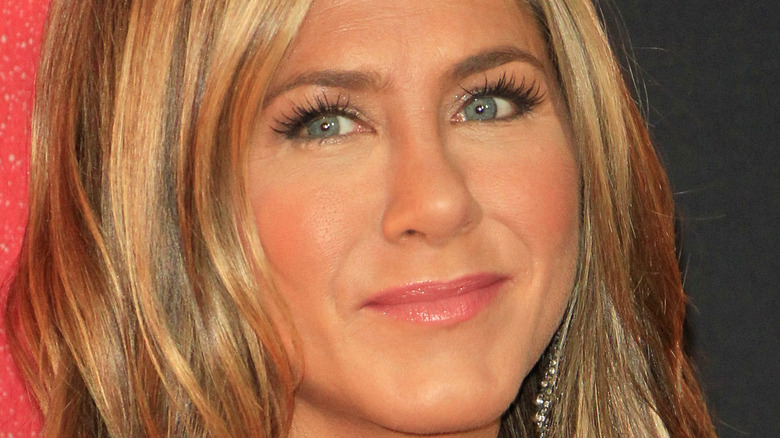 Shutterstock
It's still one of the most heated debates amongst "Friends" fans: Were Ross and Rachel on a break? Well, fans finally might be getting their answer. In the long-awaited "Friends: The Reunion" special, which aired on HBO Max in May, Jennifer Aniston and David Schwimmer admitted that they'd once had feelings for each other but the timing was never right. "I mean, the first season, I had a major crush on Jen," Schwimmer confessed. "It was reciprocated," Aniston chimed in. Schwimmer continued, "At some point, we were crushing hard on each other. But it was like two ships passing, because one of us was always in a relationship and we never crossed that boundary. We respected that." Aniston noted that they "just channeled all of our adoration and love for each other into Ross and Rachel."
Throughout the reunion, the pair continued to share details about their close relationship on set. "When we had breaks from rehearsal, there were moments where we would cuddle on the couch," Schwimmer admitted, per People, and their affection for each other wasn't a secret from their co-stars. Both Courteney Cox and Matthew Perry said they knew about the fondness the pair had for one another, the outlet noted.
So, what is going on with Aniston and Schwimmer now? Read on to find out.
Are Jennifer Aniston and David Schwimmer dating?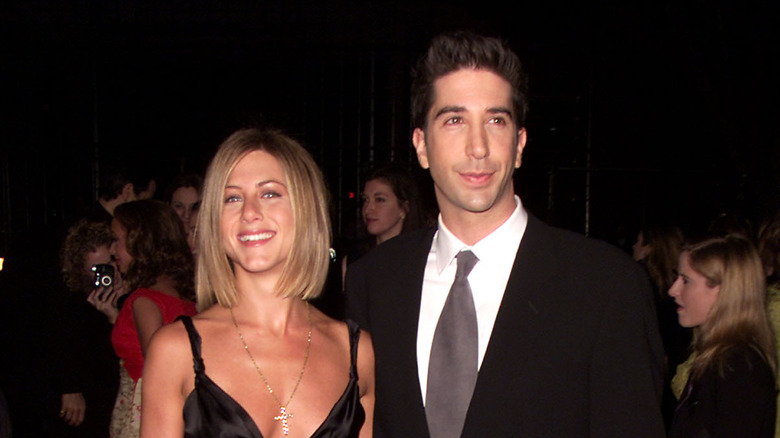 Kevin Winter/Getty Images
The "Friends" stars — who are both currently single — had reportedly been growing closer since filming the "Friends: The Reunion" special. "After the reunion, it became clear that reminiscing over the past had stirred up feelings for both of them and that chemistry they'd always had to bury was still there," a source told Closer. "They began texting immediately after filming and, just last month, David flew from his home in New York to see Jen in LA." The insider also claimed Aniston would cook meals for the two of them and get lost in deep conversation.
Unfortunately for fans, David Schwimmer's rep shut down rumors that the pair were dating. A spokesperson for the "People v. O.J. Simpson: American Crime Story" actor told The Sun that there is "no truth" to the rumors. DeuxMoi, a popular gossip Instagram account that publishes anonymous tips it receives, also claimed it had "on VERY good authority" that these rumors were false, per Elle. Unfortunately, it appears as though Aniston and Schwimmer's romantic relationship will only exist on TV.
But that doesn't mean the "Morning Show" star isn't looking for romance...
Jennifer Aniston is ready to start dating again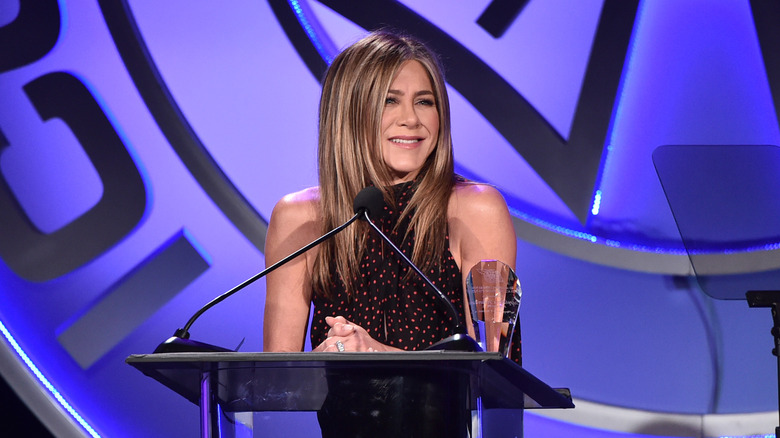 Alberto E. Rodriguez/Getty Images
David Schwimmer is not the first celebrity that fans of Jennifer Aniston have wanted her to date. On the 2020 SAG Awards red carpet, Aniston and ex-husband Brad Pitt shared a moment on the red carpet that had fans going wild with theories that the couple was getting back together. However, a source told People at the time that the pair were just friends. "They are friends and happy for each other. They want nothing but happiness for each other. She is happy to have Brad back in her life as a friend, but that's it," the insider revealed.
While the "Horrible Bosses" actor may not be getting together with David Schwimmer or ex Brad Pitt, a source told Us Weekly that she is ready to start dating again after some time off — but only those who are outside of the usual Hollywood crowd. The insider told the outlet that "seeing how happy some of [Aniston's] peers are ... has really brought it home to Jen that it's just as possible to find love outside of the Hollywood bubble," they said. "Jen is way more impressed by guys who are unaffected and have their heads screwed on straight than the flashy, braggy types who are all over Hollywood," the source explained. "What she looks for above everything these days is kindness, humor and good looks, of course, but more than anything, she's after chemistry."
Whoever Aniston ends up with will be considered a very lucky man!