The Truth About Andrew Cuomo And Billy Joel's Friendship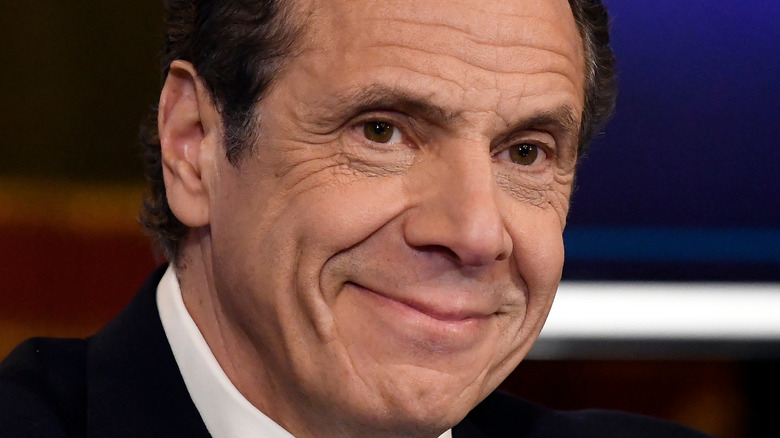 Shutterstock
The friendship between Andrew Cuomo and Billy Joel may seem unlikely, but it also runs deeper than many would expect. 
In 2013, the press started to notice that the New York State governor and singer were spending a lot of time together at various events. The New York Times noted that the two "shared [a] love of boats, motorcycles and Italian food." That year, the "Piano Man" singer was given a monthly residency at Madison Square Garden, and Cuomo was on-hand to heap praise on Joel at the official announcement. "He's always been there for New York — and he's a friend, and he's a buddy, and I enjoy being with him," Cuomo said, per The New York Times. Joel even mentioned Cuomo in a parody of his hit song "Honesty" and sang, "You can be the governor / You can be a friend / Maybe someday you can even be the president." The musician also helped Cuomo fundraise while he was running for re-election as governor of New York.
Their friendship continued to grow over time, and their interactions were not limited to public events. Joel asked Cuomo to officiate his marriage to his wife Alexis in 2015. It was only the second wedding Cuomo had officiated, and he was admittedly nervous. "They are a great team together, so it was a beautiful day," Cuomo said of the nuptials, via Democrat & Chronicle. That was not the last time Joel included his friend in a major family event.
Andrew Cuomo is a godfather to Billy Joel's kids
After Andrew Cuomo officiated Billy Joel's fourth marriage, the governor reflected on his friendship. "He's a good friend to me. And we have a lot of fun together," he said in 2015, per Democrat & Chronicle. "We fish together. We ride motorcycles together, and we're just friends together," he added. Cuomo said that the two bonded over their New York roots, even though they were from different parts of the state. "We're both middle class New York guys. And we have the same set of values, so it's a special friendship for me," Cuomo told reporters.
Joel and his fourth wife, Alexis, had their first child together, Della Rose Joel, in August 2015. The couple selected Cuomo as the godfather for their daughter, according to People, and later named him as the godfather of their second child, Remy Anne Joel, the outlet noted.
In June 2018, Joel and his wife hosted a $5,000-per-plate fundraiser for Cuomo, according to Page Six. Cuomo repaid the gesture a month later when he bestowed a great honor on his friend by declaring July 18 "Billy Joel Day" in the state of New York, per NY.gov. "Billy Joel is not only one of the greatest entertainers of our time, but also a leading advocate for protecting the environment, honoring first responders and improving the lives of New Yorkers," Cuomo said. Keep reading to see why Joel and his wife said they were "proud" of Cuomo.
Billy Joel praises Andrew Cuomo's COVD-19 response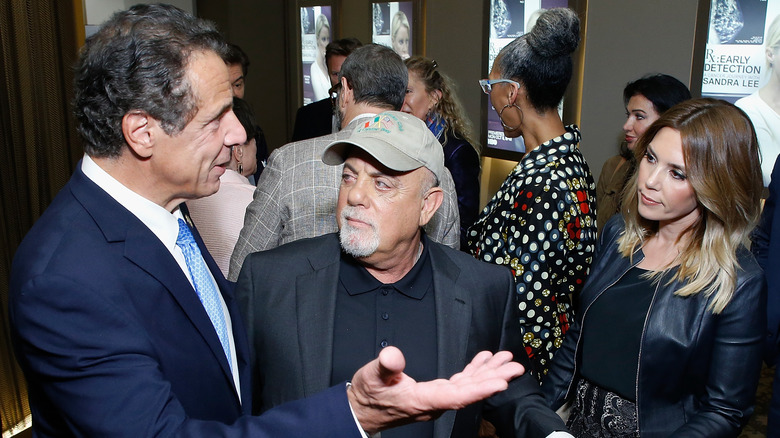 John Lamparski/Getty Images
In May 2019, Andrew Cuomo honored Bill Joel's birthday on Twitter. "Happy 70th birthday to my good friend and a great New Yorker, @BillyJoel. Best of luck tonight Mr. Piano Man!" he tweeted alongside a photo of the two on stage together. That night, Joel performed at Madison Square Garden, per People — and Cuomo took the stage along with his daughter, Cara Kennedy-Cuomo, to wish Joel a happy birthday.
Cuomo became a focal point of media coverage in 2020 during the COVID-19 pandemic, as New York State was hit hard by the respiratory virus. Joel and his wife issued a joint statement in March 2020 to show their support of Cuomo as both governor and friend. "We are so proud of Governor Cuomo, he is family to us," they wrote in a lengthy Instagram post. "He is the Godfather of our daughters, Della and Remy, and we chose him knowing what a strong and steady presence he would be in their lives." By November 2020, Cuomo's daily COVID-19 briefings earned him an International Emmy. Once again, Joel heaped praise on his friend. "In the midst of this storm, Andrew Cuomo became the nation's governor," Joel said after Cuomo received the award, per The Hill.
Since then, Cuomo has fallen from grace. In August, the New York attorney general's investigation found that the governor had sexually harassed 11 women. He subsequently announced his resignation. As of this writing, Joel hasn't commented on either matter.